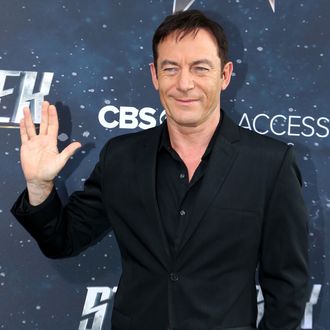 Isaacs.
Photo: Mark Davis/CBS
No one likes a troll, but you know who especially doesn't like them and is particularly skilled at cutting them down to size on social media? British actor Jason Isaacs. Although Isaacs is popularly associated with being one of the great villain actors of our time, in real life he is something of a progressive vigilante who takes on challengers in his mentions. "Keep wanting to engage trolls, but click their profiles to see endless white isolationist hate-spew," he tweeted recently. "Maybe they follow me as closeted humans." Now Isaacs is part of the Star Trek universe, which has a sprawling, passionate fandom with a lot of deeply rooted opinions about how the new CBS show, Star Trek: Discovery, should be doing things. One Twitter user taking issue with the new iteration of Klingons responded to an official Trek account tweet that tagged a handful of the show's stars, including Isaacs, which prompted the actor to enter the fray and respond on the cast's behalf.
Another Twitter user and McDonald's employee responded to Isaacs saying it was pretty inconsiderate of him to assume that someone must work in fast food because they're being a jerk on social media. Isaacs, a gentleman, then rattled off his preferred hamburger order in a show of solidarity.
So even if @BegetsTruth didn't win the day against Isaacs, he at least got off light. The actor could have told him to prioritize "flushing away the infantile sewage flowing from his rectum of a mouth," like he did to Donald Trump, or said he had "the aura of a giant festering abscess," like he did to Sean Spicer. Don't walk into Jason Isaacs's kitchen if you can't take the heat.