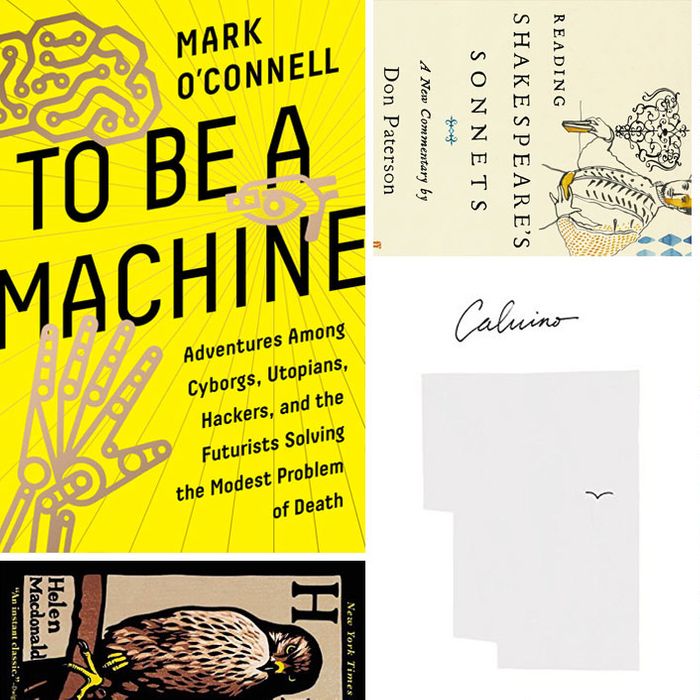 Bookseller One Grand Books has asked literary celebrities to name the ten titles they'd take to a desert island, and they've shared the results with Vulture. Below is writer Jeanette Winterson's list. The paperback of her short-story collection Christmas Days will be available in November.
A bookshelf isn't an index — one of the many reasons why e-reading is so unsexy. Imagine a seduction; your bookshelves or their bookshelves are part of the foreplay, like music, food, talk. Our eyes run over bookshelves, not alphabetically or sequentially, because we're looking to find old friends, memories from the past, and new pleasures. That's the glory of a bookshelf. No one ever said, "Come up and see my Kindle Index." Bookshelves aren't put together by algorithms either. Our own minds colliding with the minds of others is more exciting. This tiny shelf of mine isn't in order, isn't orderly, and definitely isn't definitive. It's one of many walks I could take you on, when we meet.
H Is for Hawk, by Helen Macdonald
After the sudden death of her father, Helen Macdonald managed her grief by taming a goshawk. The wild un-language of grief finds expression here. And there's more: our relationship with creatures not us; how we read the past without rewriting it; how we learn to love — and why we might not want to do that. Painful, remarkable, redemptive, this book hovers over my heart and suddenly drops on it. Caught.
Orlando, by Virginia Woolf
It begins, "He, for their could be no doubt about his sex…" and then we spend the rest of this gorgeous, rollicking novel entirely in doubt about his sex. A love letter to language, a time-traveling duel with duality.
This Book Will Save Your Life, by A.M. Homes
I love her writing. This short novel is classic Homes; the American Dream on prescription sleeping pills. The curious power of love where you least expect it.
Collected Poems, by Adrienne Rich
Just one of the best poets of the 20th century, or any century. Her refusal to separate politics and poetry kept her urgent, edgy, angry, relevant. A diver at the wreck.
Women Who Run With the Wolves, by Clarissa Pinkola Estés
I know this is Joseph Campbell for Girls, but when you remember that the Star Wars trilogy started the popular version of Campbell's hero's journey, and that women other than Princess Leia speak for 63 SECONDS of the films' 386 MINUTES, then, boy oh boy, do we need this great, smart, empowering womanopedia of myth and what to do with it.
The World According to Garp, by John Irving
As funny as it was when it was written, and more tragic, and more true. One of my favorite laugh/cry novels, and one I talk about with friends and teach to my students.
To Be a Machine, by Mark O'Connell
Troubling and humorous, this is one of my current give-it-to-everyone books — I buy six copies at a time. Did you know our future belongs to a few asocial geeks for whom being human has always been a problem? Now they can solve it!
Utopia for Realists: How We Can Build the Ideal World, by Rutger Bregman
This is a Read Now book. Nothing dystopian about this one: a young (he's 29), practical set of ideas for how the next generation can do better.
Reading Shakespeare's Sonnets: A New Commentary, by Don Paterson
Two for the price of one. The sonnets — discussed and annotated by one of my favorite fab poets, Don Paterson. This isn't academic yawn stuff — it's exciting to read and it does your brain good.
Invisible Cities, by Italo Calvino
This book made such an impact on me as a young woman. It's flash-fiction before anyone had named it, but running together in a strange and glorious narrative about Venice, a Venice that is a proxy for your soul.