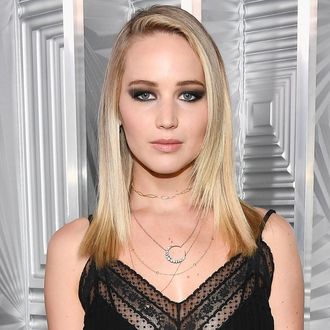 Jennifer Lawrence
Photo: Frazer Harrison/Getty Images for ELLE
Jennifer Lawrence spoke about her own experiences with sexual harassment in Hollywood — specifically feeling "trapped" in when she was required to do a naked "line-up" with other actresses for an audition.
At Elle's Women in Hollywood event, where Lawrence was one of eight honorees, the actress recounted the incident in her speech.
"A female producer had me do a nude line-up with about five women who were much, much thinner than me," she said. "We are stood side-by-side with only tape on covering our privates. After that degrading and humiliating line-up, the female producer told me I should use the naked photos of myself as inspiration for my diet."
When she told another producer that this was unacceptable, he said she was "perfectly f*ckable" and "didn't know why everyone thought she was so fat." Lawrence added that she had previously been told to lose 15 pounds in two weeks for a role.
She said she felt "trapped" by the experience and "let myself be treated a certain way because I felt I had to for my career." Once the actress landed her first major role in the Hunger Games, she became an outspoken proponent of body positivity and got involved in a feud with Joan Rivers by saying that Fashion Police is harmful to children.
As for Harvey Weinstein, Lawrence called the experience of women sharing their stories of sexual harassment "oddly unifying."