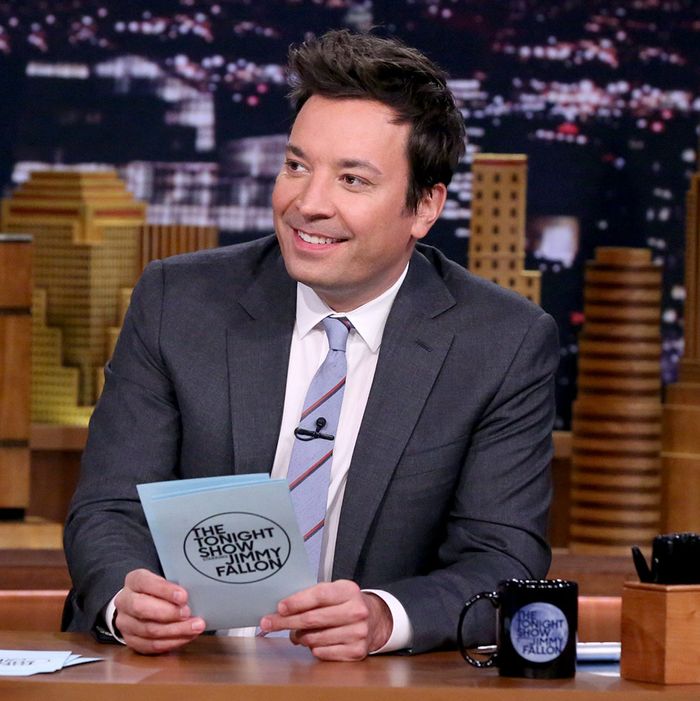 Photo: 2017 NBCUniversal Media, LLC
Jimmy Fallon earlier this year ceded the late-night ratings crown to Stephen Colbert. Now, the host of NBC's The Tonight Show finds himself flirting with a fate that not long ago would have seemed unthinkable: third place. During the first two weeks of the new TV season, Fallon has seen his lead over ABC's Jimmy Kimmel collapse, falling from more than one million viewers a year ago to fewer than 250,000 viewers last week. And while he's still on top with adults under 50, Fallon is losing ground in the demographic ratings race, too: Despite a heavily promoted set of shows with Miley Cyrus, Tonight's demo numbers fell 26 percent last week vs. the same period a year ago, while Kimmel (+1%) and Colbert (-2%) stayed relatively flat. There are multiple reasons for late night's ratings sea change, but the biggest one seems pretty clear: disrupter-in-chief Donald Trump.
Some of Fallon's harshest critics might want to pin the NBC host's Nielsen woes on the Incident — a.k.a., that one time in September 2016 Fallon decided to tousle Trump's orange mane, "normalizing" him in a way some believe he should not have. This seems a bit of a stretch, particularly since in the weeks following — when outrage over the whole thing was at its height — Tonight maintained strong ratings leads over its ABC and CBS rivals. Instead, it seems more likely Fallon has been hurt not by how he handled candidate Trump, but rather by how the world has changed since Trump's inauguration. For huge swaths of the country, the current occupant of the White House represents a perpetual crisis, resulting in a nearly nonstop state of anxiety for millions. Television programming that responds effectively to this new reality seems to have been embraced by audiences looking for coping mechanisms.
Much the way news junkies have flocked to MSNBC's left-leaning lineup and prime-time audiences have embraced feel-good fare like ABC's fall hit The Good Doctor, Colbert, Comedy Central's Trevor Noah, and more recently, Kimmel, have tapped into the anti-Trump zeitgeist — and benefited. But even more than Kimmel, Fallon built his brand around being the goofy buddy willing to do anything to get his friends to laugh. Current events, and particularly politics, have always taken a backseat on his Tonight Show. That served Fallon well during the comparatively calm Obama years, but since Trump took office, it may not be resonating as much with viewers. Comfort food may be appreciated when it comes to prime-time sitcoms and dramas, but late-night viewers (at least for now) seem to be looking for something with more bite.
It's worth noting that for all the media attention Kimmel and Colbert have received for their sharply worded attacks on President Trump and the GOP leadership in Congress, their Nielsen numbers — while definitely up — haven't exploded. Jimmy Kimmel Live's average audience of 2.335 million viewers over the first two weeks of the 2017–18 season represents an 8 percent gain vs. the same frame a year ago, when Kimmel wasn't making headlines for taking on Trump. CBS's Colbert has seen a much bigger boost: His two-week average for the fall (3.03 million) is up 14 percent compared to last fall. But with the broadcast networks now accustomed to double-digit prime-time ratings drops every single year, the modest gains by Colbert and Kimmel actually represent a massive achievement. They're swimming upstream against a strong tide of Nielsen erosion and coming out ahead. In TV today, flat is the new up, and up a little is the new juggernaut.
By contrast, Fallon is now entering a second year of significant ratings decline. That fact, combined with the small but steady gains by his rivals, has resulted in the closest late-night ratings race in a while. Consider: Just two Septembers ago, Fallon started out the 2015–16 season with a massive 60 percent lead over third-place Kimmel and a 20 percent advantage over Colbert's then-brand-new Late Show. Nearly 1.5 million viewers once separated a first-place Tonight and third-place Jimmy Kimmel Live. Fallon is now 16 percent behind Colbert, while his lead over Kimmel is down to a mere 10 percent.
NBC execs will rightly note Fallon's continued advantage among adults under 50, the demo group most attractive to advertisers. Indeed, Tonight is still No. 1 where it most counts to NBC's bottom line, even if the show has become less relevant to the national conversation. But there are danger signs there, too. A year ago, Fallon's demo advantages over Kimmel and Colbert were a whopping 83 percent and 63 percent, respectively. That's now down to a 29 percent margin of victory over Kimmel and a 24 percent difference vs. Colbert. Considering how close Fallon has come to slipping into third place among total viewers, his continued demo dominance is no small feat. And should older viewers grow less interested in Trump-bashing, or simply tire of thinking about him, Fallon could be well-positioned to bounce back in the overall ratings race. What's more, barring something radically unexpected, none of the Big Three hosts are going anywhere. All are under long-term contracts, and any move to replace Fallon, Colbert, or Kimmel would likely result in even lower ratings. Still, a late-night ratings race that had grown sleepy and predictable has become interesting once more.