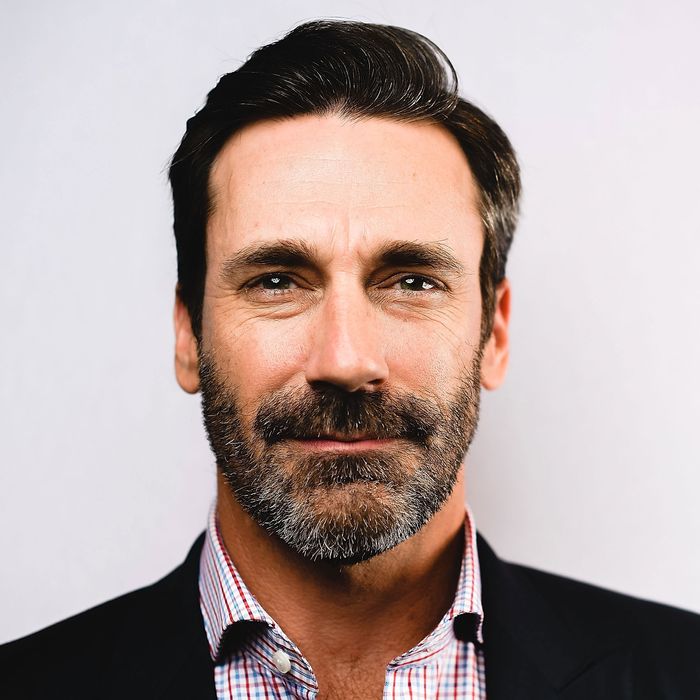 Jon Hamm.
Photo: Matt Winkelmeyer/Getty Imagesfor SXSW
Let the new Star Wars movies play musical chairs with their directors: There's a new written addition to the Star Wars saga, narrated by Jon Hamm, that's just as satisfying as a romp around the galaxy on the big screen.
We've established that Armie Hammer's voice — melodiously reading the Call Me by Your Name audiobook, out October 3 — sounds a little like Jon Hamm's voice. But now that Hamm happens to be reading a short story on an audiobook that's out the very same day Hammer's audiobook drops, why not revisit the timbre that first set our hearts aflutter: Hamm's. Call it battle of the extremely good-looking men with deep, passionate voices. Hamm's reading of Paul Dini's Star Wars short story "Added Muscle," in which Hamm plays the part of bounty hunter Boba Fett, will leave you flush. His voice sounds simultaneously lawless and lavish, like what it feels like to watch Rihanna walk out of a restaurant with her wine glass in hand. It sounds like your eardrums' guiltiest of pleasures. That voice — the depth, the timbre! — should come with a Parental Advisory label.
In case the actual story matters at all to you, here's a short description, courtesy of an interview with Dini in USA Today: "Boba is stopping over on Tatooine when he's called on by his old associate Jabba the Hutt to help collect a debt. Naturally, this is the money owed to Jabba by Han Solo. The story is a monologue going through Fett's head while he backs up Jabba and stares down Han and Chewie." With Hamm reading it, the story becomes a deliciously mercurial tale about one of Star Wars' most shadowy figures. Here are 20 descriptions of the sumptuous sound emanating from Hamm's face:
1. When Jon Hamm says "Tatooine," it sounds dirty, like you must immediately check to make sure the people to the right and left of you didn't overhear what you and Jon Hamm are gonna be up to later.
2. Jon Hamm's reading is full of pregnant pauses, the ones that make you feel like your day is a little longer, your heart a little fuller, like you really do have as many hours in a day as Beyoncé.
3. Jon Hamm's voice sounds like mischief, like — and I hate to bring this up — Hans Zimmer's Pirates of Carribean theme for Jack Sparrow, if that role weren't being reproduced and bastardized in sequels ad infinitum.
4. Jon Hamm's voice probably smells like pine and eucalyptus. Noir-style, like in a way you'd be attracted to if you grew up watching too many Humphrey Bogart movies.
5. The texture of Jon Hamm's voice is leathery, like a lovingly worn-in Eames chair.
6. Jon Hamm's voice has an undertone of arrogance — he's better read than you, better dressed than you, better bred than you, but he's willing to overlook it, just this once.
7. When Jon Hamm speaks, it sounds like he's offering you endless options: What should he make for dinner tonight? "Is it pizza you want?" he says, lightly massaging the back of your neck. "Or should I do twice-baked potato?" Your kitchen is immaculate. This happens to be a Nancy Meyers movie. You're welcome.
8. Jon Hamm kinda sounds like DMX's voice, but only on that one DMX song "How's It Goin' Down." Jon Hamm's voice sounds like he's been through some shit, but he's smooth with it.
9. Jon Hamm's voice just sounds so clean that when he sneers "dustball," you will have an immediate need to buy the most luxurious Dyson vacuum on the market.
10. Jon Hamm's voice is as satisfying as when your bed is covered in freshly washed sheets, still a little warm from the dryer.
11. "Mama Fett didn't raise any fools," Jon Hamm mentions offhand. But his tone is such that you immediately want to meet Mama Fett and spend time with her, so she can guide us out of these dark and perilous times.
12. Jon Hamm's voice sounds like when you walk in your living room after a particularly grueling day of responding to emails and screening telemarketer's calls. You kick off your shoes, and sit down on the couch. Ocean's 12 is on TV.
13. Something about the baritone of Jon Hamm's voice recalls the fantasy of talking back to your overbearing aunt. Not that you would — Hamm's voice just conjures the daydream of disrespect.
14. Jon Hamm's voice's aesthetic is autumn. Not merely "fall," but the rich mustards, deep Cabernet-colored suedes, and dark-wash denims of September through November.
15. "Flash, boom, three tiny ash piles," Jon Hamm says at one point in this story. He's so quick and nonchalant about it, like he's Joe Pesci in Goodfellas, but in a deeper register.
16. Jon Hamm's voice doesn't sound like Obama is still in office, but it does sound like Donald Trump has been permanently banned from Twitter, and never again will you wake up to those freaking stupid early morning tweets.
17. You know when you run into that guy from that thing and you can see that he's staring at you a little too long, trying to place you in his memory? Jon Hamm's voice sounds like what it feels like to slyly grin and walk away, because sometimes you just don't feel like saying hi.
18. Jon Hamm sounds like when Anne Hathaway says "oops" in the Dark Knight Rises, which is one of the most seductive and thrilling lines of dialogue in American cinema.
19. Jon Hamm's laugh could con the devil out of delivering four more Avatar movies.
20. Jon Hamm's voice sounds a little like Armie Hammer's voice, but only if Armie Hammer's voice wasn't already dunked in honey.