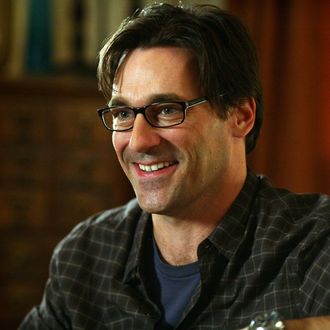 Was this before or after the hook hands?
How did Jon Hamm go from playing America's favorite philanderer on Mad Men to becoming the worst cult leader/DJ in Indiana in Unbreakable Kimmy Schmidt? The answer is pretty easy, the actor said at the The New Yorker Festival Saturday night: "Tina and Robert came to me and they were like, 'We want you to play this guy, it's a super important part, it doesn't shoot that much,' so I said, 'Okay what's the deal?' They said, 'He's the guy … who keeps women in a bunker underground … it's funny. It's not a weird sex thing.' And I was like, 'What?' But I just leaned back on my number one rule of comedy, which is basically just do anything Tina Fey says."
Of course, Kimmy Schmidt wasn't Hamm's first foray into comedy, or even his first time working with Fey. Who can forget 30 Rock's too-handsome-for-his-own-good Dr. Drew? Hamm recalled the day they shot his infamous tennis scene, where his character screams, "This racket is a fart!" "I can't even curse well," joked Hamm. So where will Hamm and Fey's comedy partnership go next? Can we get him on Great News as a handsome newsman?