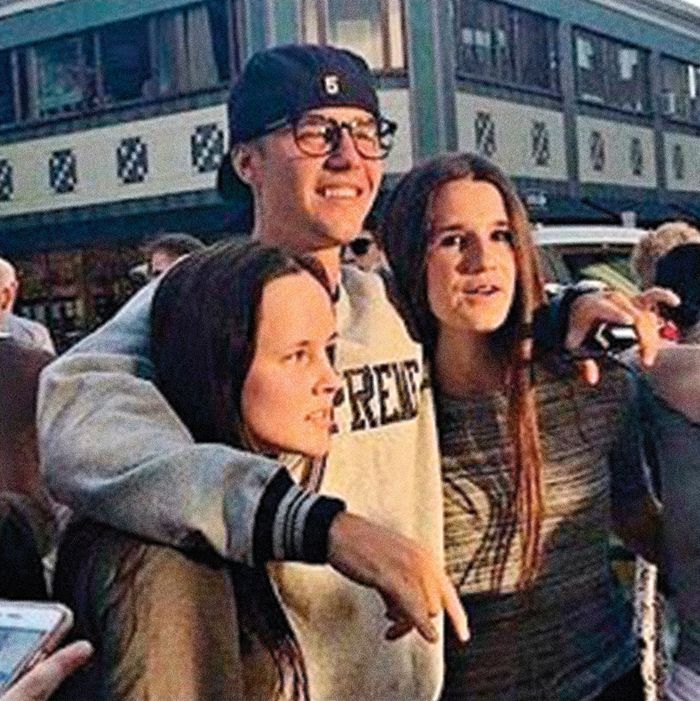 Bieber on a Montclair street corner in May.
One Friday afternoon in May, Ava Otterbein, an 11-year-old aspiring singer-songwriter, was taking a break from a performance in front of the Bluemercury makeup store in Montclair, New Jersey, when she turned around to find a stranger standing at her microphone. He was wearing a black Fear of God cap backwards and started improvising a rap and joking with a small crowd of confused onlookers. Otterbein's father was about ready to grab the punk by the neck of his Supreme sweatshirt when the boy pointed to Ava's guitar and amplifier and asked whose stuff it was. At this point, Ava realized the person at her microphone was Justin Bieber.
For several weeks, Montclair, a suburb half an hour from Penn Station, had been abuzz with rumors that Bieber was hanging around town. There he was at the Starbucks, and the Clifton Commons Mall, and the after-school pickup at Buzz Aldrin Middle School, and a local dance studio's benefit performance for a dog shelter. One rainy day, around noon, someone saw him sitting alone in a booth at IHOP, without a bodyguard in sight. What was the Biebs doing in Montclair? Was he moving to town? No one knew for sure, but the rumor mill took an extra spin when Bieber canceled the final 14 dates of his world tour — and then showed up at the local Cold Stone on a Saturday night.
As a growing circle of gawkers closed in around Ava Otterbein's microphone, Bieber told the assembled Montclairians that he had fallen in love with their suburb of 38,000. "Guys, put down your phones and be normal for a second," Bieber said. He asked Otterbein to play a song, then sank into the crowd as best he could, draping his arms around two girls while a third stretched to grip his shoulder. Bieber swayed back and forth as Otterbein started playing. He told the crowd to quiet down so he could hear, but he was the only person paying attention to the music. Everyone else was staring at him.
Midway through the song, Bieber's sixth sense kicked in, alerting him that what would be a normal moment in anyone else's life was about to become unmanageable for him. He broke free from the girls, told Otterbein, "You sound great," and walked to his waiting SUV, turning to leave the crowd with a final gesture: "That stupid thing kids do where they put their hands in front of their face and it's, like, I dunno, just a cool way to say good-bye?" an adult said, attempting to describe a dab. Otterbein kept playing, but no one was paying her much mind. They were on their phones texting and snapping the news. Within minutes, so many minivans began disgorging teens that the event's organizer got worried someone was going to get hurt. A girl in braces wiped away tears while several teens took turns standing on the spot where Justin Bieber had just been.
"We're not really star-fuckers here," Evelyn, a 50-something Montclairian, said recently, requesting anonymity so she would feel free to gossip about her neighbors. Montclair is an affluent town, with more diversity than most suburbs and a proud sense of urbanity: It has a film festival and a center-left bent that allows residents to complain about Trump and high property taxes with equal verve. Marnie from Girls grew up in Montclair, and the town has a handful of real-life celebrities — Stephen Colbert lives there, and Yogi Berra did, late in life — who more or less get left alone. (There are exceptions: The Jonas Brothers grew up nearby, and once, when Kevin went shopping at the Urban Outfitters in Montclair, the crowd grew so feral that the staff locked him in a dressing room.) The only single people under 30 in Montclair are unemployed college graduates living with their parents and, this summer, Justin Bieber. "I can see the man — or the boy, I should say — hiding out here," Evelyn said. "I just don't know why he would want to."
Many people have retreated to the suburb from the city, where celebrity sightings were ho-hum. "I would hang out in the dog run with Moby!" said Angie McCaffrey, a photographer who now lives in Montclair. "But you come out here and feel like all that's behind you, and it's all about going to Target to get fucking graham crackers." McCaffrey hadn't been much of a Belieber, but when she saw Bieber walking into her local Target, something jolted her. "I locked eyes with him, I smiled, and then I waved like an idiot," McCaffrey said. She then yelled at a teenager in the parking lot to alert her to Bieber's presence, and immediately updated her Facebook status. "I'm 43," McCaffrey said. "This is so stupid."
Younger Montclairians had few such reservations. So many tweens called Z100 to talk about their encounters through the din of their joyful sobs that some listeners thought it was a prank. During an introductory math class at Montclair State University, four girls stood up and left after one of them got a text that Bieber was in town. Another group left a Bat Mitzvah to go looking for him. One boy who found Bieber at Smashburger saw an opportunity for social advancement and posted a video of himself with Bieber in the background, during which he yelled, "I hope you like this video, and look at it, girls!"
For some, Bieber's presence was stressful. "Justin Bieber moving five minutes away from me has added so much unnecessary anxiety to my life," Lindsey Reed wrote on Twitter, referring to the fact that running into her crush wearing anything less than the perfect outfit was now a real possibility. When I asked Reed whether she had seen Bieber, she said no, but that it was probably for the best, because if she had, "I would not be able to answer your questions because I would, in fact, be dead."
Plenty of Montclairians responded to Bieber's arrival with avowed disinterest — "I've used behavioral techniques with our children so that whenever someone says the words Justin Bieber they hear instead Sviatoslav Richter," Lee Siegel, a writer who lives in town, said — and even longtime Bieber fans weren't quite sure what to do with the fact that their icon had disrupted their suburban existence. Montclair's most ardent Belieber, according to some locals, is 18-year-old Sami Cytron, who has been to 15 Bieber concerts and wears purple every year on his birthday. She spent much of the summer learning to operate a stick shift by driving up and down the block where she heard Bieber was living, which she admitted was a bad idea. "If he comes out, I'm just gonna drive my dad's Porsche into a tree," she said. After days spent driving around looking for Bieber, Cytron's boyfriend tried sending him a message on Instagram asking him to just come outside for a moment, so he could have his girlfriend back. (It didn't work.) Then a funny thing happened. Cytron finally saw Bieber, walking out of a spa in town, but she was too embarrassed to approach him. "Ever since the sixth grade, I've been desperate for the day he'd be living in my town," Cytron said. "The day has finally come, and I'm too old to be crazy about it. Everybody grows up. And Justin is growing up, too."
Bieber first showed up in Montclair three years ago. "I was standing at pickup at my son's school chatting with two other mothers when one said, 'Look, there's Justin Bieber,'" Carey Reilly wrote on her blog, Not So Skinny Mom, in 2014. "I said, 'What??' There, and behold, was the Biebs!!! [insert screams]." Recognizing the viral opportunity, Reilly walked up to Bieber and asked for a photo, but was politely turned down by a man wearing a bright-orange beanie and a black tank top. "So, I just click-click-click, and ran off," Reilly said.
The reason Bieber, who is now 23, had come to Montclair was to spend time with the man in the beanie: Carl Lentz, the 38-year-old face of the New York and New Jersey chapter of Hillsong, a Pentecostal church that claims nearly 100,000 adherents in 19 countries. Hillsong has become the congregation of choice for young celebrities including the Jenner sisters, Kevin Durant, and Bieber, who posted a photo in 2013 of himself and Lentz with the caption, "Me and my homies … at lunch talking bout our savior Jesus Christ."
In 2014, Bieber was going through a rough patch in his tumultuous public life — he'd recently abandoned a pet monkey in Germany — when he decided to spend several weeks living with Lentz, his wife, and their three children, who had recently relocated from Brooklyn to New Jersey. "When I go to his home, I feel really loved," Bieber said at the time. Lentz, who dresses like Bieber — low-cut T-shirts, expensive sweatpants — and has nearly as many tattoos, has since become a regular presence in Bieber's life, joining him on tour and bringing him to the Hillsong Conference earlier this year, in Australia, where Bieber gave an interview during which he brushed his teeth on-air, then laid his head on Lentz's shoulder and said, "I just wanna love people more … I just wanna love Carl more."
Bieber has become so associated with Hillsong that the tabloids have begun to call it "Bieber's cult," suggesting that he was becoming its version of Tom Cruise. There are no Operating Thetans in Hillsong's doctrine, but the church has been criticized for many of the same reasons other Christian denominations are: Its founder failed to alert the police of allegations that his father, also a preacher, had sexually abused children, and it is less than welcoming to the gay community. The church strongly encourages all congregants to attend its annual conference, at a cost of $219, and its founder once wrote a book titled, You Need More Money: Discovering God's Amazing Financial Plan for Your Life. Hillsong has maintained a level of coolness thanks in large part to Lentz and a cohort of young preachers who offer lessons about the perils of living life in pursuit of Instagram likes. During a recent sermon, Lentz explained, "The whole goal of Christianity is to use what God is doing in you so other people can get wins."
Bieber was visiting Montclair this year between stops on his world tour, and throughout the spring and summer he occasionally showed up at the Wellmont Theater, in Montclair, where Hillsong conducts services. Hillsong often operates out of concert venues — the New York church has four Sunday services at the Hammerstein Ballroom — and its services resemble a rock concert, with the lead singer's intersong rant replaced with a sermon. All of Hillsong's music is written by its in-house band, Hillsong United, which has become the dominant force in contemporary Christian music. It has sold 20 million records to date — more than Bieber has.
Hillsong has expanded rapidly in Montclair, thanks at least in part to Bieber: Local kids started showing up just to see him. While most people respected the fact that Bieber had come to Montclair seeking normalcy and a dose of spiritual development, the church had irked some. To Evelyn, the church personified a "New Montclair" that was "willing to throw money on spirituality and hot yoga and all that stuff." Lentz himself had become a local celebrity, and Evelyn said he stood out at the Montclair Beach Club, an exclusive local pool, where Bieber hung out this summer. "This is a very suburban thing to say, but [Lentz] wears these shorts, and I'm fairly certain he's not wearing underwear, and he wears them all the way down with that bone showing — like the kids do," Evelyn said. "He's a little too old for that"
In July, when Bieber's team announced that he was curtailing his tour, TMZ cited "sources connected to Hillsong Church" who said Bieber had "rededicated his life to Christ." (TMZ also reported that Lentz had counseled Kyrie Irving, the Cleveland Cavaliers star and another Hillsong devotee, through his decision to request a trade, after Lentz, Irving, and Bieber were spotted playing pop-a-shot at Dave & Buster's.) That seemed to suggest that Bieber might be around more, and that Hillsong might be due for further expansion, which filled some in Montclair with an especially parochial kind of dread. "Here's what I know about Hillsong," one Montclairian wrote on a local Facebook group. "They don't in any way encourage their flock to park legally … you can't give up your spot safely between 9:30 am and 12 pm on Sunday without the risk of losing it. I don't care who or what you worship (if you do), but don't mess with our parking!"
Lentz has said that one reason Bieber likes attending Hillsong services is that he gets a chance to look up at the stage rather than having everyone looking at him, and Montclair similarly offered a means to avoid the unceasing spotlight of Bieber's life in New York or L.A. For starters, the paparazzi seemed largely unwilling to cross the Hudson, and the only photos that appeared were a series of Bieber hanging out at the Montclair Beach Club, along with which the photographer included a dispatch that shows the daily scrutiny a celebrity like Bieber suffers pretty much everywhere he goes:
He spent time getting close to a mystery girl, hugging her, laying on her and swapping hats playfully. At one point he stood over the fit blonde, and posed, with his fingers on his nipples while she took his photo.

Bieber showed off his array of tattoos, wearing only aqua colored swim trunks with turtles all over them. He played around with a basketball, talked with an elderly couple and laid in the sun. He appeared to be meditating at one point, as he enjoyed his time off, with no bodyguard and no screaming fans around.
If Bieber needed a haircut in Montclair, he simply made an online appointment at a local barbershop under his own name, for a cut that cost him $30. When he played basketball in the Lentz's driveway and a crowd of gawking kids started to form across the street, Bieber would sometimes yell at them to just put their phones down and come play.
But leaving Bieber alone didn't mean locals couldn't gossip about him. "Every day I hear a different rumor about Bieber," Evelyn said. "Most of the stuff is hearsay, but it's from somewhat reliable sources — it's reliable hearsay." Even if they hadn't seen Bieber, most Montclairians claimed to have a cousin or aunt who knew something; at one point, I was told that Bieber had gotten into "a verbal altercation" at a Montclair country club with "a friend's friend of a friend's mother." (The "friend's friend of a friend's mother" could not be reached for comment.) People followed Bieber's habits so thoroughly that when a woman named Nancy wrote on a local Facebook group that she had seen what she presumed must be Bieber's white limo at Smashburger, multiple people corrected her. "Probably someone else, Nancy," one wrote. "He's usually in a couple of SUVs."
But real estate was the hottest source of speculation. People in town told me they heard Bieber was buying Yogi Berra's old house, or the home of a rich gay couple who had recently divorced. "If the Montclair High gossip machine is accurate, park outside the Georgian looking mansion on the corner of Upper Mountain and Edgewood Road and see if he shows up," one person said. By summer's end, four different adults had told me that they knew, with certainty, that Bieber had purchased a particular home in town. All four of them gave me different addresses.
Much of the speculation centered on a large home on Undercliff Road — a "castle," people called it, with ten bedrooms and landscaping by the Olmsted brothers. Evelyn said she even knew that Bieber had hired her sister-in-law's contractor, Earl Perretti, to fix it up. "That would be exciting for me!" Earl Perretti, 62, told me. He had once talked to "that famous black actress, older gal, did the grape movie" — he later confirmed that he meant Whoopi Goldberg, and I think he meant The Color Purple — about renovating a home nearby. But Bieber hadn't called. The castle's owner, a finance executive, said Bieber hadn't bought his home, but enough people thought he had that cars regularly pulled into his driveway hoping to catch a glimpse. A real-estate agent selling another home that was subject to Bieber-related rumors started getting calls from teens pretending to be adults to ask if the house was still on the market. The homeowner put a security guard in the driveway, which only produced speculation that he was part of Bieber's security detail.
By summer's end, most Montclairians were still convinced that Bieber was moving to their town, but according to several local agents, he hadn't. "There's a lot of ego, and whoever had him would talk about it," Karin Diana, a realtor with Sotheby's, said. In fact, Bieber hadn't shown up in weeks, having spent most of September in L.A., where whatever peace he found in Montclair had quickly disappeared as he found himself having to confront the paparazzi taking pictures of him outside of Hillsong services: "This right here … this is my place where I get rest for my soul. For my soul!" (He was also spotted walking into a recording studio with Lentz, sparking speculation that he might record some music for Hillsong.) It wasn't clear when he'd be back, and the fading glitz of celebrity had some people feeling blue. "All of a sudden, you felt like an insider," Carey Reilly, the Not So Skinny Mom, said, of Bieber's presence. "We knew what was going on with the Biebs." Now, sometimes, when she's having a bad day, Reilly logs into a local Facebook group to offer a lament: "I could really use a good Bieber sighting right now."
On the first Tuesday of fall, Montclair welcomed a different kind of celebrity, as 1,000 people lined up outside Watchung Booksellers to get their copies of What Happened signed by Hillary Clinton. Ava Otterbein was on the other side of town, visiting the site of her Bieber encounter. Several employees at Bluemercury said girls still came by to ask if Bieber had been there recently. Some of them got down on their knees and kissed the bricks outside.
Otterbein is a year younger than Bieber was when he got discovered, and she's hopeful the video of her performance, which had gone semi-viral, might get her plucked from the suburbs the same way Bieber had been. For now, the benefits were more local. Girls were showing up to her gigs, hoping Bieber might be there, and a local TV crew interviewed her. ("This story is just un-Bieb-lievable!") All the older kids at school now knew who she was.
Otterbein had been dumbstruck the first time she met Bieber, but if she ever gets the chance again, she has her question ready: "How do you get to be Justin Bieber?" Before she gets too far down the path to fame, she might do well to pause, and look back at the tape. Even with all the trappings that come with being Justin Bieber, icon and superstar, it was this moment — listening to music on a random street corner in Montclair, New Jersey — that had driven Bieber to declare, in the middle of Otterbein's performance, "This is the best day of my life."
*A version of this article appears in the October 2, 2017, issue of New York Magazine.