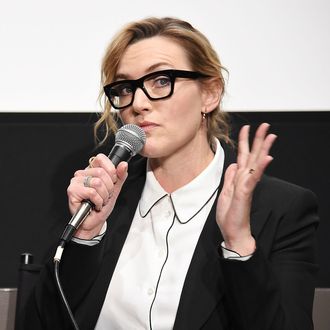 Photo: Michael Loccisano/Getty Images
You might not have noticed that Kate Winslet neglected to thank Harvey Weinstein when accepting her Best Actress Oscar for The Reader at the 2009 Academy Awards, but the Wonder Wheel actress says the absence of his name was completely intentional. "I remember being told. 'Make sure you thank Harvey if you win.' And I remember turning around and saying, 'No I won't. No I won't.' And it was nothing to do with not being grateful. If people aren't well-behaved, why would I thank him?" Winslet says in an interview with the Los Angeles Times published Saturday.
While Winslet herself never experienced sexual harassment or assault at the hands of the former studio head, unlike dozens of other women, his egregious behavior on the set of the 2008 period drama was revealing. Says the actress, "I can't even begin to describe the disgraceful behavior that went on — and I'm actually not going to because it's a can of worms that I'm not prepared to publicly open — nothing to do with sexual harassment, thankfully, lucky me. My god. I somehow dodged that bullet." In addition to allegedly pestering producer Sydney Pollack during the last months of his life in order to ensure the movie be completed on time, Winslet reveals that Weinstein pulled the plug on the film with four days left to shoot. "And again, this is just on the business side of things, but he was always, always very, very, very unpleasant to deal with. Very," she says.
Weinstein's aggressive behavior and creation of a hostile work environment rubbed Winslet the wrong way, but unfortunately it also came as no surprise. "But that's how he operated," she says. "He was bullying and nasty. Going on a business level, he was always very, very hard to deal with — he was rude. He used to call my female agent a [vulgar name for a woman] every time he spoke to her on the telephone."
Having offered her support to women impacted by Weinstein's abuse (and herself chastisement for not understanding the magnitude of his misconduct) last week, Winslet expresses her fervent hope that Weinstein will experience the legal ramifications for his actions. "This kind of treatment of any workplace is utterly unacceptable," she says. "And hopefully what will happen is that more women will feel compelled to come forward — these women are victims of crime by a man who was always impossible to deal with. I hope that Harvey Weinstein absolutely is punished within the fullest extent of the law should that be the case." Says Winslet, "The fact that I'm never going to have to deal with Harvey Weinstein again as long as I live is one of the best things that's ever happened and I'm sure the feeling is universal."