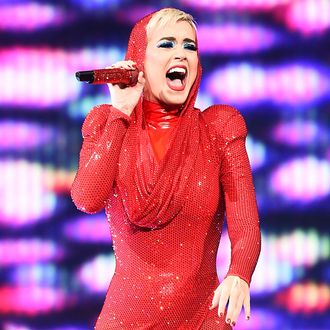 Photo: Michael Loccisano/Getty Images
As sure as climate change, stage mishaps happen. They happen particularly when you have elaborate stages and enjoy floating in the air above your audience as one Katheryn Elizabeth Hudson does. Last night at the Nashville stop on her Witness tour, Katy Perry was sitting on a little planet soaring through the air when she got stuck. You may be thinking: Is this yet another "joke" where Katy Perry is "not feeling so well" and has to be "carried offstage?" No. We can say this because the whole thing is slow and awkward and Katy Perry cannot stop talking about it. The planet has to slowly descend to the ground, where she has to enter the audience by, like, flopping into them.
This isn't the first time Katy Perry has been suspended midair. In fact, at the VMAs this year, she was suspended by wires doing a "dunk" during her performance of "Swish Swish" when she had sign off still midair because someone forgot to lower her down. (The videos have been cut to exclude that awkward moment.)
But really, this is just a big windup to get into our favorite subgenre of mishaps: Concert Falls. In the Katy Perry sub-subgenre, there was the little house that fell off the stage earlier this year at the Brit Awards while she was singing "Chained to the Rhythm."
The grand dame of Katy Perry falls is a moment when the Earth's gravitational pull would not let her go and she kept falling and falling and falling as though she were a mere mortal. It is a delight, and certainly a top-ten Concert Fall. We especially enjoy the cake landing.