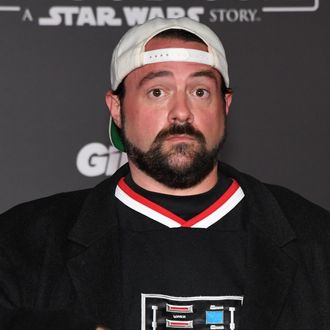 Photo: Ethan Miller/Getty Images
Kevin Smith got his Hollywood break in the early 1990s when Miramax bought distribution rights to his low-budget indie film Clerks, but now the filmmaker wishes he never got involved with the production company founded by Harvey Weinstein. After the New York Times published its report detailing decades of sexual-harassment and assault allegations against Weinstein, Smith wrote on Twitter that he felt "ashamed" for profiting from a relationship with the movie mogul while others were suffering. Now the Jay and Silent Bob creator wants to go a step further by donating future residuals from movies backed by the Weinsteins and Miramax to Women in Film, a nonprofit organization that supports women filmmakers.
"My entire career is tied up with the man," Smith said of Weinstein on his podcast Hollywood Babble-On. "I just wanted to make some fucking movies, that's it … And no fucking movie is worth all this. Like, my entire career, fuck it, take it. It's wrapped up in something really fucking horrible."
Though Smith says he was unaware of the allegations against Weinstein until the recent onslaught of public accusations, he still claims responsibility. "I know it's not my fault, but I didn't fucking help," Smith told his podcast audience. "Because I sat out there talking about this man like he was a hero, like he was my friend." He added, "I didn't know the man that they keep talking about in the press. Clearly he exists, but that man never showed himself to me."
Of Smith's 13 feature-length movies, over half were produced by Weinstein, including Chasing Amy, Jay and Silent Bob Strike Back, Jersey Girl, Zack and Miri Make a Porno, and the aforementioned Clerks and its sequel Clerks II. Should the Weinstein Company fold and the movies lose their value, Smith also pledged $2,000 a month for the rest of his life to Women in Film.