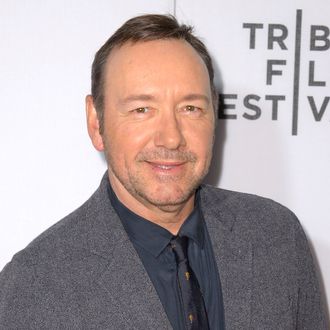 Photo: Andrew Toth/Getty Images
In a BuzzFeed News interview published Sunday, Star Trek: Discovery actor Anthony Rapp alleged that when he was 14, Kevin Spacey, then 26, physically carried him into his bed and attempted to initiate sex with the teenaged actor. Spacey responded to Rapp's allegation a few hours later, claiming not to recall the incident at all, but apologizing for the effect of what would have been "deeply inappropriate drunken behavior." On Monday, the industry scrambled to react to news that an A-list film, television, and theater actor allegedly made sexual advances toward a minor. The International Academy of Television Arts & Sciences, at least, has decided how they will process the news: by rescinding Spacey's 2017 International Emmy Founders Award, which he was scheduled to receive next month.
In a statement issued on Monday evening, the Academy canceled their plans to give Spacey the award, saying simply, "The International Academy has announced today that in light of recent events it will not honor Kevin Spacey with the 2017 International Emmy Founders Award." Spacey would have received the achievement award, previously given to industry powerhouses like Steven Spielberg, Matthew Weiner, and Shonda Rhimes, at the International Emmys in New York on November 20. House of Cards, the actor's hit Netflix show, also announced Monday that the show's upcoming sixth season would be its last.