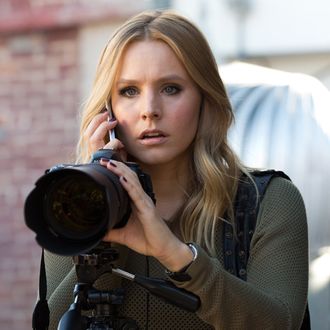 Kristen Bell.
Photo: Robert Voets/Warner Bros. Entertainment
Good news, Marshmallows. Ryan Hansen is extremely down for more Veronica Mars programming, and Kristen Bell is ready to go on in, too. During a Facebook live chat with IndieWire Wednesday to promote his new YouTube Red series Ryan Hansen Solves Crimes on Television*, Hansen was asked about the future of the Neptune Detective Agency. He called Bell in the middle of the interview to check on the status of a reunion project: "We are willing to put the effort in," said Bell. "I mean, if I have to do it as Murder She Wrote at 80, we're going to do it. It's going to happen." That is a very definitive yes, and Bell even acknowledged that since she can't shoot a whole other show while she works on The Good Place, any new Mars content would likely take the form of a mini-series, and it would not be crowdfunded. "Rob and I email about it every couple of months or so," Bell said. "And personally I think, and I think Rob probably agrees, is that (a) we'll never make the fans pay for it again, and (b) the format works better as an episodic [series]."
Don't start your daisy-chain countdown yet, though, since no network or scheduling plans have been publicly locked down. The last time the whole gang got together again was for the 2014 movie. If Rob Thomas, Bell, and Hansen are already in for new material, that bodes extremely well for this dream becoming a reality. Someone better be texting Enrico Colantoni right now.