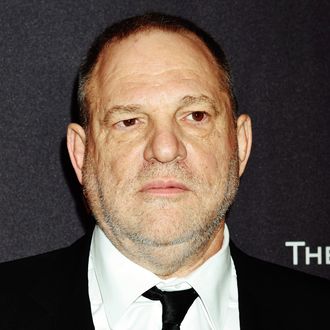 Harvey Weinstein.
Photo: Jeffrey Mayer/WireImage
As dozens of women have come forward with allegations of sexual harassment, assault, and even rape against Harvey Weinstein, various law-enforcement groups have opened investigations into the disgraced Hollywood mogul. According to the Los Angeles Times, the LAPD is looking into a claim from an Italian model and actress, who told the police that Weinstein sexually assaulted her at the Beverly Hills Hotel in 2013. According to the Times, this is the first Weinstein case reported in Southern California, while the New York police has two active sex-crime probes, and the London police is investigating allegations from three women. In the California case, the alleged crime falls within the ten-year statute of limitations that existed for felony sex offenses in California in 2013 (the statute of limitations was eliminated in 2016) and thus could lead to criminal charges. Weinstein's representative told the L.A. Times that he has "unequivocally denied" allegations of nonconsensual sex, and that in this specific case, "I can't respond to some anonymous complaint."
The accuser, who asked to remain anonymous, told the L.A. Times that she had met Weinstein once in Rome before the alleged rape. There, he invited her up to his hotel room, but she declined. She saw him again at the Los Angeles Italia Film, Fashion and Art Fest in February 2013 and he didn't seem to remember her. Then, she says he appeared "without warning" in the lobby of her hotel, asked to come up to her room, refused to take no for an answer, and "bullied his way into my hotel room." "Once inside, he asked me questions about myself, but soon became very aggressive and demanding and kept asking to see me naked," she said. "He grabbed me by the hair and forced me to do something I did not want to do. He then dragged me to the bathroom and forcibly raped me." The actress said she told a priest, a friend, and a nanny what happened, but was afraid to report the incident to the police at the time. She decided to come forward now with the encouragement of her children.