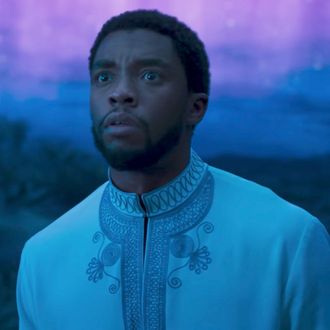 Photo: Marvel Studios/Walt Disney Studios
Have you seen the new Black Panther trailer? Maybe go watch that immediately. Who needs a porg when this trailer delivers a Michael B. Jordan in wire-framed glasses? Uneasy lies the head that wears a crown in Ryan Coogler's Marvel movie, which finds T'Challa (Chadwick Boseman) preparing to take over the fictional African nation of Wakanda. Even with his mother — the ageless Angela Bassett — supporting him, it's hard being a superhero slash head of state. Eric Killmonger (Michael B. Jordan) looms in the background, ready to steal your girl or usurp the throne. Vince Staples and Gil Scott-Heron serve as the perfect soundtracks.
The new trailer shows off more of Wakanda's stunning visuals. Wakanda is the most technologically advanced nation on the planet, an isolationist country blissfully untouched by the rest of the world. The result: Black Panther looks like it will be the blackest blockbuster Hollywood has ever seen.
Angela Bassett is the Queen Mother of Wakanda. That's it, that's all you need to know.
Remember the handshake from The Parent Trap? This is like that, but optimized for a new generation.
We've seen Killmonger before, but Killmonger in plainclothes? Wearing that shearling-collar denim jacket? Looking like he's next on Issa Rae's Insecure hoe-tation? I'm preemptively listening to SZA to recover.
His clothes … just fell off his body … and revealed his armor. If homeboy comes through in these he's gonna like … get it. Black Panther comes out February 2018.