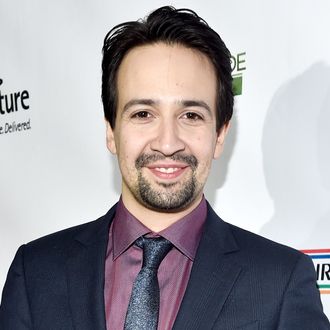 Lin-Manuel Miranda.
Photo: Alberto E. Rodriguez/Getty Images for US
Fantasy fans already in mourning for the imminent conclusion of HBO's Game of Thrones now have something to live for once more.
On Thursday, Showtime announced it will be home to a new TV show based on Patrick Rothfuss's beloved Kingkiller Chronicles trilogy. It was previously announced that Lin-Manuel Miranda was developing a TV series, and multiple movies, based on the books, acting as executive producer and songwriter. The Kingkiller Chronicles tell the story of Kvothe, a roguish magician — and famous musician — who has met mysterious disaster and gone into hiding. Lionsgate is already planning a series of films, beginning with the first book in the trilogy, The Name of the Wind. (The third book in the series has yet to be published.) While details are scarce about what story, exactly, the TV show will tell, Showtime has announced it will take place in the same universe as the books and tell a sort of origin story, set a generation before the events of the first novel.
"I've told Lin many times, 'There's no degree you can be involved in this project that will not please me,'" Rothfuss told Vulture in a recent interview. "He is full of joy, and he is disgustingly talented. Why wouldn't you want to, you know, interact with that person as much as possible, either in projects or just in your day-to-day life?"
"I very rarely reread books," added Miranda, "but I reread those books several times just to luxuriate in reading them and spending time in that world and with those characters."