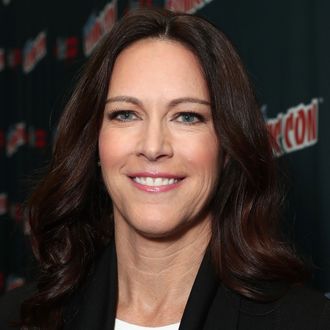 Isa Hackett.
Photo: Todd Williamson/Getty Images
Isa Hackett, a producer on Man in the High Castle, has come forward with new details about a sexual-harassment allegation investigated internally at Amazon. In an interview with The Hollywood Reporter, Hackett says that Amazon's programming chief Roy Price harassed her during San Diego Comic-Con in 2015. In a cab ride to a party with another Amazon employee, Hackett says Price told her she would "love his dick." During the party, he stepped close and yelled "anal sex" into her ear, she says. She reported the behavior to Amazon executives and an outside investigator was brought in. Since then, she says she hasn't had any contact with Price. (In a statement to THR, Amazon said they "looked closely at this specific concern and addressed it directly with those involved." Price declined to comment.)
Hackett's allegations went public in August, but she's speaking about them on the record in light of the three dozen women who have accused Harvey Weinstein of sexual harassment or assault. "There's a culture of harassment [in Hollywood] and we need an infusion of new and diverse leadership, not just including women," Hackett told THR, "but gay people, people of color, people with disabilities — people with the full spectrum of life experience."
Update: A spokesperson for Amazon released the following statement:
"Roy Price is on leave of absence effective immediately. We are reviewing our options for the projects we have with The Weinstein Co.