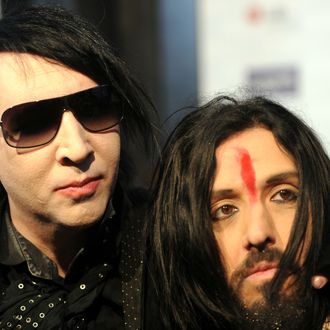 Photo: GABRIEL BOUYS/AFP/Getty Images
In a Facebook post written Friday, musician Jessicka Addams, former front woman of Jack Off Jill and current singer for the band Scarling, accuses Marilyn Manson bassist Twiggy Ramirez, given name Jeordie White, of rape and physical assault during their relationship in the late '90s. Eighteen years old when she met and moved in with White, Addams alleges their relationship was marked by escalating domestic violence ("He began driving my car erratically on the highway, all the while punching me [in] the chest several times, knocking the air out of my lungs," she says of one incident) and, eventually, rape. "He forced me on to the floor with his hand around my neck," Addams alleges. Only the intervention of a roommate, the singer says, ended the sexual assault. "I said NO. I said NO. I said it so loud enough, that Pete came rushing in from the other room to get him off of me," she writes. "But I had been raped. I had been raped by somebody I thought I loved."
Addams claims her recording company explicitly told her not to reveal the assault for fear of presumed backlash from Marilyn Manson. (The band would have been riding high on the popularity of their 1996 album Antichrist Superstar at the time.) "In 1997, I was warned by my band's record company that if I revealed my story publically, there would be a very good chance that my band Jack Off Jill would be black balled by concert promoters, radio programmers, and other bands and their managers," says Addams. Having come up in the Florida scene with Marilyn Manson and his bandmates, Jack Off Jill opened for his band both before and after the time during which Addams says her assault occurred.
After alluding to her rape and physical abuse in a 2015 interview with Alternative Press, Addams was sickened to hear stories about other women who had allegedly been assaulted by White. "I was not the only one who was a victim of my rapist. Others had also been abused by the man I was referencing," she writes. "The amount of guilt I felt for not reporting him when my rape initially occurred really began to eat at me."
In a statement made to Pitchfork on Saturday, Marilyn Manson responded to Addams's allegations, saying, "I knew Jessicka and Jeordie had a romantic relationship many years ago and I considered and still consider Jessicka to be a friend. I knew nothing about these allegations until very recently and am saddened by Jessicka's obvious distress." You can read Jessicka Addams's full account below.