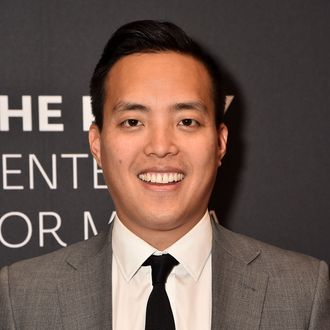 Photo: Theo Wargo/Getty Images
Though Master of None creators Aziz Ansari and Alan Yang cannot see into the future, the second season of their Netflix series, which came out last May, is even more relevant now than it was then. During the season, Ansari's character, Dev, becomes friendly with an amicable cooking-show star who wields a lot of pull at his network. Chef Jeff (Bobby Cannavale), as Dev comes to learn, has a history of sexually harassing women. According to Variety, Yang worried at the time that everyone watching would see Cannavale as a direct Bill O'Reilly stand-in, but went for the story line anyway because he knew, "There will be sexual harassers in the future." And, boy, has that been true. Since the Harvey Weinstein scandal broke earlier in October, nearly two dozen other high-powered men have been accused of harassment and sexual assault.
Addressing the widespread issue in the entertainment industry, Yang stood in solidarity with the women and men who have publicly accused their past abusers this month. "Everyone's being made aware, so let's be allies to those speaking out," Yang said. He added, "And honestly, we need more women in positions of power. Basically that's going to help solve the issue." Yes please!