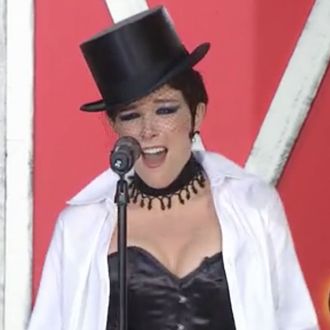 Megyn Kelly.
Photo: Megyn Kelly Today/NBC
Because viewers statistically tend to enjoy the concepts of "Halloween," "fun," and "costumes," Megyn Kelly and the rest of the Today show all dressed up together, as they do every year. The theme was country-music legends, with the show's set styled like the Grand Ole Opry. Here's Megyn Kelly trying very hard to have fun as Shania Twain.
Here's Megyn Kelly meeting Shania Twain, who is … Grizabella?
Here's Al Roker as Willie Nelson.
Here's Matt Lauer as Dolly Parton (shame on the Today show PR team for using a Hello, Dolly! reference instead of an actual Dolly Parton one in this tweet).
Here's Kathie Lee Gifford and Hoda Kotb as Miley Cyrus and Blake Shelton, alongside Blake Shelton, who looks very much like he is recalling a bad dream he once had.
And if you would like to descend into mild, nauseous terror this morning, enjoy the Today show's Halloween introduction in full.