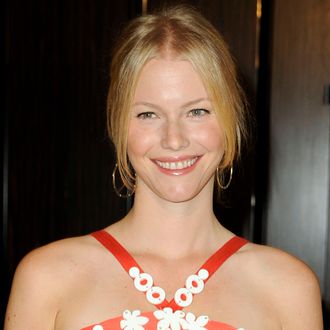 Sagemiller.
Photo: Andreas Branch/Patrick McMullan
The list of women accusing disgraced producer Harvey Weinstein continues to grow. Actress Melissa Sagemiller, who starred in 2000's Get Over It, which was distributed by Weinstein's Miramax, tells HuffPost that the mogul sexually intimidated while working on the film. She claims Weinstein's advances began early in production on the film when he invited her to lunch and acted "inappropriate," but not physical. Sagemiller says she'd heard at the time that Weinstein is known to get a "little frisky," but wasn't aware that it extended to abuse until she allegedly experienced it herself. Further into production, Sagemiller says she was told she had to meet with Weinstein in his hotel room to discuss changes to the script despite her requesting to meet somewhere more public. Once there, she says Weinstein appeared in his robe and requested she give him a massage, a story similar to the accounts of other accusers. Sagemiller refused and says Weinstein then told her he needed to take a shower but that she couldn't leave unless she kissed him.
"I remember that's when it turned from 'Oh, ha ha, I can handle this guy' to 'Well, OK, he's blocking the door, sort of' — he'd walked over and put his hand on the door," she recalls. "It was just one of those things where I was like, 'Really?' He just wouldn't stop. It was relentless." She claims he continued to pressure her, implying that he similarly propositioned Charlize Theron and Renée Zellweger and that kissing him would further her career. (Theron and Zellweger have not publicly accused Weinstein of misconduct and did not respond to HuffPost for comment.) Sagemiller says she was ultimately forced to kiss Weinstein without her consent in order to get out: "He sort of held my head and made me kiss him, and then he's like, 'OK, you can go now. That's all I wanted. Just do what I say and you can get your way.'"
While thanking him for the film at the wrap party, Sagemiller says Weinstein informed her that she would be traveling back with him on his private plane. Sagemiller told her agent not to let her be put on another flight, but when she arrived at the airport, she was forced onto Weinstein's plane by his assistant. "They'd kidnapped my bags at this point, so I was just like, 'Fine, you win, motherfucker," she says. When she arrived on his plane — which her co-stars Shane West and Sisqó were also flying back on — Sagemiller says Weinstein smugly greeted her. "'See, Melissa, you can't say no to me. I always get what I want,'" she says he told her. "He wanted me on this plane, and he wanted me somewhere where I couldn't go anywhere. And he just wanted to eff with me. He just wanted to fuck with my head."
She says she told other actors on set about Weinstein's behavior, but was warned by her agent that going up against Weinstien could hurt her career. "'Don't cause any trouble. Don't say anything … This is Harvey. Harvey's Harvey. Just don't pay attention to him, ignore it, just move on,'" she remembers being advised. "I was never told, 'Are you OK? Do you want to say anything? Do you want to report this?' Nothing like that. It was just, 'That's Harvey.'" Sagemiller now says she wouldn't be surprised if she didn't get certain roles later on because of Weinstein.