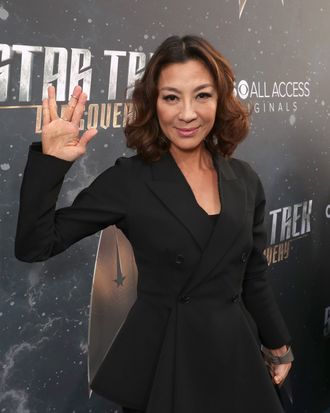 Photo: Todd Williamson/Getty Images
Spoilers ahead for Star Trek: Discovery.
Fans were sent into a tailspin early in Star Trek: Discovery when Captain Philippa Georgiou, a character played by one of the series's biggest names, Michelle Yeoh, died during the two-episode premiere. Many Trekkies worried they wouldn't see the Hong Kong action star on the CBS All Access show again — a fear echoed during the Q&A portion of the show's New York Comic Con panel by a concerned audience member: Michelle Yeoh in disguise.
After taking off her hat for the surprise reveal, and a round of applause, Yeoh jumped onstage to talk about her experience on the series. "You don't understand what an incredible adventure it's been," Yeoh said. "So I'm not going to let you keep me away. I'm going to come back and haunt you all the time!"
While Yeoh was likely joking about coming back as a ghost (that's kind of a Star Wars thing), producer Gretchen J. Berg confirmed at the end of the panel that Yeoh's character will return in some capacity. Pointing at the actress, Berg promised: "You will see more of this woman on the show."