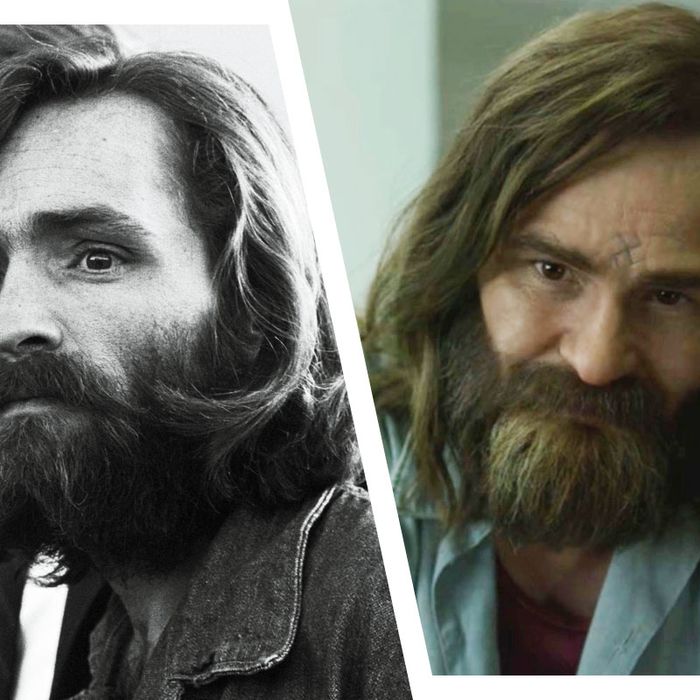 Charles Manson, left, is played by Damon Herriman.
Photo: Getty Images and Netflix
If you're watching Mindhunter, the Netflix drama based on the true story of the man who pioneered the science of profiling serial killers, you're probably wondering just how much of it is true. The show's fictional profiler, FBI agent Holden Ford, makes reference to infamous criminals like Charles Manson and David Berkowitz, but what about the other serial killers who appear on the show? Is Wayne Williams a real person? Were the good guys inspired by actual FBI agents? Below, we separate fact from fiction to explain what's real and what isn't in Mindhunter.
The Good Guys
Holden Ford
The complex leading man of Mindhunter, played perfectly by Jonathan Groff, is based on John E. Douglas, the author of the book Mindhunter: Inside the FBI's Elite Serial Crime Unit. Douglas is no stranger to Hollywood: He reportedly served as the main inspiration for Jack Crawford in the novels Red Dragon and The Silence of the Lambs, as well as Bryan Fuller's take on Will Graham in the TV show Hannibal. In Mindhunter, Ford walks a similar path as an agent in the FBI's Behavioral Sciences Unit, traveling the country to interview some of the most notorious criminals in American history. In reality, Douglas redefined murder investigations thanks to information gleaned from interviews with David Berkowitz, John Wayne Gacy, Charles Manson, Richard Speck, and Edmund Kemper.
Bill Tench
The parallels between Holt McCallany's gruff FBI agent and his real-life counterpart are less direct than those between Ford and Douglas, but they're still there. Tench was inspired heavily by Robert K. Ressler, a Chicago-born FBI agent who joined the Bureau in 1970. Ressler was also a part of the Behavioral Sciences Unit in the '70s and is credited with coining the term "serial killer." Ressler also interviewed serial killers in the '80s and developed the nation's first computer database of unsolved crimes, which helped capture those who crossed state lines as they killed. He worked on major serial-killer cases, including the searches for Jeffrey Dahmer and Ted Bundy. Ressler died in 2013.
Dr. Wendy Carr
Often the voice of reason and logic on Mindhunter, Anna Torv's psychologist has a real-life counterpart in Dr. Ann Wolbert Burgess. Again, the real person worked in the FBI's Behavioral Sciences Unit with agents Douglas and Ressler, and all three people are credited with writing Sexual Homicide: Patterns and Motives, a breakthrough study of serial killers published in 1988. Burgess pioneered the treatment for trauma and abuse victims, co-founding a counseling program for victims of sexual violence at Boston City Hospital. She still teaches at Boston College.
Ted Gunn and Jim Barney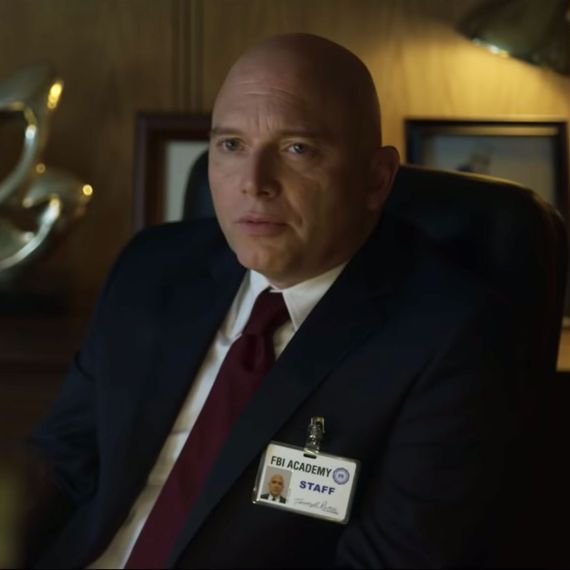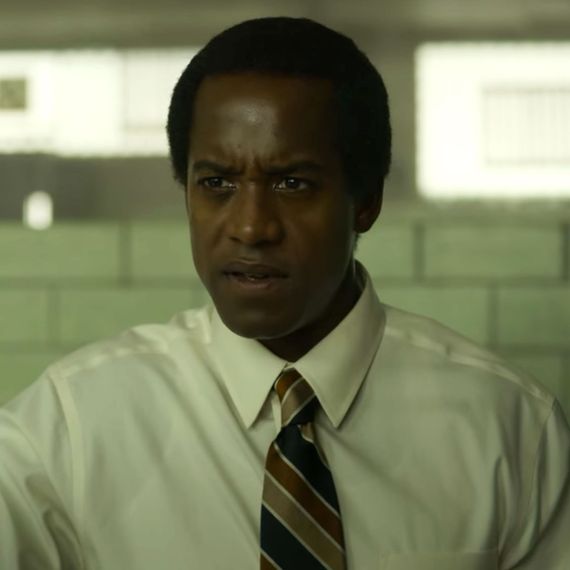 In season two, Mindhunter's most prominent new characters are these allies of Ford, Tench, and Carr, but they aren't directly based on real people. Yes, the FBI started taking the Behavioral Sciences Unit more seriously in the '80s, and so it makes sense that the dismissive Shepard is replaced with the supportive Ted Gunn (played by Anna Torv's Fringe co-star Michael Cerveris), but Gunn doesn't have a direct counterpart in actual history. Ditto Barney (played by Albert Jones), who tried to join the unit last season and probably would have been a better choice than Gregg; he's an amalgam of FBI agents who worked the Atlanta Child Murders case.
Brian Tench
He's not a "good" guy, but Bill Tench's kid isn't a serial killer … yet. You're probably wondering if Tench's real-life counterpart, Robert Ressler, actually had a kid with like Brian (played by Zachary Scott Ross). Thankfully, this story line appears to be total fiction, although Ressler's actual son, Aaron, may have some questions for the Mindhunter writers.
Kevin Bright
In the second episode of season two, after Tench is asked to investigate the BTK Killer case in Wichita, he meets with a young man named Kevin Bright. Bright's story is tragically true, and the man who shot him and killed his sister Kathryn wouldn't be caught until 2005. In 1974, Dennis Rader attacked the Brights as the young man describes in the show: Rader forced Kevin to tie up Kathryn, but when he fought back the serial killer shot him twice, and Kevin was forced to play dead while his sister was murdered. It's one of the show's most riveting and heartbreaking scenes, reminding us of the trauma inflicted by the killers profiled by Ford, Tench, and Carr.
The Serial Killers
Dennis Rader
The ADT man from Wichita is Mindhunter's most elusive character. He has yet to interact with any other major characters, but he's instantly familiar to people who have read about serial killers in America: Dennis Rader, the BTK killer. Rader gave himself the name "BTK" in one of his many letters to the media, which stands for "bind, torture, kill," his preferred method of execution. Rader wasn't caught for his murders until 2005, so although Tench begins investigating the case in season two, he'll likely be a part of the show for some time.
Ed Kemper
The scene-stealer from season one has a much smaller role in season two, but Ford and Tench's trip to chat with Charles Manson does offer them the chance to catch up with this "co-ed killer." Mindhunter's version of Kemper, played by Cameron Britton, is very similar to what we know about the real-life man, including direct quotes from actual interviews conducted with Kemper in prison. Kemper killed his grandparents as a teenager but was later released from a mental hospital at age 21. From May 1972 to April 1973, he went on to kidnap, murder, and defile eight more people before he finally turned himself in to the police.
After season two, you may be wondering if Ed Kemper really was held at the same penal institution as one of history's most infamous criminals. In fact, both Kemper and Charles Manson were at the California Medical Facility in the '70s, although Manson would move a few times before his death in 2017. Kemper is still incarcerated at the California Medical Facility, and his next parole hearing in scheduled for 2024.
Monte Ralph Rissell
When Ford and Tench speak to the fictional version of Rissell in season one, they discover that not every serial killer is as open and forthcoming as Edmund Kemper. Rissell, played by Sam Strike in the show, is nowhere near a household name, but his crimes were undeniably horrific. He stands out for how early he started his rampage, reportedly committing his first rape at the age of 14. Like Kemper, Rissell was sent to an mental institution, and he's known for convincing his counselors that he was getting better even as he surreptitiously committed crimes while on short leave. By the time he was arrested at age 19, he had killed five people and raped at least a dozen. He is currently incarcerated for five life sentences.
Jerry Brudos
The man branded by the press as the "lust killer" and "shoe-fetish slayer" appears in season one. What Ford and Tench learn from Brudos is essential to how to profile criminals, and some of his confessions appear to be pulled from reality. He really was the younger son to a mother who wanted him to be a daughter, and his fetish for women's shoes started at a very young age. Brudos, played by Happy Anderson, was sent to a mental hospital after his first crime, abducting a woman when he was only 17. He appeared to settle down in the years following his release, getting married and having two children, but then he went on a murder spree beginning in 1968. Dressed in women's clothing, Brudos killed at least four young women in Oregon, mutilating and keeping parts of their bodies as trophies. He died in prison in 2006.
Richard Speck
They don't get much more loathsome than the infamous Richard Speck, captured by Jack Erdie on Mindhunter in all his abrasive, disgusting glory. However, Speck's crimes are different from most others on this show. On July 13, 1966, Richard Speck tortured, raped, and murdered eight nurses from the South Chicago Community Hospital. He had previously committed violent acts, but it was the horror of the singular event that made headlines around the world, especially because one woman escaped to describe the nightmare. In Mindhunter, Speck is an aggressive monster, and it's when Ford sinks to his level that he puts his career in jeopardy — even sparking an internal FBI investigation at the start of season two. Speck died of a heart attack in 1991.
Darrell Gene Devier
Mindhunter's first-season finale hinges on the case of Darrell Gene Devier and how Holden Ford and Bill Tench solve it using methods gleaned from their conversations with serial killers. The fictional version of Devier, played by Adam Zastrow, is almost directly lifted from history: Devier was a tree-trimmer working in a rural Georgia neighborhood where 12-year-old Mary Frances Stoner was raped and killed. Douglas writes about the case in his book, making it clear that it was his first chance to stage an interrogation. The fake folder of papers that makes it look like the cops had a lot on Devier, the gross implication that the victim was asking for it to weaken the suspect's defenses, and the bloody rock placed in front of him: All of these tactics were actually used in Douglas's interrogation of Devier, and they ultimately led to his confession. Even the drama of the passed polygraph test comes from the real story.
David Berkowitz
In the summer of 1976, New York was seized with terror by a serial killer calling himself the Son of Sam, who would walk up to couples parked in cars and open fire. After his capture in 1977, Berkowitz would tell authorities that he murdered people because demons speaking through a Labrador retriever told him to do it, though in his interview with Ford and Tench in season two, Mindhunter calls that claim into question. Berkowitz, played in the show by Oliver Cooper, did actually retract his more exaggerated claims at a press conference in 1979, and Ford's real-life counterpart, John E. Douglas, claimed to have seen through his Son of Sam persona immediately. Another detail the show pulled from the history books: Douglas and Ressler did indeed call on Berkowitz to help profile the BTK Killer, who had sent similar letters to authorities and referenced the Son of Sam.
William Pierce Jr.
In the third episode of season two, this man with a supposedly "impressive" vocabulary appears as an early suspect in the Atlanta Child Murders, before Holt realizes that he doesn't fit the criminal profile. The actual William Pierce Jr. is still sitting behind bars, convicted of murder and accused of nine killings in the span of a single year; his most notorious crime was the rape and murder of Margaret "Peg" Cuttino, the 13-year-old daughter of a South Carolina state senator. Pierce (played in the show by Michael Filipowich) was not mentioned in Douglas's Mindhunter book, suggesting that the show is diverging ever so slightly from reality for dramatic effect. And to show how Mallomars can make someone talk.
William Henry Hance
On one of their earliest trips to Atlanta, Ford and Tench sit down for a chat with William Henry Hance (played by Corey Allen), who was convicted of murdering three women in Georgia in and around military bases in 1977 and 1978. Unlike many of the serial killers on Mindhunter, Hance is no longer alive, having been executed by electric chair in 1994. The bizarre details of Hance's capture as recounted on Mindhunter are true: In an attempt to throw off the authorities, he really did write a note about the "Forces of Evil" kidnapping someone, thereby alerting them to the crime. Ressler actually helped solve this case, seeing through the Forces of Evil nonsense and profiling the killer as a single man who was probably in the military. In fact, Hance was a former Marine.
Elmer Wayne Henley
Gregg and Wendy are forced to conduct an interview on their own in the fourth episode of season two, sitting across from Elmer Wayne Henley Jr. (played by Robert Aramayo). The actual Henley was convicted of six life terms for his role in the Houston Mass Murders of the early '70s, and for the shooting death of Dean Corll, the serial killer for whom Henley had procured victims. The older Corll groomed Henley when he was only a teenager, turning him into a participant in his crime spree, even if the show's version of the killer denies full culpability. The story he tells about the final night of their murder spree is true: When Henley brought home a girl instead of a boy, an enraged Corll tried to kill Henley, but the younger man got the upper hand, shooting Corll until he "hit the ground."
Charles Manson
In a bizarre bit of pop-culture synergy, actor Damon Herriman plays cult leader Charles Manson in two of the summer's biggest releases: Not just Mindhunter season two but also Quentin Tarantino's Once Upon a Time in Hollywood. What's perhaps most interesting about Manson's presence in the fifth episode of Mindhunter is how Ford reacts to him. The FBI agent is essentially starstruck, going so far as to give Manson his sunglasses, which might seem unrealistic until you consider Douglas's own fascination with the man, as recounted in his book: "He had been forced to live by his wits his entire life and so had become extremely adept at sizing up the people he met and quickly determining what they could do for him. He would have been excellent in my unit assessing an individual's psychological strengths and weaknesses and strategizing how to get a killer we were hunting."
Douglas also details in his Mindhunter book how distinctly different Manson was from Kemper, and how Manson sat on the top of his chair to try and gain an advantage during interviews. Both details are re-created on the show. Douglas reportedly interviewed Manson more than once, so we could end up seeing him again in a future season.
Tex Watson
After the heated exchange with Manson, Ford speaks to one of his most notorious disciples, Tex Watson, to determine how much of what he just heard was true. The answer? Almost none of it.
In 1971, Watson was convicted of seven counts of murder for his role in the Manson Family killings, including the death of Sharon Tate. He was sentenced to death for his crimes, but all death sentences in California were invalidated in 1972, and he remains behind bars at Richard J. Donovan Correctional Facility in San Diego. In an especially horrifying detail taken from reality, Tex (played by Christopher Backus) tells Ford how Tate begged to be taken somewhere so she could have her baby before being killed — something that several of the actual Manson Family killers have claimed.
Paul Bateson
In the sixth episode of season two, Wendy and Gregg do the interviewing and it doesn't go well. Paul Bateson (played by Morgan Kelly), the man convicted of killing film journalist Addison Verrill, basically toys with them as they try to pin him down for his suspected role in the "bag murders." In fact, authorities tried and failed to tie Bateson to a series of murders in Greenwich Village from 1975 to 1977. Bateson was freed on parole in 2003 after 24 years in prison, though his current whereabouts are unknown.
Though these details don't come up in the show itself, here are three stunning pieces of trivia about Bateson, all related to director William Friedkin. First, Bateson can be spotted in The Exorcist playing a radiological technician. Second, his story inspired Friedkin's take on the novel Cruising, which became an awful film with Al Pacino in 1980. Finally, Friedkin claimed on a podcast in 2012 that Bateson told him he was the serial killer, though that claim has never been confirmed.
Wayne Williams
Wayne Williams, played by Christopher Livingston, is the last serial killer interviewed in Mindhunter season two and perhaps the most significant. There are many elements of the Williams interview that contrast with others seen on the show, but the biggest may be that Williams never confessed to the Atlanta child murders — unlike so many of the killers who practically boast when they speak to Ford and Tench. The real Williams was convicted of killing two adult men in 1981, and police have since tied him to the murders of several children in Atlanta during that same time period, though he was never charged in those cases and still maintains his innocence. For many Atlanta residents, including relatives of some murdered children, the case remains unsolved, although it's worth noting that the killings did stop after Williams's arrest. There is a great deal of footage out there of Williams, and Livingston's impersonation of the man is startlingly accurate.