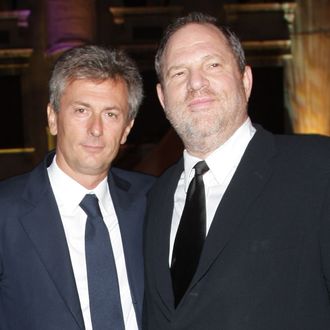 Fabrizio Lombardo (left) and Harvey Weinstein.
Photo: Venturelli/WireImage
Fabrizio Lombardo, an ex-Miramax executive, totally didn't do all the creepy stuff he's been accused of doing, he tells the Guardian. Lombardo's name has surfaced multiple times in the fallout of the three dozen sexual-misconduct allegations surrounding Harvey Weinstein. Asia Argento, who said Weinstein forcibly performed oral sex on her in 1997, named Lombardo as the Miramax employee that delivered her to Weinstein's hotel room, telling her they were going to a studio party. Another woman, Zoë Brock, says that Lombardo also set up a private meeting with Weinstein, in which she said she had to lock herself in a bathroom to avoid Weinstein. "I did not hunt for him," Lombardo told the Guardian. "It is not my style … it is not my relationship with Weinstein."
Lombardo's name first came up earlier this week, when the Wrap's Sharon Waxman said she was trying to report a story about Lombardo's link to Weinstein's rumored sexual misconduct. She received a call from two unlikely sources: Russell Crowe and Matt Damon. (Damon has since said that he only used the brief call to vouch for Lombardo's professionalism.) After Argento told The New Yorker about Lombardo's role in her alleged assault, she tweeted screenshots of memes he'd texted her out of the blue. Lombardo's explanation? "I sent it by mistake. Maybe hers was close to another name," he told the Guardian. Lombardo also denied knowing what happened in Weinstein's private meetings with people he'd introduced him to, and told the Guardian that its journalists had a biased view of men.