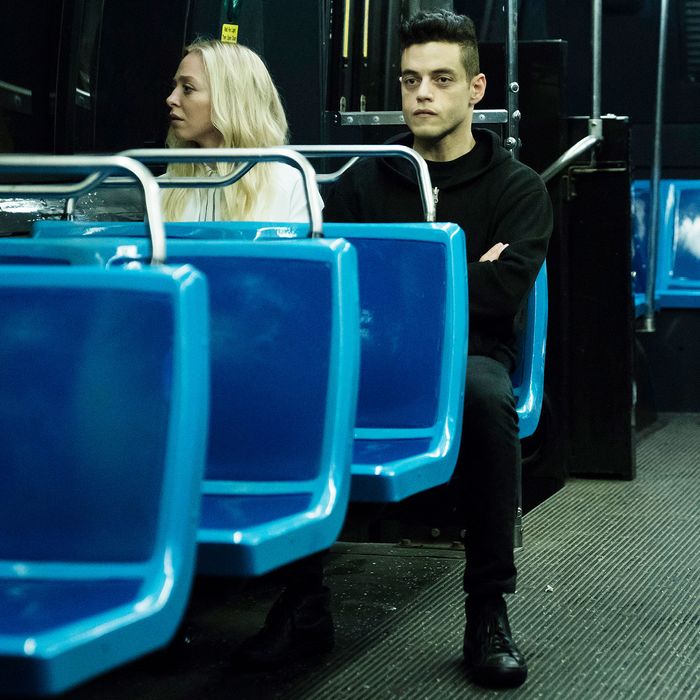 L-R: Portia Doubleday and Rami Malek.
Photo: Peter Kramer/USA Network
"I love a great mystery," says an E Corp employee early in tonight's season-three premiere of Mr. Robot. "And I'm fascinated by the greatest unsolved mystery: Do we see reality as it is?"
Mr. Robot and its creator, Sam Esmail, are clearly still fascinated by that great unsolved mystery, too. After two seasons that acclimated the audience to one perspective about the experiences of hacker protagonist Elliot Alderon (Rami Malek), then shined harsh light on how his mind, and ours, were being manipulated, season three proceeds on a mostly more-straightforward track, at least during the first six episodes made available in advance. There are, however, suggestions that what we're seeing may or may not be reality, and that perhaps there is more than one version of reality, a theme embedded in Mr. Robot from the very beginning.
Those hints creep into the dialogue (that same E Corp employee notes that our lives could be "unfolding simultaneously in a parallel universe"); in scenes where we can see Elliot talking to his friend and protector Angela (Portia Doubleday) only to find him absent a second later from a wide shot; and in Elliot's tendency to lose his grip on how he spent chunks of time, thanks to the personality hopscotching he's still doing between himself and his aggressive alter ego, Mr. Robot (Christian Slater).
For those already weary at the prospect of more episodes rife with frustrating mind games, know that in season three, Mr. Robot is much more consistently assured and compelling than it was in its uneven second season. With Elliot fixated on compensating for the damage he caused by orchestrating the 5/9 hack that decimated the U.S. economy, and with both Angela and his sister Darlene (Carly Chaikin) pushing and pulling him in ways that could serve his interests but definitely serve theirs, the story has a very clear spine and a sense of building tension that eventually boils over effectively in episodes five and six.
Mr. Robot also, thankfully, has more of a sense of humor this season. Episode two, for example, opens with an ironically buoyant eight-minute sequence set to INXS's "New Sensation" that follows Elliot as he re-acclimates to daily life as a corporate drone. "You know when you fuck something up and you wish you had the power to hit undo?" he says via voice-over. "Like when you say the dumbest thing in front of your biggest crush? Or when you talk shit about your boss in an email, then hit reply-all to everyone at work? Or when you crash the entire world economy and kick-start the inevitable downfall of human civilization?" Then comes the drily added kicker: "We all have those days."
There's another thing that Mr. Robot has in season three, too, and that's Donald Trump, or at least the specter of him. The action picks up from where we last left it, with Elliot having just been shot by fugitive and former E Corp senior VP Tyrell Wellick (Martin Wallström); Angela working with both Tyrell and the Dark Army; and Darlene now serving as an FBI informant for Dom (Grace Gummer) who, along with her colleagues, is still trying to get to the bottom of the E Corp hack. That means it is still 2015, Barack Obama is still in office, and Trump is still viewed by many as a laughable "buffoon," as one character puts it. But the seeds are obviously already being planted for his rise, something a monologue in the first episode addresses directly. "This dark future that I've set into motion," Elliot says in a lengthy rant that sounds like it was written by a cyber-activist who just slammed five Red Bulls, "Who knows what could come from this?" At which point images of Trump and Mike Pence, celebrating their victory in 2016, flash on the screen. The tantalizing tease of a question that Mr. Robot season three subtly raises: What if something could have been done back in 2015, to make things in 2016 and 2017 go a different way?
But what makes this season of Mr. Robot so good isn't the fact that it speaks to current politics, it's that it's back to doing more of the things it did well in season one, but doing them even better. Esmail, who directs all the episodes, remains a flashy and ambitious filmmaker, framing certain shots to be extra-top-heavy (one of his signatures) and capturing chaotic scenes via lengthy tracking shots, but in ways that feel more natural and less like the work of a show-off. Even the opening titles in the first episode, during which the camera pulls out from inside an E Corp facility to the sound of Julie Andrews singing "Whistling Away the Dark" from the movie Darling Lili, is a Kubrickian visual and sonic stunner. (The use of music this season, which runs the gamut from Daft Punk to Roxette, is also especially on point.)
New cast members have been added to the already solid ensemble, including, most notably, Bobby Cannavale as Irving, a fixer of sorts whose job, among other things, is to mind Wellick while he remains in hiding. Wearing a pair of retro eyeglasses that make it look like Irving has a pair of windshields sitting on his face, Cannavale speaks in extra-nasal tones and maintains the chill, chatty demeanor of a guy who has absolutely nothing to lose. Cannavale is light years away here from the macho types he has played on Vinyl or Master of None, but just as believably immersed in character. He's terrific.
So is Malek, who continues to credibly captures the sudden emotional shifts caused by Elliot's psychological battle, something that in another actor's hands, could seem completely absurd, but never does in his. He also still delivers his narration in the flat, yet somehow still expressive cadence of a man who's been heavily medicated. Honestly, everyone in the cast dials effectively back into the show's melancholy yet frantic mood, including Chaikin, Doubleday, and Slater, who gets more substantial screen time this season than last.
It's unclear whether Elliot's efforts to redeem himself and make up for fsociety's actions will somehow throw cold water on Trump's campaign in the alternate America of Mr. Robot. But based on the first half of season three, it appears that Esmail and the team behind this challenging and ambitious series have definitely achieved something: They figured out how to make Mr. Robot great again.