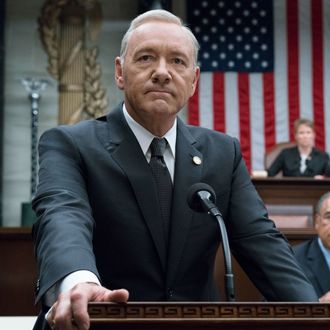 Kevin Spacey as Frank Underwood.
Photo: David Giesbrecht/Netflix
The House of Cards will finally collapse. A Netflix spokesperson has confirmed to Vulture that the show's upcoming sixth season will be its last. The streaming service would not discuss when the decision was made, but TV Line reports that this decision was several months in the making. According to Deadline, certain members of the production were only told of the cancellation today. The news comes one day after actor Anthony Rapp shared an account of the show's star Kevin Spacey attempting to "seduce" him when Rapp was just 14 years old. In response to the allegations, Spacey released a statement in which he said, in part, "I honestly do not remember the encounter, it would have been over 30 years ago," adding, "But if I did behave then as he describes, I owe him the sincerest apology for what would have been deeply inappropriate drunken behavior, and I am sorry for the feelings he describes having carried with him all these years." Spacey also came out as gay in the statement, and his response has drawn condemnation from many of his Hollywood colleagues, as well as from the GLAAD organization.
Update: Vulture has received a statement from Netflix and Media Rights Capital, which produces House of Cards with the streaming company.
Media Rights Capital and Netflix are deeply troubled by last night's news concerning Kevin Spacey. In response to last night's revelations, executives from both of our companies arrived in Baltimore this afternoon to meet with our cast and crew to ensure that they continue to feel safe and supported. As previously scheduled, Kevin Spacey is not working on set at this time.