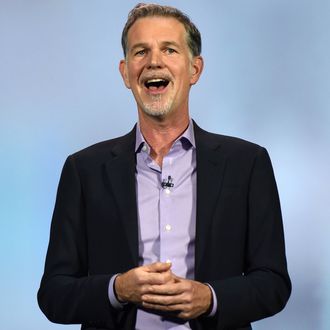 Netflix CEO Reed Hastings.
Photo: Ethan Miller/Getty Images
Based on the number of original movies and TV shows popping up in your Netflix interface these days, it's clear that the company is spending aircraft carriers of money to make in-house content. As a result, they need to replenish the coffers, and that means charging customers more. Netflix won't tell you who is watching what or how many people are tuning in, but they will raise the price of the middle- and top-tier subscription plans. To stream simultaneously on two devices it will now cost $10.99 instead of $9.99, and if you want the ultra-high-definition 4K-video option it will now cost $13.99, up from $11.99. The lowest price-point plan will not change.
Now that every streamer makes its own originals, Netflix is in a race to keep up with the likes of YouTube, Hulu, and Amazon. As such, it's prepping to pour $6 billion more into native content. The company provided this statement to The Hollywood Reporter about its price hikes: "From time to time, Netflix plans and pricing are adjusted as we add more exclusive TV shows and movies, introduce new product features and improve the overall Netflix experience to help members find something great to watch even faster."