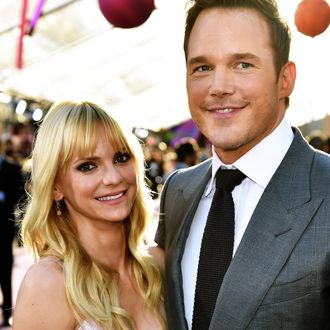 Anna Faris, Chris Pratt.
Photo: Frazer Harrison/Getty Images
Even though Chris Pratt and Anna Faris have split, beloved nice-guy Pratt still offered an introduction to Faris's new memoir. In the chapter, Pratt has a hard time figuring out what exactly a "foreword" is — half of his six-page introduction to Anna Faris's book is him deducing how to write one — but he praises his ex's patience and kindness, even in the face of paparazzi. "When I was asked to write the foreword for Unqualified, Anna's memoir, I immediately said yes without even thinking about it. And boy did a lot happen between then and now. So much. Like … soooo much," Pratt writes, alluding to their late-summer separation. The Guardians star says he's excited to co-parent their son with her, and has plenty of other pleasantries to drop:
(1) Faris kindly feigned interest in Pratt's tired anecdotes about their shared history. The two grew up 20 minutes from each other in Washington state, and every time they'd drive past her high school, he'd say something about how he used to play football there: "Every time, she reacts with a gracious amount faux wonder, kind sweetheart."
(2) Despite being typecast as a dumb blonde, she's super smart and well-read. "She reads, hears, watches, and retains an inordinate amount of stories — from podcasts and NPR pieces to New Yorker articles," Pratt says. "She'll often pore over the newspaper while simultaneously watching a TV show and blow drying her hair."
(3) Even when being super famous gets tiresome — paparazzi, fans, autographs — Faris is a good sport. "When approached by fans and photographers, she smiles and shows kindness," Pratt writes. "As do I, although my annoyance and bubbling anger with paparazzi tend to be more thinly veiled."
(4) She really, really loves acting. Pratt says that acting is just "a job that keeps me from breaking my back doing construction." For Farris, it's her passion. "She lives to entertain," he says.
(5) This: "She is the amazing, effervescent, former short girl, theater nerd, camp counselor, crossing guard, headgear-wearing, feistmesiter, character-playing Anna Kay Faris."