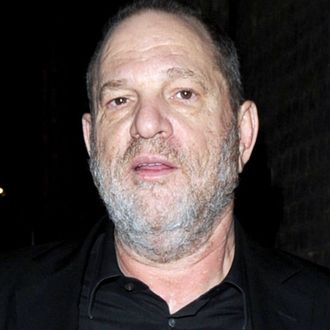 Weinstein.
Photo: Melmedia/GC Images
Harvey Weinstein has been removed as the head of the Weinstein Company following a bombshell investigation that uncovered decades of allegations of sexual harassment against him, and now The New Yorker has obtained audio of Weinstein confessing to groping a woman. In a confrontation recorded by the NYPD of Weinstein and Filipina-Italian model and aspiring actress Ambra Battilana Gutierrez, Weinstein is heard instructing Gutierrez to come into his hotel room and sit in the bathroom for five minutes and drink water while he showers. Gutierrez repeatedly tells Weinstein that she does not feel comfortable and asks him why he touched her breast the previous day. "Oh, please, I'm sorry, just come on in, I'm used to that," he tells her. "I won't do it again … I swear on my children. Please come in. On everything, I'm a famous guy. Don't ruin your friendship with me for five minutes." Gutierrez is heard asking to leave before the conversation appears to end.
An NYPD commander tells the Daily Beast that Weinstein was nearly arrested in 2015 for this alleged groping. According to police, and as outlined in the original New York Times report, Gutierrez notified authorities that, in March 2015, Weinstein allegedly grabbed her breasts and put his hand up her skirt at his Tribeca office. She fled right after. The NYPD now says they put Weinstein under surveillance with the help of Gutierrez, arranging a meeting between the two at the Tribeca Grand Hotel later that month, at which the actress recorded her conversation with Weinstein (parts of which are heard above). During that meeting, which the NYPD scoped out from a different room, police say Weinstein "basically apologized for what he did," but then told Gutierrez, "Listen, come up to my room." The commander describes that exchange as evidence of "how incorrigible the guy is."
Gutierrez coordinated with police, who guaranteed her safety and intended to catch Weinstein in the act should he attempt to grope her again. Officers say she agreed to go upstairs with him but then "suddenly backed away and departed" out of fear. The police took Weinstein in for questioning when he came back downstairs, but were forced to hold off when they say the mogul asked for lawyers connected to Rudy Giuliani. (Weinstein denied the allegations.) The police say they presented a strong case against Weinstein to the Manhattan district attorney's office for his arrest, but the DA declined to charge him after a week of debating it, citing lack of evidence. The NYPD commander suggests that the DA's office was hesitant to prosecute after considering other factors: the failed Dominique Strauss-Kahn case, Gutierrez's testimony in the Silvio Berlusconi case, and her previous abuse allegation against a boyfriend. "When you say no after a week, it's not usually over the facts," the commander tells the Daily Beast. A source told the Daily Beast that Weinstein ultimately paid Gutierrez off and she left New York, with a movie about her life now in the works (not connected to the Weinstein Company).
Following the latest allegations against Weinstein, it was reported that his lawyer, David Boies, donated $10,000 to Manhattan district attorney Cyrus Vance Jr. in 2015 not long after Vance declined to prosecute Weinstein for allegedly groping Gutierrez. In a statement on Tuesday, the DA's office said the case against Weinstein did not proceed because NYPD investigators failed to consult with SVU prosecutors prior to the sting, and that the audio obtained did not establish criminal intent, which is required to prove a crime under New York law.
This post has been updated throughout.