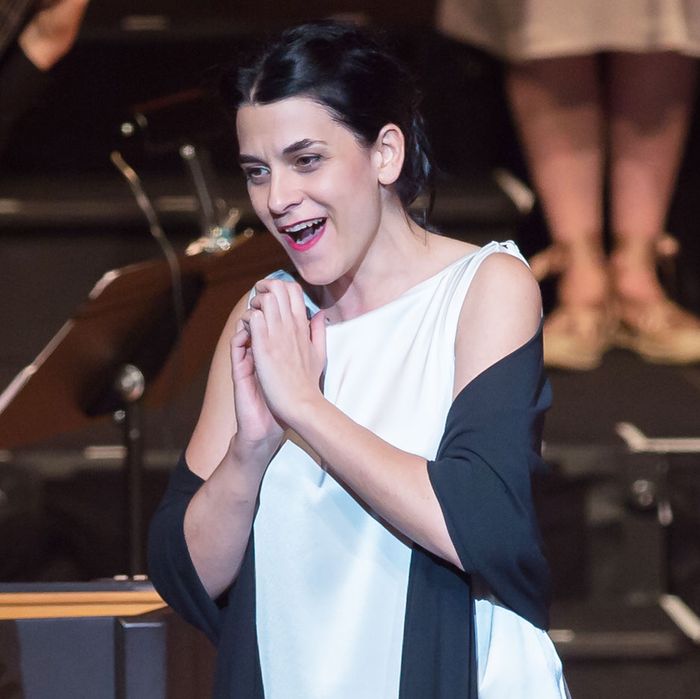 Monteverdi's
Orfeo,
at Alice Tully Hall.
Photo: Kevin Yatarola/© Kevin Yatarola
If the conductor John Eliot Gardiner had been able to play, sing, and act every note of Monteverdi's Orfeo, The Return of Ulysses, and The Coronation of Poppea — the great trilogy of opera's infancy — I suspect he would have been satisfied with the result. As it was, though he brought a large repertory company and an ensemble bristling with long-necked theorbos to Alice Tully Hall, Gardiner almost did turn the works into a three-night, one-man show. From the explosive opening toccata of Orfeo, a sit-down-shut-up-and-let-us-amaze-you blast of brass, to the heartbreaking fadeout at the end of Poppea a few days later, he lobbed each tissue-wrapped note at the audience with great magnanimity. The results were predictably, even oppressively, exquisite.
Claudio Monteverdi turns 450 this year, and Gardiner's relationship with his operas goes back a good 11 percent of that period. In his hands, no subtext goes unturned. Standout singers would undermine this this top-down approach, and Gardiner allowed only a few, usually in secondary roles. Gianluca Buratto commanded such a depth-charge basso and even more profundo humanity that each of his brief appearances raised the temperature onstage. He glowed darkly as Seneca in Poppea, exiting toward his death in a passage of quiet tragedy, taking reason and sanity with him. Tenor Furio Zanasi sang the title role in Ulysses with controlled tenderness, as a man who carries the bruises of age and regret but has not yet run out of ferocity. Not every cast member rose to that level, but together they delivered vivid and intense ensemble performances. Their explorations of mixed motives, emotional countercurrents, and human friction read like the product, not just of months on tour, but years of group meditation, with Gardiner as their guru.
Nearly four decades separate Orfeo (1607), the first masterpiece in a fledgling genre, from Ulisse and Poppea, which Monteverdi wrote in his 70s. Think of how much moviemaking changed from the silent shorts of the early 20th century to Casablanca, and you'll have a sense of how opera evolved in the intervening years. Orfeo tracks one tenor's trajectory from despair to hope and back again, whereas the later operas cover a more richly shaded spectrum of human interaction. In Poppea, the Emperor Nerone is a petulant tyrant, which the excellent but not always reliable countertenor Kangmin Justin Kim sang with flair, his blond hair upswept into a kind of Trumpian bouffant. The staging, on which Gardiner collaborated with Elsa Rooke, ratcheted up the homoeroticism of his relationship with the poet Lucano and, oddly, treats campiness as one of the emperor's many sins. But the score makes clear that Nerone is also genuinely in love with Poppea, and it's hard to hold his nastiness against him in the opera's waning moments, when he and his triumphant mistress sing "Pur ti miro," a duet so sublime that it practically dissolves into a perfumed breeze. Gardiner shares the wisdom that Monteverdi decanted into his music: that most people are inconsistent and conflicted, prey to their own wild ambivalence but somehow noble nevertheless.