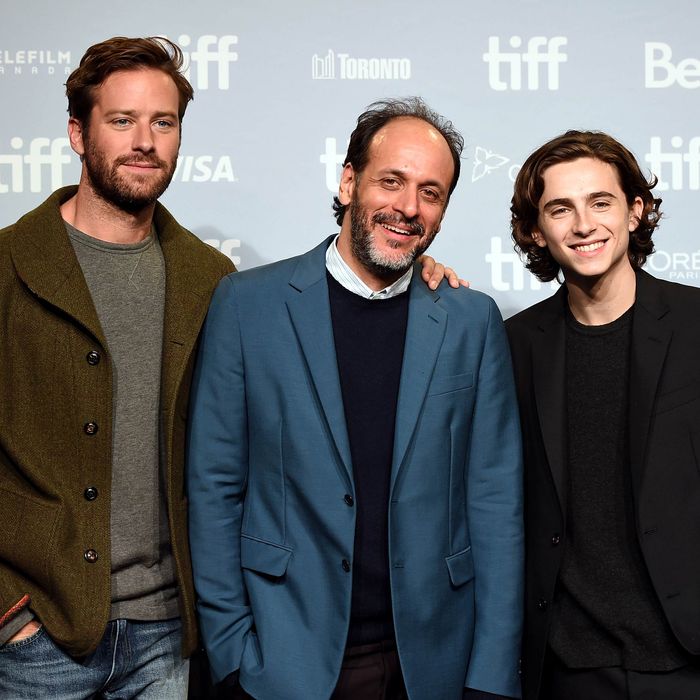 Armie Hammer, Luca Guadagnino and Timothee Chalamet at TIFF.
Photo: Kevin Winter/Getty Images
Get ready for some prognosticating! Awards season officially started Thursday with the announcement of nominations for the 27th Annual IFP Gotham Awards. As I've written before, no one looks to the Gothams to read the tea leaves for what will happen at the Academy Awards — the Gothams focus on independent film, so some big studio players are ineligible, throwing off the equation — but they really, really should. The Gothams are the first awards of the season and, as such, are the purest indication of how the industry regards movies and actors, without any influence from Oscars campaigning or awards momentum.
Case in point: Last year, Moonlight won Best Feature and Best Screenplay, which it also won at the Oscars. Casey Affleck won Best Actor. O.J.: Made in America won Best Documentary. La La Land's budget was too big to be eligible, so Emma Stone didn't get nominated for Best Actress; that trophy went to Isabelle Huppert, as the first indication that the French icon would go far in a French-language dark comedy about rape.
So what are the takeaways on this year's Gotham nominees' chances at the Oscars?
1. Go ahead and save a space on your ballot for Get Out in Best Picture and Best Original Screenplay. It got nominated for both at the Gothams and is the most-nominated movie, with four. My esteemed Oscarologist colleague Kyle Buchanan has had Get Out in his Oscar Futures column since the start of the season. This solidifies it.
2. I wouldn't yet place bets on Jordan Peele getting nominated for Best Director, even though he got nominated as Breakthrough Director here. The Gothams only honor first-time directors, and the Academy's director category is notoriously hard to break into.
3. Get Out's Daniel Kaluuya's nomination for Best Actor is veeeerrry interesting. Kyle has been writing about how weak that category is for a while now, and right now Denzel Washington in Roman J. Israel, Esq. seems to be the only option for preventing an #OscarsSoWhite repeat. But this Gotham nod is an indication that people love Kaluuya as much as they love Get Out, and people really love Get Out. Don't etch this one in stone, but watch this space for some surprises.
4. Call Me by Your Name is pretty much a shoo-in for Best Picture and Best Adapted Screenplay noms. As Kyle has mentioned, James Ivory wrote the screenplay, and the 89-year-old writer is responsible for all those Merchant-Ivory pictures Oscar loves. Mark him down as the adapted screenplay front-runner. Director Luca Guadagnino wasn't nominated for a Gotham because he's not a first-timer, and Timothée Chalamet isn't in the Best Actor category because he instead got a Breakthrough Actor nomination. This means nothing. Guadagnino stands a chance of breaking through in Best Director, and it'll be a major snub if Chalamet doesn't get a Best Actor nom.
5. Mudbound may have an awards future after all. Director Dee Rees's highly ambitious follow-up to her beloved debut Pariah is an epic look at two families, one white, one black, navigating racial relations and unforgiving farmland in the postwar Mississippi Delta. The film is a bit unwieldy, reviews have been mixed, and it's being distributed by Netflix, which has seen most of its ostensible Oscar plays flop — and may not even care. I may never forgive them for the way they handled Cary Fukunaga's Beasts of No Nation and botched Idris Elba's chance for a Best Supporting Actor nomination that year.
But the Gothams are giving Mudbound a special jury award for its acting ensemble (last year, Moonlight got it; it's a good sign of overall regard for the movie), and they've singled out Mary J. Blige with a Breakthrough Actor nomination. She'll probably lose to Chalamet, but I maintain she's one to watch for a Best Supporting Actress nom. She's revelatory in her role as a mother forced into humiliating work to support her family, even if she's made very few pundits' lists so far.
6. The Meyerowitz Stories (New and Selected) is probably going to get an acting nom. How many will be determined by whether Netflix commits category fraud and submits Dustin Hoffman in Best Supporting Actor and Adam Sandler in Best Actor, or has them going up against each other in the lead category. Regardless, it's clear that those two are Meyerowitz's best chances for nominations. The Gothams nominated Sandler for Best Actor, and is giving Hoffman an honorary award, which is their way of calling out his performance. Amy Adams was an honoree last year for Arrival, and her lack of a Best Actress nomination was considered 2017's biggest snub.
7. I, Tonya appears to be surging. It got nominated for Best Feature — a surprise — and Best Actress for Margot Robbie. So far, its best awards chance seemed to be Allison Janney's barn-burner supporting actress turn as Tonya Harding's terrible mother. Could other elements of the movie be stronger with the Academy than we'd been thinking?
8. Willem Dafoe is pretty much a lock for a Supporting Actor nom. He's the only supporting role that got nominated for a Best Actor Gotham, for his work as a long-suffering motel owner in The Florida Project. It's a good indication that the industry really likes his performance and wants to award his long career.
9. Lady Bird may not be as strong as pundits are predicting. It's kind of a shock that it's not nominated for Best Feature and Good Time and I, Tonya are, especially since it's exactly the kind of quirky coming-of-age independent movie the Gothams were made to honor. Greta Gerwig did get Breakthrough Director and Best Screenplay nominations and star Saoirse Ronan is up there for Best Actress, but still, being left out of the top category is puzzling.
10. The Big Sick got a Best Screenplay nom, but nothing else. Goodwill for that movie is high; it was a summer hit that people think back on fondly. I'm not, however, as convinced as Kyle is that it's going to get a Best Picture nomination. Original screenplay, sure. Holly Hunter for supporting actress, why not? But only getting one nomination here is a little bit of an indication to me that its momentum is waning.
11. The Best Documentary race is probably going to be all over the place. I've already heard industry insiders say that there's no front-runner. And while the Gothams have been somewhat predictive with their recent Best Documentary winners like O.J. and Citizenfour (both of which won), and The Act of Killing (which got nominated), I don't know what to think of this list. Its splashiest entries are Strong Island, an intimate look at the murder of director Yance Ford's brother; Whose Streets? about Ferguson; and The Work, the SXSW winner about prisoners doing group therapy. All are about race, as were three out of five Oscar docs last year. The other two nominees, Ex Libis: The New York Public Library (it's over three hours long) and Rat Film, about Baltimore's scourge of rats, haven't made too many waves. Two excellent movies about Syria, Last Men in Aleppo and City of Ghosts are not on there, nor is the beautiful Jane, made from lost archival footage of Jane Goodall's time with chimps in Tanzania. Al Gore is being honored at the Gothams, which means you should start thinking about An Inconvenient Sequel as a possible nominee. And given all the craziness in the environment, Chasing Coral, the followup to Chasing Ice is a good bet. I also personally loved Bryan Fogel's accidental trip into exposing the Russian Olympic doping scandal in Icarus. Still, it's anybody's game.
12. Harry Dean Stanton got nominated for Best Actor for what many critics have said was the best performance of his long career, in Lucky, as a chain-smoking WWII vet in the Arizona desert who's defying death and making new friends with young people, much to his surprise. Stanton died at age 91, just weeks before the movie's commercial release. And if the Best Actor category is as weak as Kyle says it is, this Gotham nomination may be the first indication that the industry may want to honor Stanton with more than just a prime spot in the In Memoriam montage.