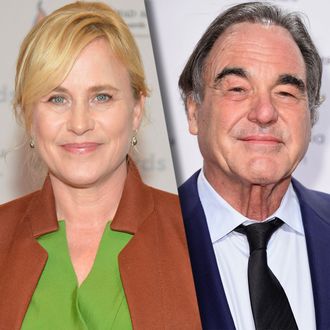 Patricia Arquette and Oliver Stone.
Photo: Getty Images
Actress Patricia Arquette took to Twitter on Friday to call director Oliver Stone out for a "weird" encounter a few years ago after they met about a "very sexual" film role, less than one week after her sister Rosanna revealed she had been allegedly sexually harassed by Harvey Weinstein.
Arquette wrote on Twitter that Stone had wanted her to act in one of his films years ago. Although the material was "very sexual" in nature, the two met and had what she described as a "professional" meeting. But afterwards, he allegedly sent her a bouquet of roses, which she wrote "felt weird," and invited the actress to a screening of the 1994 film Natural Born Killers.
As she felt uneasy about what was going on, Arquette wrote that she invited her boyfriend along to the screening. "The room was packed," she wrote. "Oliver stopped me coming out of the bathroom. He said, 'Why did you bring him?' I said, 'Why is it a problem I brought him? It shouldn't be a problem. Think about THAT Oliver."
Arquette then wrote that she never heard about the movie again after that encounter. In sharing her story, she hoped to demonstrate "the craggy and uncertain terrain women negotiate in entertainment and all business," she added.
The actress's tweets came shortly after former Playboy model Carrie Stevens accused Stone of groping her breast at a party when she was 22.
Both accusations followed the director's comments in defense of Weinstein. At a press conference earlier this week, Stone said "it's not easy what he's going through" and that "a man shouldn't be condemned by a vigilante system" when asked about the producer. However, Stone later backtracked and clarified that he had not been aware of all the accusations when he made the comments.