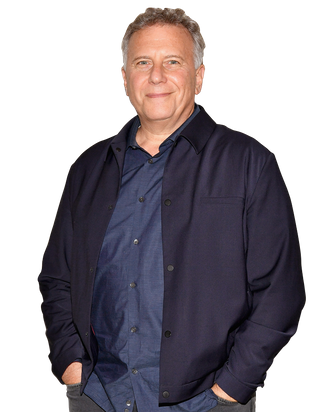 Spoilers below for Stranger Things and Stranger Things 2.
Comedian and actor Paul Reiser has been in a retro kind of groove lately. In the new season of Stranger Things, he plays government scientist Dr. Owens, who replaces Matthew Modine's Dr. Brenner at Hawkins Lab. He's also on Red Oaks, Amazon's nostalgic '80s comedy that just released its third and final season. Behind the camera, he's the co-creator for There's…Johnny!, a comedy about The Tonight Show Starring Johnny Carson that will be available on Hulu on November 16. But Reiser insists the period trend isn't by design: "I'm not really that clever. It's just turned out this way."
Earlier this week, Reiser spoke to Vulture about the second season of Stranger Things (and how it pays homage to his Aliens role), saying good-bye to Red Oaks, why he's spent more than a decade bringing his Carson-themed comedy to life, and whether Mad About You might ever make a comeback à la Will & Grace.
How did you come to Stranger Things? I understand the Duffer brothers had this character in their mind as "Paul Reiser."
Yeah, so it would be stupid to call somebody else, I would think. [Laughs.] I was very flattered. Two days after the show dropped last year was when I heard about it. My very hip 16-year-old son had seen it and said, "Hey Dad, you gotta check out this new show." So when they called and said, "Do you know about this new show Stranger Things?" I said, "Of course I do, I have my pulse on the American culture." But I was fortunate my son hipped me to it. I met them literally that next day and they told me very vaguely what they had: "It's going to be a guy who comes off as a very nice guy when you meet him." And I said, "Uh huh, what happens?" and they said, "You'll see!"
How long was Dr. Owens a mystery to you? Watching the season, you really don't know for a while. He seems like a nice guy, but he works for the government and he's replaced Dr. Brenner.
There is a very good reason for everybody to be suspicious. And that was a fun thing to play — no matter how warm or accommodating he tried to be, he was up against this wall of, "Yeah, we ain't buying it." I was thinking, "Yeah, I wouldn't trust me either if I was you. You guys went through a terrible year last year. I get it."
Were you in the dark while you worked on it?
Yeah, I didn't see the last script until it was time to shoot it. It was fun to play that ambivalence. Either way, if he is a bad guy or a good guy, his goal is to appear to be a good guy, so the same intention was there.
What did you like about the show when you saw it?
It was so confidently executed and it was written well. It was shot well, and it was moving. I'm not a particularly big fan of sci-fi or horror, but that was almost incidental. You're caring about the kid, caring about the group of kids and their friendship. The kids are so well-drawn and you watch the pain of Joyce trying to care for her child. It was a very human and very compelling story in the midst of all this craziness and the otherworldly stuff.
You're not drawn to sci-fi?
I just don't always watch 'em. That's not what I'm drawn to. Aliens was a similar thing where, first of all, it was early in my career. I was just thrilled to be invited into a big flashy picture like that. But I also knew it was going to be great. I knew Jim Cameron's skill and I read the script and I went, "Wow this thing is fantastic." When you get invited to play out of your comfort zone in a different world, it's a great opportunity.
Did you think you'd ever be chased by some sort of creature through an industrial building again?
Well, I think there is just something about me that rubs them the wrong way because they seem to dislike me. [Laughs.]
I was relieved to see that Dr. Owens made it. I was so worried.
I was very relieved, too. I was very sad that Bob [Sean Astin] ended up the way he ended up, and I thought that was going to be Dr. Owens, too. I was like, "We're going to see him in the stairs and it's going to be horrible." My son is really a smart movie watcher and he has an almost uncanny ability to guess where the writers are going. Early on, he goes, "Somebody is going to die and it's going to be one of the new guys." I said, "Well, you don't know that." And he goes, "They're not going to kill the kid, but somebody is going to die and I think it's going to be Bob." So he called it.
How do demogorgons compare to the xenomorphs from Aliens?
I never met a demogorgon because it's all CGI. When I watched a little clip of it, I couldn't believe how seamless and good it was. The aliens were stuntmen in costumes, which is the funniest part. In between takes, when we shot in London, we would go over to the tea trolley. There was this big alien and he would take his head piece off, but still had the tentacles and the feet. Inside there's a guy named Derek, and he's going, "How you doing mate?" and "Are you enjoying London?" And I'm like, "Whoa, I don't think you can talk to me when you're dressed like that." [Laughs.]
The show makes you think the demogorgons are even a little cute because Dusty becomes so enamored with Dart.
That's the DNA of the show. It's the Duffers and their love of those '80s movies. There's a lot of Goonies, E.T., Poltergeist, and the sweet innocence of a child that comes through. In Dusty's case, you have the joy and the sweetness of that, and at the same time you have the audience going, "Oh, you dumb-dumb. Do you not know that you should not be doing that?"
You got to work a lot with Noah Schnapp, who plays Will Byers. What did you think of his performance?
He was impressive. He had some really demanding scenes of being in a lot of pain and screaming and crying and he hit it out of the park every time. And then "Cut!" and he goes, "Anyway, so yesterday I was watching …" Then "Action!" and boom, he's right back there. I'd go, "What the hell? This kid's good." They're all really nice kids. I was the new guy and the old guy and they were all so welcoming.
You also worked a lot with Winona Ryder, who was nominated for an Emmy last year.
She's terrific. She asks a lot of great questions. She's so warm and a very sweet woman and she takes her work very seriously. She was the one who would ask questions that I would not think to ask. "What's really going on here?" She'd be my comrade. We'd both be like, "I don't really understand the technical stuff. The demogorgon can do this, but it can't do that?" I'd go, "Thank you for asking because I didn't want to look like the dummy."
Was there any particularly memorable scene to film?
In the end, when I get attacked. First, the guys put on the fake wound and I'd watch them cut the foam, paste the foam, and put it on my leg, and then suddenly it looked like they were making a baguette. I took shots of it and someone was like, "What is that bread?" The next shot, someone would be like, "Whoa, no that's not bread at all, that's your scar." Every take, they'd also have to come over and put more sticky blood because it would dry up. I'm lying there and they're filling up my pants and they take a break and ask if I wanna go for coffee. I'm like, "I can't even stand up so I'm going to lay here. Go on without me, I'll have coffee tomorrow. I'm just going to pretend that everything is fine because I know the minute I stand up, everything won't be fine."
Do you know if you'll be back for season three?
We don't know! Your guess is as good as mine. They don't tell me anything. Matthew Modine came back and he was dead, so I guess I could.
You're on another '80s show — Red Oaks — which just released its final season. How are you feeling about that?
We knew going in that it was the last season. The writers knew it was cut off abruptly, and they condensed what they wanted to do in ten episodes to six episodes. They did a great job and they really did take the characters to new, fun places. It is sad but everything ends, and sometimes it's better to leave people wanting a little more. I think we certainly could have done another year or two, but it was a really fun show and great people and a very different world than Stranger Things. They couldn't be further apart, literally on opposite spectrums.
Your upcoming comedy, There's Johnny, is also a period show. Tell me about that.
Yes, it starts in '72 because that was the year Johnny Carson moved The Tonight Show from New York to Burbank. It put Burbank on the map. It really launched the show and it became a different, bigger animal.
There was something very special about that time and we use it in the show. There is a character that has a brother in Vietnam. There's Watergate jokes and Nixon jokes. Women's lib. It's a very interesting moment in history, very rich and volatile. To use that as a backdrop with Johnny, who is really a great middle ground in the best sense, he really bridged hip people with very conventional conservative middle America. Yes, there was horrendous stuff on the news, but he would not be talking about that. He would be talking about politicians' funnier sides. He would never do Vietnam jokes per se. He would just talk about politicians' ill-fated plans. He saw the light side of the heavy news. He was comfortable in our homes in a way that nobody can do today. I mean, Jimmy Fallon and Stephen Colbert, we are happy to see them, but then we watch 1,000 other things. It was a simpler time, so that period really played a big part in what the show is.
You conceived of this show a long time ago, right?
Yeah, my partner David Steven Simon and I were planning this like 12 or 15 years ago. It took us a while to get it to where we wanted. We were like, "What we really need are the clips. Wouldn't that be great if we could actually show the clips?" At first, we liked the period and we thought it was a fun world. Once we said we'd try to put the clips together, we were on an uphill battle because the Carson Company, which is run by Johnny's nephew, it took a while to convince him and the board we can be trusted.
So we would just wait. A year or two would go by and we'd say, "Let's take another shot." It wasn't like we were working on it for 15 years, but every couple of years, we would bring it up again. Finally, I think I just wore them out. And they have been great. It's such a treasure, literally, to have that Johnny footage and those terrific clips in our show because not only are they entertaining on their own, but you get to see how good Johnny was. It really makes our show. You really believe you're backstage. We tie it in as seamlessly as we can and sometimes integrate it into the story and sometimes it's background. It was a responsibility that we took seriously as the guardians, for the moment, of Johnny's legacy. He meant so much to us, particularly to comics, so it's not something that we took lightly.
How many times did you appear on Carson's Tonight Show?
A bunch, like 25 times. From '86 to '92, I did it a whole lot. The first time you do it, it's the end of the rainbow. It's as far as you can see when you start out. We took it very seriously, unlike other talk shows when you walk out and I'll often have an answer ready. With Johnny, you tried a little harder. You wanted to hit it out of the park every time.
What's the craziest story you came across researching this?
We actually did one episode about something that happened that wasn't on the show. Someone left a threatening note and a ransom note on Johnny's lawn at home and in the office. They brought in security and ultimately the FBI and it ended with a drop. They were going to meet the guy in the park and he was going to put it in the trashcan. It was like a cheap novel, but it was real. The FBI was handling it and Johnny said he wanted to go to the park. They were like, "Okay," and Johnny had a gun in his pants belt and they were like, "Whoa, he's Johnny Carson." That was really exciting.
As you know, everything old is new again. Will & Grace is back on the air. Any chance we'll see a Mad About You revival?
It's an interesting question. Because of Will & Grace, everyone is asking us now. For years, I was very clear — we ended it really well and there's no point in going back — but it certainly became a question when everyone else was doing it. My thinking is if there was a story we wanted to tell, it could be fun. The truth is, for those of you who watched the show, you moved along with this couple from newlyweds to pregnant to having a baby. Now I see myself, I have a 17-year-old son and he is heading off to college and I know it's going to rock my world. And I think, "Well, that is an interesting place to pick up. How have they weathered the last 20 years?" I think we talked about it the last two months only because everybody asked us. I don't know, maybe. I'm less closed about it then I have been for years. I'm still not convinced it needs to be done or if America is hankering for it, but it could happen some day.