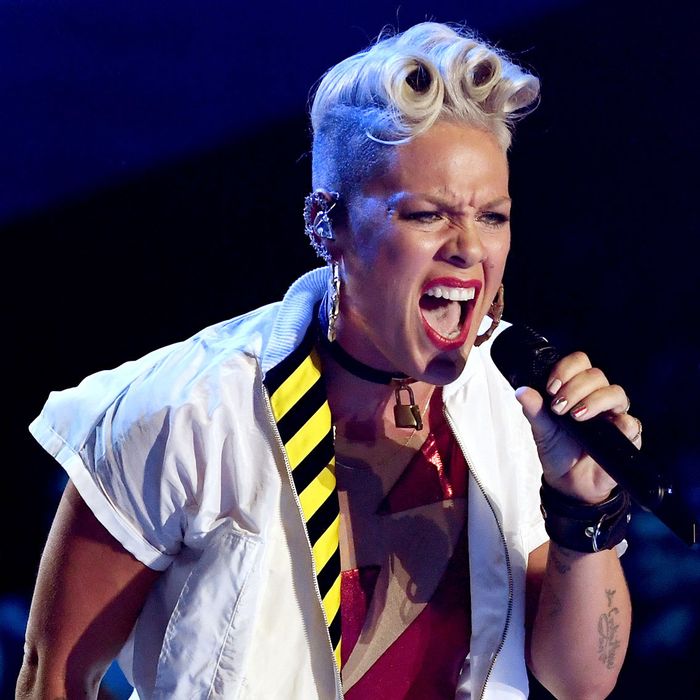 Pink.
Photo: Kevin Winter/Getty Images
Pink has to thumb through a Wikipedia page on her phone detailing her album credits to remember all the songs she's written. After 17 years and seven albums — each of which she's written or co-written nearly every song — it's hard for her to keep track. "Oh fuck!" she exclaims, recalling writing one. "Nope, not that," she says, wanting to forget another. "This is gonna take awhile. What have I done?" she exhales the longer the list keeps going.
When Pink was a teenager growing up outside Philly, she would journal lyrics as a means to cope with her parents' divorce; they're what eventually led to L.A. Reid signing her to LaFace Records before she even turned 18. At 38, she's still writing to process the traumas of both her interior life as well as the state of the world, but she often dulls the pain by writing songs that make room for escapism, hoping people will join her in getting out of their heads for however long they need.
It's why she tells Vulture she considers her latest hit "What About Us" "one of the more sophisticated songs" she's written yet — a song that takes a lighter approach to wading through darkness. Around the release of her new album, Beautiful Trauma, we asked Pink to look back at her nearly two-decade-long body of work and pick the best songs she's ever written.
"Dear Mr. President," I'm Not Dead (2006)
"I remember when I finished writing it, I knocked on the wall like, 'Is this thing on? Am I gonna get audited this year?' And I did! … I played [my dad] 'Dear Mr. President' back when I wrote it and I was really nervous to do it because he has strong opinions and so do I. He said, "You know honey, I'm glad I fought for your right to say whatever you want." Because to him, to soldiers, they're fighting for your freedom to say what you want and be who you are. I appreciate that sentiment."
"Stop Falling," Can't Take Me Home (2000)
"It's from my very first record. I wrote it all myself, basically, with the help of a piano player. I was 18. I loved singing that song, and I love that vocal. That was a young vocal [moment of mine] that I liked."
"Crystal Ball," Funhouse (2008)
"I don't even know why. But, also [from that album], 'Glitter in the Air,' if we're talking performances."
"Family Portrait," Missundaztood (2001)
"It healed me, or a part of me, that might never have been healed. And it created an interesting experience with my family when I played it for them for the first time. There were a lot of tears for many days; it was like picking up the rug and getting the dust out. Really just ripping the band-aid off. For the first time as an adult, it was me talking to my parents about what [our life] was like as a kid. I had to apologize to my stepmom for the line 'I don't want a stepbrother anyways.' It was just a real and painful experience that I'm glad we had."
"I Don't Believe You," Funhouse (2008)
"It's the first time I've ever given my power away. It's very vulnerable saying, 'I don't believe that you don't want me anymore.' It's a very vulnerable thing for an alpha dog to sing. I had to swallow my pride. I did that a lot; that's how our marriage [with husband, Carey Hart] got back together. We both swallowed our pride. It's a good thing to do."