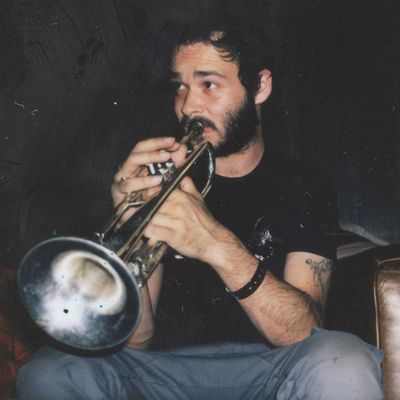 For several years now, music has provided Nico Segal with his share of wild times: playing on Saturday Night Live (twice), producing for Kanye West, recording at Rick Rubin's studio with Neil Young. Despite all this, you might not even know him by name. Segal is best known as Chance the Rapper's collaborator and bandmate in the Social Experiment. He is a multi-instrumentalist who, until recently, went by the name Donnie Trumpet, and is a featured performer in Chance's festival and arena shows. He also won a Grammy for his work on the emcee's album Coloring Book, and used to tour with Frank Ocean as a backing trumpet player.
Short, with an ever-present layer of scruff and permanent bedhead, the 24-year-old sits in a Van Nuys recording studio in an industrial part of town on a recent summer afternoon and takes a drag from a blunt. He comes here most days and works on music alongside his Social Experiment bandmate and production collaborator Nate Fox. It's only a short drive from the North Hollywood apartment he shares with his longtime girlfriend. Having known he wanted to be a musician since his adolescence, Segal maintains a workmanlike approach to his craft. It's why he hardly stresses if something comes to fruition each day. It also explains why, despite playing a major role in helping create the jazzy, gospel-infused sonic template that artists like Chance, D.R.A.M., and Lil Yachty now favor, and having been brought in to record and produce with everyone from J. Cole to Ed Sheeran, Segal says there's a large part of him that remains bewildered by the magnitude of his accomplishments. He often wonders how a self-professed band geek like him ended up a known entity in pop music. "Having recognizable names of horn players?" he says, name-checking saxophonist Kamasi Washington, bassist Thundercat, and pianist Robert Glasper as examples of musicians with classical jazz backgrounds now in the mainstream consciousness. "Dude, what more could I ask for? Instrumentalists are definitely making a big comeback and making a big wave. It's a blessing."
Infusing some of Chance's best songs with feel-good trumpet lines that incorporate traces of gospel, strains of R&B, and an overall childlike playfulness, has made Segal a noteworthy player in contemporary music. He's also a musician and producer who doesn't bother to adhere to the asphyxiating algorithms of modern-day pop, an attractive prospect to many itchy creative types. Childhood friend and rapper Vic Mensa says he's long been drawn to Segal's "pool of reference in tandem with his technical ability. Nico is such a student of music, from Beck to Wu-Tang to Miles Davis and everywhere in between. He's a brilliant musician but also a one-of-a-kind lyricist and rhythmic mind" — the type commissioned by Paul Simon last year to mash up two of his new tracks with Fox into a spaced-out, jazzy remix.
Ask Chance the Rapper, Segal's most notable champion, what inspires him about the musician, and he'll tell you: "Nico has always known who he is and what he wants to do. His ability to manipulate his instrument and use it as whatever he wants it to be at the time gives everyone around him the strength to show who they are musically and creatively."
Segal brushes off the praise. "My dream was just to travel and play music," he offers. "That was as far as my dream went. It's very different now."
Segal grew up in a one-story bungalow in the heavily Jewish Rogers Park neighborhood on the North Side of Chicago, and it's here that the son of two teachers first came to music. He started playing trumpet at age 11, and by the time he was enrolled at Whitney M. Young Magnet High School, Segal was a member of "every band" there: jazz, pep, marching, and orchestra. "By junior year I didn't bring a backpack to school," he says. "I didn't have a pencil. I didn't have any of my books. I didn't do homework. I was the kid walking around listening to music all day, singing along, sounding crazy." He quickly fell in with a group of fellow musicians that included aspiring rappers like Mensa and Joey Purp. Even early on, Segal stood out to his friends. "He would literally have a trumpet on his back as we got into scuffles in the street listening to N.W.A," says Mensa, who called him "Nico Genius" for his musical comprehension.
Segal, who usually provided the beatbox for rap battles at school, and around town, was 14 when Mensa first introduced him to Chance. Through YouMedia, a creative space for teens at the Harold Washington Library in downtown Chicago, the three soon became part of a larger group of artsy and socially conscious musicians and spoken-word poets that included Fatimah "Noname" Warner, Saba, Jamila Woods, and Malcolm London. Segal says being surrounded by this cadre of diverse talent, and their resulting need to constantly one-up one another, was a recipe for rapid improvement. "We were pushing each other in different directions and pushing each other to be unique and as good as each other," he says.
In 2009, while still in high school, Segal formed the hip-hop soul band Kids These Days. Alongside Mensa and seven other musicians that included future Social Experiment drummer Greg "Stix" Landfair, Kids These Days played Lollapalooza, in 2011, and recruited Wilco's Jeff Tweedy to help produce their 2012 debut album, Traphouse Rock. "We didn't even realize what we were doing," Segal says. The band broke up in early 2013, shortly after playing Coachella, due to creative differences as well some members', including Mensa's, belief that the group had too many hands on deck. Thanks to the group sharing management with Frank Ocean, however, Segal was soon recruited to audition for a position as a trumpeter in the singer's band for his Channel Orange tour. Only a few days after Kids These Days broke up, Segal flew out to L.A., auditioned in front of acclaimed musical director Rickey Minor, and landed the job in Ocean's band. In the end, though, he found the gig creatively stifling. "Every night I was in a suit, playing very easy straightforward lines," he says of the tour. When Segal returned to Chicago, Chance had already released his breakout Acid Rap mixtape and was ready to tour. He brought Segal onboard as part of the newly formed Social Experiment band. Compared to the Ocean tour, where Segal says he "felt really removed from the music," touring with a longtime friend like Chance who suddenly had major music-industry buzz was nothing short of thrilling. He'd gotten hints of Chance's ascendant popularity while touring with Ocean — "We're in Australia and they're listening to Chance the Rapper at a bar" — but seeing it firsthand was different. "It's my friend and suddenly his position in the world has changed," Segal recalls. "Now he's an artist people are really looking forward to seeing, and every show is sold out on a 45-date tour."
Post-tour, the band moved to L.A. to be closer to other artists and near recording studios so they could start work with renewed focus.
Then came Surf, a star-studded, genre-bending, slightly goofy album that Chance once described as including "a singular, four-minute-and-30-second song that feels like a year's worth of music." It included features from time-tested artists (Erykah Badu, Busta Rhymes) and hot newcomers (Quavo, J. Cole). While widely perceived as the rapper's first project since his breakout Acid Rap, the album was instead billed under "Donnie Trumpet and the Social Experiment," because most of the tracks were Segal's. And Chance, who fronted most of the money for the project, insisted it be promoted as such. "I was freaked the fuck out," Segal says of getting top billing for such an anticipated project. "I think Chance wanted the pressure to be on someone else's shoulders."
Segal remembers this time fondly: He and the Social Experiment band members were all making music together in the studio for the first time as a cohesive unit, and they were incredibly prolific. In total, Segal estimates they wrote and recorded more than 100 songs for the album. "Some of them came about when we were all jamming together as a band and some came from when I would bring in a beat and we would flesh it out or build," he says. "And then some of them happened just me and Chance — totally different aesthetic, totally random."
They were also using Chance's monumental popularity to their advantage. Segal says the rapper was the Social Experiment's "trump card" to attract big-name collaborators to the studio. "Some people just wanted to make songs with Chance," he says. "And he would trick them into coming into the studio with us and we'd end up making new songs." He recalls one particularly memorable studio hang with Busta Rhymes and the late Malik "Phife Dawg" Taylor, as well the nerve-racking process of deciding whether to use a spoken-word track Kanye West recorded as narration for the album. (He ultimately decided against it: "I was trying to drop the album and I was not trying to deal with his lawyers.")
Post-Surf, Segal threw himself even more fully into collaboration. He helped produce Chance's acclaimed Coloring Book, and soon became an in-demand talent as both a musician and producer. He produced a pair of woozy, spaced-out tracks for D.R.A.M.'s debut album ("Get It Myself," "Password") a slinky one for J. Cole ("For Whom the Bell Tolls") and a heavily processed electronic cut for Local Natives ("The Only Heirs"). He also recorded a spiraling, prominently featured trumpet solo on the sparkly, Auto-Tuned Bleachers song "Foreign Girls," added subtle backing trumpet to Ed Sheeran's "Barcelona," and ran into Cat Power's Chan Marshall one day at a studio in L.A. and recorded with her for her upcoming album. Though, as he notes, what people want him for is continually evolving. "In the past it was much more 'We just need a trumpet player,'" he says. Now, having established a signature sound, artists are flocking to him for production work.
Back at the Van Nuys studio, Segal is recording instrumental passages for the second album from the JuJu Exchange, a jazz quartet he formed with old friends from high school. This past spring, the group released their debut album, Exchange, and are working on its follow-up. Two of Segal's JuJu bandmates, brothers Julian and Everett Reid, are working on their respective piano and drum parts. Both are still students — Julian, a Yale philosophy graduate, is enrolled in a theological master's program at Emory University in Atlanta; Everett is finishing up a degree in music at the University of Michigan — but they've flown out here for the week to record. During high school, Julian and Segal spent late nights together playing jazz in Segal's living room. Lately, returning to jazz, and reconnecting to his pre-fame self has been freeing for Segal. "I was missing that type of creative output," he says. He pauses. "I wouldn't be in Chance's band if I didn't love his music," he says. "But as an instrumentalist, as a trumpet player, and as formerly a jazz-trumpet player, I just miss a lot about that world. I miss playing real-time shows without a click track. I miss playing without in-ears. I miss playing smaller shows."
"Jazz is a language," he continues. "It kind of never leaves you."