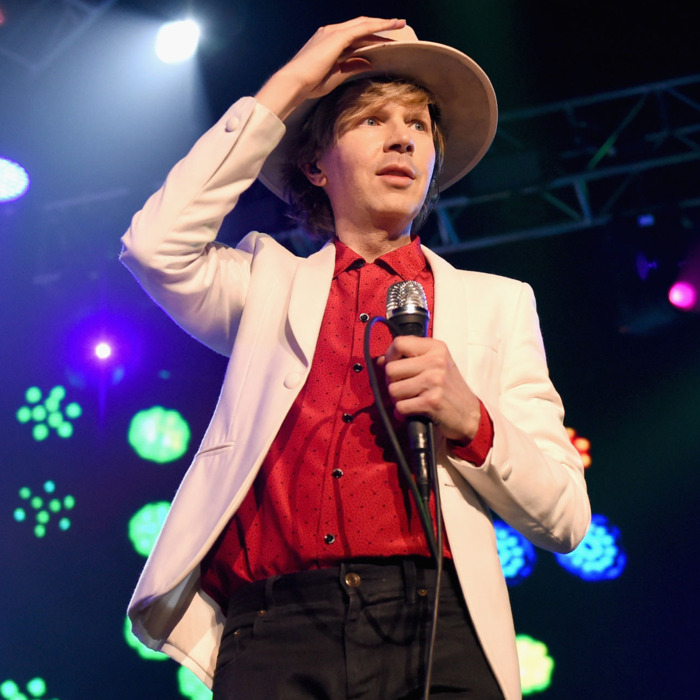 Photo: Emma McIntyre/Getty Images for CBS Radio
Beck winning the Album of the Year Grammy for Morning Phase was like Denzel Washington winning the Best Actor Oscar for Training Day. Neither work ranks highly among the artist's best; both wins felt like shrewd acknowledgment of the other times the Academy ought to have handed them the honor but settled on another artist. Still, Beck's win over Beyoncé's self-titled album at the 2015 ceremony is remembered as a triumph for rockism, a pop-music apostasy. (Irony of ironies: Beck fans felt the same sting in 2001 when Steely Dan's Two of Nature won over Midnite Vultures. Both upsets elicited a the same irate "Who?" from young music fans lacking an understanding of the winner's appeal to older audiences. You live to become the thing you dread.)
None of this is Beck's fault. His early singles were so disaffected and disapproving of popular culture that they ended up becoming accidental touchstones of '90s ennui. His post-genre, post-structuralist hit parade also predicted the style-hopping millennium dance party that would make stars out of Moby and Fatboy Slim. For nearly a decade, Beck seemed to operate on a plane ahead of, or at least outside of, popular music. His trip from the slacker rock and folk of his earliest work through Mutations' country affectations, Midnite Vultures' wily funk, and the bummed-out Neil Young vibes of Sea Change painted him as a shiftless Bowie analogue for the Web 1.0 set, whose explosion of jarring interests and outfits dovetailed with our own roiling exploration of self through layers of internet avatars.
Somewhere along the line Beck got too caught up in the thrill of the change-up, in grouping and conceptualizing bodies of songs around a specific new theme, and lost steam. Suddenly, the guy who cycled through rap-rock ("Loser"), anti-folk ("Whiskeyclone, Hotel City 1997"), and paranoid noise-rock ("Mutherfuker") on the same CD and let you suffer the twists was divvying up sessions by who produced them, or by how upbeat the songs weren't. Like 2005's Guero and 2006's The Information, back-to-back hour-long Dust Brothers and Nigel Godrich team-ups that could have been whittled down into a better single album or an adventurous double, this month's new Colors features songs written both before and after Morning Phase that raise the question of why a performer whose once refused to stick to a single genre now does so willingly.
Colors is the party-rocking yang to Morning Phase's folkie yin. Where the last album revisited the quiet acoustics of 2002's Sea Change, Colors is hooky, peppy, and sappy to an almost shocking extent, absent the robotic wonk, funky swagger, and rustic repose populating the rest of Beck's catalogue. Every wistful verse is an expressway to a massive, uplifting chorus. (After watching him preview a few of these songs in a bath of whirring light at last year's Governors Ball, I got the sense he made them in part to have something fun for live sets.) This precision is likely a side effect of inviting bandmate Greg Kurstin into the writing process for the first time. Alongside Kurstin — whose résumé as a producer and writer includes hits by Sia, Pink, and Adele — Beck makes songs that cut to the melodic quick, like several different variations on the breeziness of Guero's "Girl."
While Colors is an airtight exercise in musicians making pleasant songs together, it's all sort of mechanical-sounding. Cuts like "No Distraction" resemble the blithe, upbeat music you might hear digging for $20 autumn sweaters upstairs inside an Old Navy, or like someone trying to crack the mathematical formula of a lazy Saturday afternoon and sell it in a can. There's something deeply cynical about a guy who once duetted with Beat Happening's Calvin Johnson on a K Records album, a guy whose debut single "MTV Makes Me Wanna Smoke Crack" was a send-up of the suffocating cleanliness of pop, living to make a mush-mouthed jock jam like "I'm So Free."
In spite of bouts of insufferable goofiness, Colors offers a string of good songs and smart ideas. "Seventh Heaven" affixes math-rock guitar licks to major label "indie" sounds, like a Pinback record with a bigger budget or a Foster the People one with a weirder guitar player. "Colors" is the kind of shameless blog-house/post-punk hybrid sorely missed since the days of the first Rapture and Tom Vek albums. The bit where Beck yells "Do you feel alive?" over a lively pan flute solo is a pump fake signifying a weirdness the album ultimately reneges on. The withering piano pop of "Dear Life" is a pointed reminder that Beck has always run with the same loose circle of players and engineers as Elliott Smith. (Tom Rothrock and Rob Schnapf co-produced Either/Or, XO, and Figure 8 after Mellow Gold and Odelay; Beck used Smith's drummer Joey Waronker in his live band.)
The moodier songs that surface as Colors unfolds ring truest and render the pep of the album's most chipper tunes plastic by juxtaposition. The project feels like an exercise in the artist challenging himself to write something other than what he knows. Speaking to our own Lane Brown last month, Beck highlighted simplicity as the goal in the writing process and referred to the downcast vibes and pop-rock classicism of "Dear Life" as his and Kurstin's "natural default setting as musicians and songwriters … like the equivalent of putting on your favorite shirt and just hanging around the house." During the making of "Dear Life," Kurstin ducked out to take care of some commitments as a producer, and Beck poured himself into fleshing out the nearly decade-old acoustic song scraps that would later become Morning Phase. He came back to the unfinished Colors when he was done exorcising his folkie jitters and cut a hard left back into music for sunlit summer drives. Frankly, the finished product sounds forced.
Morning Phase and Colors are each about two-thirds of a good album and one-third rudderless connective tissue, and I often wonder what Beck's post-millennial output would look like if he stopped treating his works like themed writing challenges, squirreling away bits of like-minded songs to retool and rework several months and years later when a certain feeling returns, and got back to selling whatever music he blurted out in a year or two, boundaries be damned. You can hear every bit of the fuss put into Colors in the clinical sound and the surgical precision of the songwriting. There are cool tones and textures everywhere, because both principal players know their way around a studio, but the mood often settles for the carefully curated pretense of good times, when real fun is what was needed.