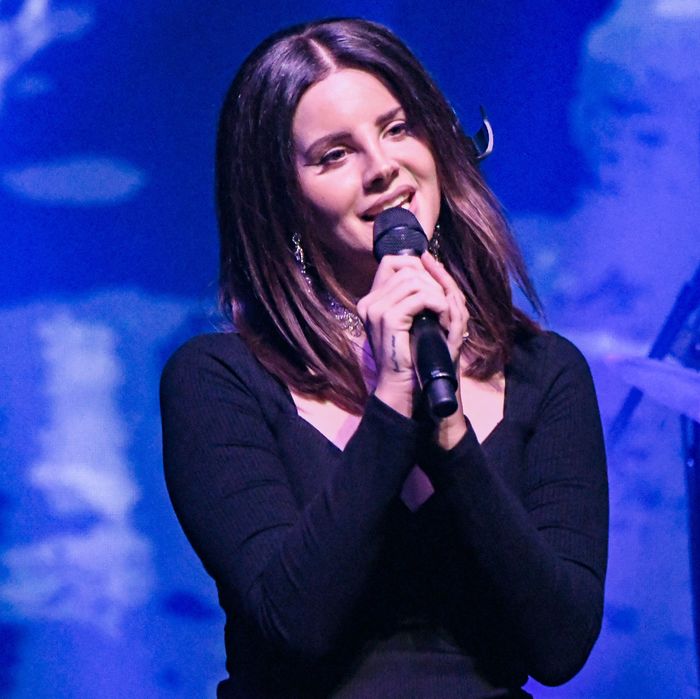 Photo: Mike Coppola/Getty Images
Lana Del Rey is something of an anomaly in the modern pop landscape. Her artwork evokes Old Hollywood splendor, and her music imbues cabaret performance values with the washed-out sonics of British shoegaze. It's intriguing on record, but still more surprising to see in a live setting, especially among the young and excited crowd at Manhattan's Terminal 5, where last night the California singer played the second of two consecutive nights of lovelorn, intimate audience sing-alongs.
Lana's writing fixates on moments of decay, on harrowing relationships with men who are bad news, the passion of pursuit, and the emptiness of loss. Her four-piece band accentuates this sensibility, hammering out glacial mood music like colossal set pieces in a film about famously doomed lovers. The music bounds between two distinct modes: impossibly slow torch songs and booming, downcast hip-hop. The show opened with the spectral kiss-off "13 Beaches" from this summer's Lust for Life and touched on similarly dejected slow numbers like Ultraviolence's "Pretty When You Cry" and Paradise's cover of Leonard Cohen's "Chelsea Hotel #2," which Lana excitedly noted that she would be performing at a tribute to the fallen folk hero at his son's request.
Hits like "Blue Jeans" and "Born to Die" felt upbeat in this set list, in spite of the spellbinding darkness they evoke on their own. They were received with a roar from the excited and noticeably young audience that seemed more enthusiastic and cheerful than the austerity of the sound coming from the band warranted. The setup also seemed a few degrees too fussy for the business being carried out there. The stage was littered with trees and bushes on both sides around the musicians, and two elevated staircases housed dancers who doubled as back-up singers where necessary.
The look of the show sometimes distracted from the sound of it. The dancers' moves skewed toward interpretive, and sometimes relied on props that invited unintentional humor. During "Music to Watch Boys To," they shifted around in chairs fidgeting a little too busily with magazines. Two lengths of rope hanging from the ceiling on either end of the stage turned out to be seats the dancers occupied for swing routines that never quite got past melodramatic kicks and turns. When they moved to center stage to join Lana for light choreography, though, the crowd got inconsolably loud. It felt like they wanted the singer to do more than sing and hold court in the middle of the maelstrom, but she played her position dutifully, doling out flashy moves sparingly to appease her howling subjects, otherwise anchoring the gig in the beguiling charm of her signature warble.
Lana Del Rey is caught between a desire to let the strength of her songs carry the live show and the need for a pop star of her stature to deliver memorable moves and visuals. But for now, she's great at serving up campy moments for the army of rapturous fans with their cell phones trained on the stage.