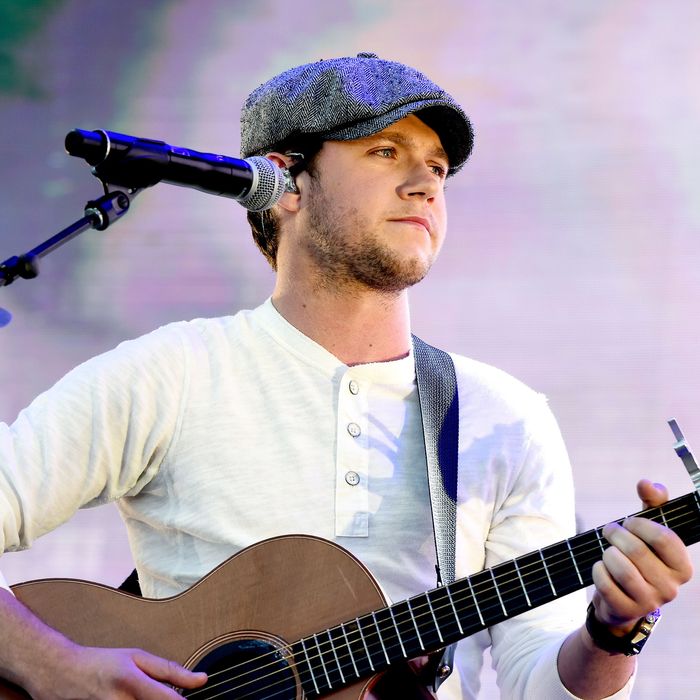 Niall Horan.
Photo: Kevin Winter/Getty Images
Niall Horan wasn't the leader of One Direction, but he might've been the heart. He radiated easygoing charm and mischievous humor onstage and just about everywhere else. It's what got him past the X Factor audition he almost lost after a lukewarm reception to his rendition of Ne-Yo's "So Sick." It's what got him a temporary James Corden butt tattoo during 1D's appearance on the Late Late Show host's old U.K. variety show, A League of Their Own.
With the group in his rearview, and the release of his debut solo album, Flicker, Niall hopes to show fans a different side of himself. Out of the growing expanse of 1D splinter projects — see also: Zayn's moody hip-hop soul, Louis Tomlinson's muted electro-pop, Liam Payne's party-rocking rap and dancehall singles, and Harry Styles's majestic classic-rock album — Niall's release bears the closest resemblance to the rustic, autumnal mood of late-period 1D. Flicker is nice, clean folk-pop that keeps its sound pinned in the present while saluting the past.
While Harry Styles's classic-rock trip took the singer through Rolling Stones, Beatles, and David Bowie fan service, Niall name-checks the Eagles and Fleetwood Mac as inspirations. His devotion seems deep: He bought a house in Laurel Canyon, spiritual nexus for the American singer-songwriter movement of the '60s and '70s and physical home to stars like Neil Young and Joni Mitchell. He also calls Don Henley a few times a month to talk about songwriting. Flicker honors these allegiances without ever going full James Taylor. Album opener "On the Loose" and "Since We're Alone" both crib rhythm-section cues from Fleetwood's "Dreams" but approximate the clinical soul of Maroon 5.
The album loads all of its best material up front. Killer singles "This Town" and "Slow Hands" exhibit Niall's ability to slip into folk and soul grooves with matching confidence, and "Seeing Blind," the swinging Maren Morris duet nestled between the two, hints at a possible future in country. The back half of Flicker is full of delicate, drippy acoustic tunes that, while they're perfectly pleasant, don't ask much of the singer. It's all warm, quiet balladry that seems well suited to soundtrack some maudlin TV-soap character staring into the middle distance after receiving bad news. It's music that soothes but struggles to move you. It's great in the background but thin on closer inspection.
It's Niall's voice that makes or breaks these songs. When he challenges himself, they soar. "Slow Hands" draws it up into a reedy, staccato delivery that feels like the singer freely skipping over the drums. He thrives alongside Maren Morris  because he's had years of practice backing up a vocalist who really belts it out. But Niall spends a good portion of Flicker treading water, hovering in a lilting middle register that isn't distinct enough to stamp this music as the work of any one specific artist with a unique vision. If you heard "Fire Away" or "You and Me" in a supermarket for the first time, you might find yourself wondering which budding Americana star had sung it, although if you've just sprung out of the margins of an internationally renowned boy band, there are far worse concerns your first solo album could stand to raise.
A lot has changed for Niall Horan since Katy Perry saved him from elimination on X Factor, but some things haven't. He's still a good-spirited jokester trying to translate feisty character into impactful music. Lacking the strength in numbers that One Direction provided, though, he's still learning how to carry a full album on his own. Flicker is a good start, but a few of these songs mistake the haunted weirdness of the old Laurel Canyon singer-songwriters for the easy-listening schmaltz their best singles always managed to transcend. Flicker often smolders but it never really catches fire.