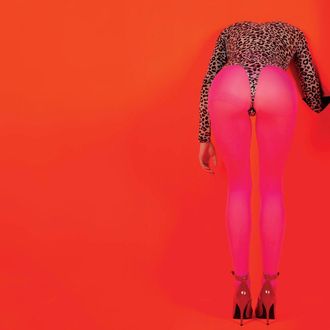 St. Vincent makes mutant pop-rock records that feel at once both icy and warm. On the surface, her songs are airtight, proggy guitar workouts of breathtaking precision, but the warmth of singer-guitarist Annie Clark's voice and the mercurial passions she uses it to stoke seem defiant to the mechanistic grooves that house them. Cuts like "Chloe in the Afternoon," off 2011's Strange Mercy and "Regret" off her 2014 self-titled album matched lyrics about lust and anxiety to visionary fretwork and taut arrangements. Imagine Adrian Belew joining the Eurythmics instead of King Crimson. The funky art-rock abstractions of St. Vincent netted the performer a five-digit first-week sales haul and the Grammy for Best Alternative Album. While her music enjoyed a windfall of press adulation, her private life became the subject of paparazzi snaps and tabloid news items as a romance with supermodel Cara Delevingne blossomed (and ultimately fizzled out).
The fruit of Clark's disorienting growth, this week's new Masseduction, is wry and dark. Its obsessions are failing relationships and the silent horrors we endure to make it through the week. "Los Ageless" is a biting breakup tune: "How could anybody have you and lose you and not lose their mind too?" the singer repeats in the chorus. "New York" memorializes a crumbling crew of friends and mourns the loss of one she describes as "the only motherfucker in the city who can handle me." The devastating "Happy Birthday, Johnny" checks in on St. Vincent's crafty, fearless "Prince Johnny"; he's homeless now and bitter about seeing Annie's face in magazines while he suffers. The title track's tale of addiction to risky behavior — "I can't turn off what turns me on" — runs through the rest of the album as a theme. Narrators pine for people, places, and habits that seem like bad news and struggle with the consequences of their choices. Johnny loses Annie not because he's fallen from grace, but because he's needlessly cruel.
Masseduction's shift in tone also comes with new personnel. Clark's go-to producer John Congleton is joined here by Bleachers' Jack Antonoff, who seems to have a hand in everything this year, as well as Kendrick Lamar collaborator Sounwave. The changes are noticeable up front: If the old St. Vincent made pop music for art-rock kids, this one is often dressing straight-up pop songs in art-school confections. "Hang on Me" opens on a muted hip-hop beat, a disembodied vocal, and a splash of electric guitar produced to resemble a droning synth, like a hit single with the jelly filling scooped out, while "New York" warms a wintry piano ballad with strings and house drums.
The album's weirder arrangements are reminders that St. Vincent's sound was running just fine before the tune-up. The busy drum programming and thin guitar licks on "Pills" recall late-'80s Prince, but the song cuts a hard left into stoned psychedelia near the end, like a wild-eyed playlist segue from the Purple Rain legend's "Kiss" into Pink Floyd's "Eclipse." "Savior" crams brash funk and sultry quiet storm into the same space. Daring moves pay off handsomely, but elsewhere in the album, a concerted push toward greater accessibility dilutes some of its character.
The plodding synth flooring of "Sugarboy," "Los Ageless," and "Fear the Future" isn't far removed from similar dance-pop flourishes on Lorde and Taylor records like "Supercut" and "Out of the Woods." They feel like Antonoff trademarks, streaks of conventional Top 40 polish applied to an artist whose left-field textures and rhythms define her work. It's risky business streamlining a sound as delightfully bugged out as St. Vincent's, and the execution here occasionally falls a bit short of the ambition. In spite of a handful of tracks that push Annie Clark's signature guitar theatrics to the margins in favor of glossy electro-pop we come to St. Vincent's music to avoid, Masseduction's experiment in matching Clark's wily rock and funk sensibilities to rap and pop hitmakers' bells and whistles yields better results than expected.