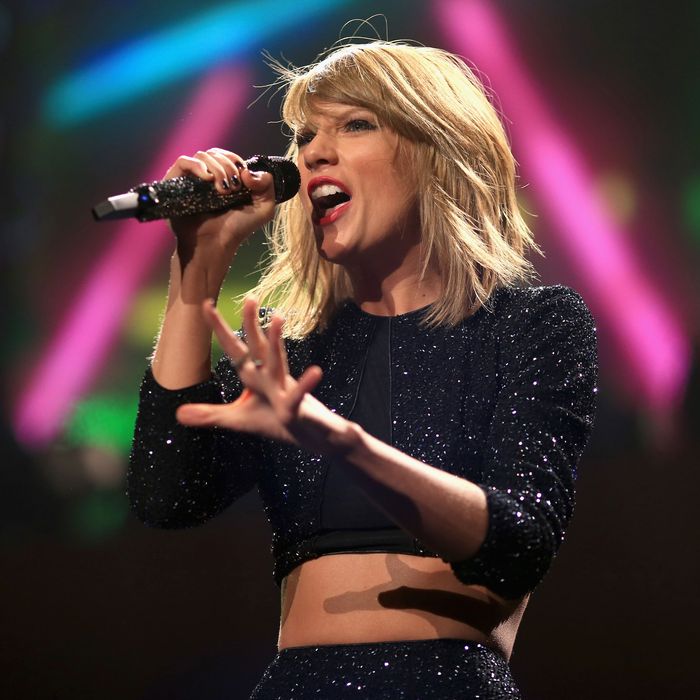 Swift.
Photo: Christopher Polk/Getty Images for iHeartMedia
The latest song from Taylor Swift's impending Reputation isn't terrible, but there's still plenty to question about it. Picking lead singles seemed to be an art Team Taylor had had down cold. When she was a country unknown looking to make a great first impression, they hit on the brilliant idea, with "Tim McGraw," of hitching a ride on an established figure in the industry; written and delivered with similar care, "Love Story" and "Mine" proved perfect heralds for Fearless and Speak Now. Her transition into pure pop with Red could have been awkward, but she knew how to ease worries she was sacrificing depth for popularity: Red's lead singles, the irresistible "We Are Never Ever Getting Back Together" and the country-loyal "Begin Again," displayed well-practiced finesse to demonstrate that no trade-off was needed. And then there was 1989's "Shake It Off," whose peppy mix of horns and percussion deftly showcased a new version of the artist, one who, though no longer shackled to guitars, remained every bit as catchy as before, if not more so.
Following the unforced error of "Look What You Made Me Do" and "Ready for It," a corked bat of a song whose rushed release a week after came off as a cover-up for the unexpected debacle of "Look," "Gorgeous" is yet another song from Reputation that doesn't live up to its title. (Gorgeousness is a type of beauty with some serious body to it, and the song's thin lyrics and spindly but colorful melody hardly qualify as such.) Nor do the singles, taken together, live up to their status as leads — they fail to give a clear sense of the album to come. It used to be that Swift needed just one, or at most two, tracks to show listeners what she had in store, but times have changed: Three songs in, we still have no clue what, if anything, Reputation is going to amount to. On the song level and the PR level, there's been a sustained sense of orchestration to no apparent end.
Handled capably by Max Martin and Shellback, the xylophone-keyboard production for "Gorgeous" jogs lightly up and down a scale in a halting loop; the point is to be cute, not forceful, which means that whatever mass and energy the song possesses will have to come from Swift's lyrics and delivery. It's something the singer recognizes: At least that's the most plausible explanation for why she depicts the process of infatuation — with someone, keep in mind, who's done nothing more than be an attractive person who's touched her hand once — in terms of hatred and hurt, drowning and death. Swift's lyrics have always been focused on romantic complications, but here her sketch of a relationship feels disjointed and implausible. She's telling instead of showing, mistaking verbal stock photos ("Whiskey on ice, Sunset and Vine") for poetry when she's not delivering plastic lines in a stilted tone. "You should think about the consequence / Of your magnetic field being a little too strong" is neither charmed nor charming; it's a quote from a malfunctioning android.
It's absurd and not a little frightening to witness Swift, who debuted more than a decade ago as a teenager with the craft and emotional intelligence of someone twice her age, regress at 27 into a Blade Runner replicant whose feelings glitch out in the process of their own expression. It's not that she's run out of stories to tell. But her current narrative — judging from "Gorgeous" — is about a woman whose tremendous success has magnified her resentments to the point where she can't even enjoy the happiest of emotions: falling in love. It's a narrative that's going to require unprecedented levels of self-awareness and self-criticism to be credibly delivered. Early reports indicate that Reputation is going to take aim at all of her foes, but if she can't take the hint implicit in her new songs that she's her own worst enemy, there's no future for the megastar aside from burning out.