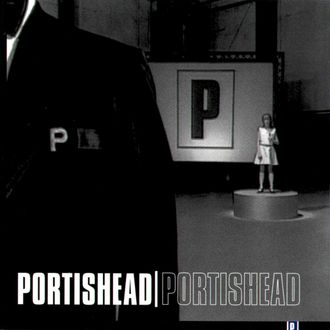 The original trinity of acts gathered in Bristol in the early '90s and later unwillingly grouped together under the name of "trip-hop" were hardly put together by chance. Though the sounds of Massive Attack, Tricky, and Portishead could never be mistaken for one another, the trio had plenty in common: a sustained interest in the possibility of female voices and a love for golden age American rap, in particular Public Enemy, whose unwavering political attitude they channeled through equally heavy, but markedly less raucous soundscapes. There were personal connections as well. Blue Lines, the debut LP from Massive Attack, was ground zero not only for the group centered on DJs 3D and Daddy G but a launching pad for Tricky, whose delivery of several coiling, stellar guest verses were the first sign of the genius that would blossom on his own debut masterpiece, the ultradense, lasciviously stressful Maxinquaye. Meanwhile Geoff Barrow, a young sound engineer who worked on Blue Lines, was gifted spare studio time by Massive Attack to experiment with his own instrumentals.
The gift would pay full dividends when Barrow met Beth Gibbons, a woman from the countryside with an uncommonly soulful voice — grand, clear, and intelligent. Soon after including Adrian Utley, a guitarist with experience as a session artist for jazz groups, their collaboration developed into a strange band — the producer-DJ Barrow occupying the space traditionally held by a drummer and bass guitarist — which they named Portishead, after a small coastal town in the region. Heralded by an EP (Numb) and a short film (To Kill a Dead Man) which they directed and composed the soundtrack for, Portishead's first album Dummy (1994) was received quietly but rapturously by the British public. A perfect mix of crisp samples and breakbeats, oceanic bass, pensive guitar lines, and Gibbons's tender yet crystalline delivery, Dummy carried with it a sense of relief, as if some profound potential, long-held, had finally come to fruition. Most debut albums display artists in the midst of discovering their capacities. Dummy fit this mold while deepening it: Both lyrics and sound seem not just vital but sentient and self-reflexive, capable of making the process of one's own discovery its primary theme. "Did you realize no one can see inside your view? / Did you realize the world inside belongs to you?" Gibbons sings on "Strangers," her voice lit by the exuberance of the supremely poised.
To listen to Dummy is to listen to Gibbons giving herself over completely to her bandmates' sound while also somehow being wholly above it. Her lyrics were charged with a rare sense of conscience, or of a faith waiting for its proper object: "Love don't always shine through." At times, her certitude could even come off as didactic ("We need to recognize mistakes, for time and again"), but even then the sermon was delivered without aggrandizement and with a sensibility that could credibly be described as literary. Gibbons's chorus on "Wandering Star" is an allusion to a deep cut in the New Testament, matching a verse from the King James translation (Jude 1:13) almost word for word: "Wandering stars, to whom it is reserved the blackness of darkness forever." The verse in Jude is preceded by "Raging waves of the sea, foaming out their own shame"; Gibbons's verse refers to "Masks / That the monsters wear / To feed / Upon their prey." Things are far from well, but, reflected by a soothing turbulence of a drum loop programmed by Barrow, it's confidence, there as on the album at large, that ultimately defines her tone.
A different sort of turbulence lay in store for the band, however. Like Massive Attack before them and Tricky after, Portishead, arriving at sudden fame after a groundbreaking debut album, responded with bafflement and disgust. Widespread recognition did not equate to general understanding. Dummy's heavy, often quite unhappy themes were often overlooked. Through no fault of their own, the band's sonics became fodder for dinner parties and television shows. Mainstream homogenization was a particular source of annoyance for Barrow. Surly, under 25, and hailing from a working-class background, Barrow hated the fact that his sound, though never intended to accompany fondue and BBC Two, was nonetheless to some degree compatible with them. Gibbons and Utley, though less public with their displeasure, shared similar opinions: Gibbons, much in demand for interviews, gave up talking to the press entirely.
When the band united to plot out their second album, they did so under a sense of strain largely absent from their original meetings. Dummy had traced the narrative of its own free development; that narrative's essential privacy had been rooted in the fact that the trio were invisible to the general public. Repeating its sound, after being exposed to the media, would be inherently insincere; doing so would only be to brand themselves, assent to their reduction to a commodity. The recording process was strenuous, as the band pursued a mode of authenticity capable of resisting and refusing bad exposure. Barrow and Utley made their own samples from scratch, recording instrumentals, pressing them to vinyl, and subjecting the records to wear and tear before finally sampling them; Gibbons, meanwhile, wrote lyrics whose discontent and tension were impossible to mistake for anything else. Before, they had been three people in a band; now they both were and were not "Portishead," and it only seemed fitting to present themselves as such, as an identity in conflict.
Released 20 years ago in 1997, Portishead is clearly related to its predecessor: The more evident departures of the band's 2008 third album Third and the confluence of songs from both albums on the 1998 live collection Roseland NYC Live have made it that much easier to group Dummy and Portishead together. The parallels run long and deep: breakbeats and thick bass, thoughtful guitar and even more thoughtful singer. Yet the proportions have changed. The prevalence of bass notes on Dummy created a sense of permanent suspension in liquid, as if the listener were tunneling through a heart, but with the exception of the gorgeous "Undenied," Portishead showcases an act that no longer serves bass as it once did. The arrangements are drier, harder, more abrasive and more spare; air and solid are the album's leading elements. Gibbons's vocal language, likewise, has shifted: Though she always retains her composure, her tones are combative and bitter, accusatory and defiant. Her subjects are less cloaked in poetic elusiveness; she sings more frankly of concerns and troubles.
What concerns and troubles her most is Western capitalism. Portishead's opener "Cowboys" imbues subsequent songs' more general declarations of uncertainty and refusal with a distinctly anti-commercial dimension: The "you" addressed there is a deceiver and oppressor, the one who wears masks to feed upon prey.
Did you feed us tales of deceit?
Conceal the tongues who need to speak?
Subtle lies and a soiled coin;
The truth is sold, the deal is done.
Other songs take up the theme. "Half Day Closing" refers to "shrinking skies where money talks and leaves us hypnotised" and declares how "underneath the fading sun, the silence of a businessman has left us choking"; closer "Western Eyes" speaks of "faithless greeds consolidating, holding down sweet charity." Something more than brittle anti-corporate rhetoric is at work here: Though Gibbons's voice couldn't sound more different from Chuck D's, she's no less interested in asking who stole the soul. Her investment in Christian concepts and images leads her to view capitalism, the religion of commerce, as a decadence, a falling away from salvation through charity. As the day and sun (and Son) fade in the West, the world is constricted and suppressed by the profit motive and its merciless dishonesty, and the soul — or self at least — is left paralyzed, forever weary and ill at ease. Wrong life cannot be lived rightly: The consequence of having "chosen to take all we can" is "the shade of autumn, a stale bitter end," and the act of love is, beautifully and horribly, reduced to "years of frustration, laid down side to side." Gibbons is too aware to indict merely from the outside: She refers to how "we've crushed everything I can see," how "with Western eyes and serpents' breath, we lay our own conscience to rest." The moral failings of the Christianity and whiteness inherently associated with the West weigh heavily upon her; offering neither posturing nor solutions, she enacts the torturous drama of a world where belief is synonymous with deception.
The album makes total sense, but how does it sound? One could argue that Portishead can be more admirable in theory than in practice. Created in direct opposition to the twinned principles of quick profit and easy pleasure, it's a masterpiece of painful rigor. With the exception of "Undenied," the album's exhilarations, though plentiful, are inseparable from its harrowing politics and embattled nature. Utley's riff on "Cowboys" is fit to saw through steel; Barrow's beat on "Elysium" counts its measures with an alarming or bomb-adjacent urgency; Gibbons's voice, shorn of comforting accompaniments, is charged with a kind of grievous purity throughout, reaching heights of agony unheard on Dummy. Though the fact is obscured by the 11-year gap between albums, it's certain that Portishead paved the way for the even more deeply disturbed tone of Third (their best album) as much as it marks an extension of the sonics introduced in Dummy.
Finding the right production for that tone, as those 11 years suggest, was an arduous task, for Portishead was every bit as unrepeatable as Dummy. A long separation was necessary before the band could come together properly, and Third, once released, proved no less singular; next spring will make it ten full years without a new Portishead album. Given the exacting standards of the band members, it's entirely possible that there may never be a fourth LP; lovers of the band may well be stuck with three masterpieces and no more. Though it's not the best of the three, time nonetheless has justified the harshness of its creation and witnessed its sustained resonance. The album's concerns about greed, grief, and redemption have only grown more relevant as capitalism's ravages multiply and faith grows ever more materialist. And Portishead's approval rating in American hip-hop, the field from which they originally drew inspiration, remains 100 percent: Artists like Vince Staples, Travis Scott, Kanye West, and Schoolboy Q are all on record as ardent admirers and students of the Bristol trio. Twenty years have passed, but as a testament to Barrow, Utley, and Gibbons's integrity and to its own necessity, Portishead still bows to none.