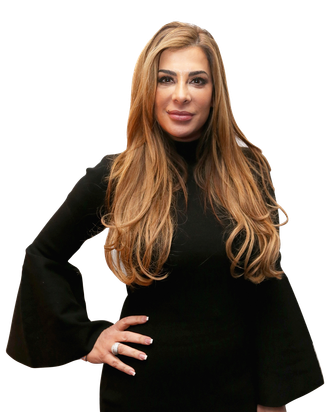 The Real Housewives of New Jersey star Siggy Flicker is a Jersey girl through and through: loud, funny, hyperactive, and hyperaffectionate. She just so happens to have been born in Israel, where her mother went into labor in a bomb shelter during the Six-Day War. ("Siggy" is short for Sigalit, Hebrew for "violet.") When she joined RHONJ last year, we learned that the professional matchmaker isn't afraid to say or do exactly as she pleases, be that sipping lobster bisque through a straw or swapping sky-high heels for her beloved Ugg slippers in a parking lot.
Vulture caught up with Flicker to talk about about family, fans (no, not the ones you're thinking of), her hysterectomy, and what's in store for her tumultuous sophomore season of RHONJ, which returns to Bravo on Wednesday night.
How are you adjusting to your son Josh going to Penn State? I saw on Instagram that he made a surprise visit.
Yes! My husband called up Josh and said, "Your mother is having a hard time. Why don't you get on a bus?" and Josh was like, "Okay." He got on a bus at like one in the morning, and the bus trip from Penn State was like five-and-a-half hours. He took an Uber from Grand Central and just surprised me. I had no idea! I had the best weekend with him. In the morning, I just went into his room and — I know it sounds so weird, I probably should not be telling you this — but I was looking at him sleeping.
At the end of last season, it seemed like the bad blood between Jacqueline and Teresa might drive a wedge between you and Teresa. What's your relationship with Teresa like now?
My relationship with Teresa is better than ever. When Jacqueline brought me on, she said to me one thing: "When you meet Teresa, you're going to love her!" There are certain people that, when they're out, all they want to do is have fun and they want everybody around them to have fun. I'm the type of person that when I go out, I want you to imagine it's the last day of your life. We're going to dance, we're going to shout, we're gonna eat, we're not gonna watch our calories, and we're just gonna have a good time.
Teresa is that type of person. She'll be the first one to get up and dance. She'll be the first one to drink the Champagne. She just wants to have fun, so it's very easy to be with her. I only met Teresa last year, after she came home [from prison] — on national TV was my first meeting with Teresa Giudice. She has been nothing but kind and generous and respectful.
My relationship with Dolores is stronger than ever. I mean, she's my ride or die, the best girl ever. Some of the relationships with some of the other girls are not where they should … they're not good, but it doesn't really matter to me because I have no history with them.
You acted as a peacemaker among the Housewives in season seven, but it looks like you'll have your share of discord in season eight. What changed?
Last season, I was just getting to know everybody. I'm the type of person, where if I see two people are fighting, the first thing I'm going to do is be the referee and say, "Hey, come on, she didn't mean it that way, knock it off. Can't we just get to a good place?" This season, the drama lands at my front door. I'm going to stand up for the things that I believe in. I'm not a sissy, I'm not a sucker.
I had to practice what I preach. This is how I'd advise anybody who came to me and said, "Hey, I barely know this girl, I welcomed her into the group with open arms, I rolled out the red carpet for her, what the hell is her problem?" After a while, you keep on getting hit in the face, and somebody starts chopping first your toes and then they get to your knees, and then they get to your thighs. Everybody has a breaking point. I reached my breaking point and I said, "No, enough is enough." I wouldn't take back one thing that I said or did all season. I'm just proud that I can lead by example and show people how I handle what comes at me.
I fell in love with you when you made your very first appearance on RHONJ still bandaged from a face-lift. What inspired you to be so open about your plastic surgery?
It's so funny, because Andy [Cohen] asked me the same question. He goes, "You had a schedule, you knew that you were filming — what made you go?" I'm like, "My whole life, I've never been a private person. I've always been a public person. If you and I were together, you say, 'Oh my God, Siggy, that's such a great lipstick.' I'm like, 'Take it.'"
I knew that I was filming, but I also knew that I was 49, I had a year before my 50th birthday, and I wanted to get a head start. I didn't want to start doing all these injections in my face. My jowls were starting to hang. I went in and I did what I had to do, which was a simple surgery. It's weird to me that people ask me this question because this show is not America's Next Top Model. This show is about living your authentic self, and that's who I am. I've always been open and honest about surgeries. I've been open and honest about everything. It was no biggie. Did I need a face-lift? No, I didn't need a face-lift. But am I happy I did it? I'm thrilled with the results.
This isn't your first reality-TV rodeo, but I'm sure it was a very different experience from hosting Why Am I Still Single? What surprised you the most about being a Housewife?
Nothing has surprised me. I have to tell you, it is the hardest job I've ever had in my entire 50 years of living on this planet. I've been a waitress, I've been a nanny, I've scrubbed toilets. My ankles are shot from how many days I was waiting tables. I've never had to endure something that was this difficult. To have your life on display — the good, the bad, the ugly. This was a risk that I had to take, and at the end of the day, my first run of my book [Write Your Own Fairy Tale] has sold out. That's all that was on my mind. Now, because I had this platform, I have a bullying book for children coming out in 2018, so I get to leave this world one day and say I made a difference.
These first few days of fall have been warm. I'm calling you from Queens, but —
Oh, really? Because my husband has a dealership in Bayside, Queens, on Northern Boulevard. If you need a Jeep Cherokee, go in there and tell Michael, "Siggy sent me."
I may take you up on that! Do you still make a habit of carrying a fan? If I wanted to buy one of my own, where would you recommend I look?
Send me your address, because I no longer use a fan and I have 25 fans to send you. They didn't really go into it last season, but they will go into it this season. I had a full hysterectomy and not by choice. I went in to have fibroids removed and they found a borderline cancerous tumor on the other ovary. I walked out of the hospital with a full hysterectomy, my body went into shock, and I entered menopause not by choice.
I'm so sorry to hear that.
My hot flashes got out of control, and I found a hormone replacement that I did on national TV. It was the pellets, where they make an incision right below your hip on the upper part of your butt cheek, and it releases estrogen and testosterone in your system, according to what your system lacks. I have not had a hot flash for seven months.
But I ordered them. It's like ten fans on Amazon for $2.99. I used to carry them to every restaurant, everywhere, because my body would go up and down and up and down. No longer. I don't have one hot flash.
That is great news! I'm happy you're feeling better.
Thank you so much! And remember, if you do need a car, go into that dealership, okay?
This interview has been edited and condensed.