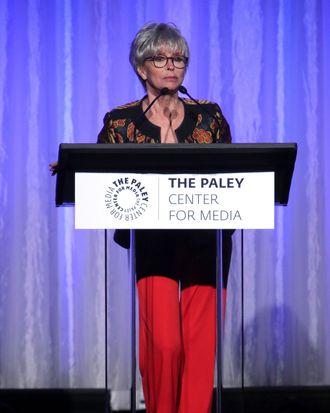 Rita Moreno.
Photo: David Livingston/Getty Images
Although many have been shocked by the recent Weinstein revelations, it's clear sexual harassment in the industry is no new thing, as evidenced by a speech Rita Moreno gave Thursday night.
Speaking at the Paley Honors in Hollywood: A Gala Celebrating Women in Television, Moreno claimed she had been the victim of a yearlong campaign of harassment at the hands of late head of production at Fox, Buddy Adler.
"When I was 19 years old I was signed to a contract at 20th Century Fox," Moreno said. "You can imagine that this little Latina girl was out of her mind with pride at having this. At one point I met the fellow who was running this place. He took one look at me and just said 'Oooh.'" Thus began Adler's pursuit of Moreno, she said.
While Adler began repeatedly calling the home Moreno shared with three other girls, he also targeted her in person too. "I just kind of knew this was not the person I wanted to mess around with. Whenever he found me in the commissary I made it a point to be with somebody at the table," she said. "By the way, this guy already had a mistress, so that's what I at the age of 18 or 19 was dealing with."
This continued for a year, Moreno said. "I wanted to be a movie star so badly, and the man would not leave me alone." Finally, Adler made one last call to Moreno's home, she said. He told her roommate, "Tell her I give up." "Finally my nightmare was over," Moreno said.
Saying that the revelations this week had affected her greatly, Moreno added, "You might think, 'Jesus, you're 85! Get over it, woman!' You never get over something like that. I can't."
Moreno went on become a rare member of the EGOT club — a winner of an Oscar, Emmy, Grammy, and Tony. In 1958, Adler was awarded the Golden Globes' Cecil B. DeMille lifetime achievement award. He died of lung cancer two years later.