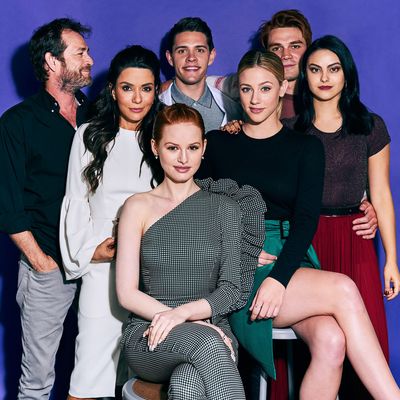 Photo: Kyle Dorosz/Vulture
Riverdale, a milkshake of noir, murder mystery, and teen drama, returned for its second season this week, promising a story that's darker (and hornier) than ever. While the key delight of Riverdale lies in, you know, actually watching the show, that experience goes hand in hand with the secondary joy of following all the 20-something actors who play Riverdale's teens as they go about their lives and constantly use social media. If you haven't been following the lives of these actors over the course of the show's hiatus — but you really should, since they're charming — here's a primer of all the silly, thirsty, and otherwise notable things they did last summer.
(Before beginning, it's worth noting the grim side of things: In September, K.J. Apa was in a car crash after working a long day on the Riverdale set, which was reportedly typical of the show's working conditions. Warner Bros. TV responded by claiming that it observes the required safety precautions, while SAG-AFTRA said it would send representatives to investigate.)
They went to Comic-Con
They went to Vulture Festival (thanks, guys!)
They won surfboards at the Teen Choice Awards
Riverdale won awards for best drama series, TV drama actor (Cole Sprouse), breakout TV star (Lili Reinhart), TV ship (Betty and Jughead), breakout show, scene-stealer (Camila Mendes), and hissy fit (Madelaine Petsch). The teens love the teens!
They hung out with Charles Melton, a.k.a. New Reggie
… and took very thirsty photos with New Reggie
… and became best bros with New Reggie
They started dating each other (maybe)
Cole Sprouse and Lili Reinhart were reportedly seen "canoodling, holding hands and kissing" at a San Diego Comic-Con party in July. They've since posted several photos of each other and talked around questions about their relationship. Recently, Sprouse told EW, "I think that kind of discussion, especially because it's based so much on rumor and hearsay, needs to be taken with a grain of salt. We're all still human lives that are interacting with the source material. But, truthfully, it's very pleasing that people talk about Lili and I in that way because it means that we're resonating so strongly from our character perspective that people really want that to be true."
They had weird interactions at Chipotle
They celebrated a ton of birthdays
They made fun of each other
Cole Sprouse took a lot of photos
They posed in a lot of photo shoots
Yes, that last one is very confusing.
They were on magazine covers
They met The Good Wife's Zach Florrick
Welcome to Riverdale, Graham Phillips!
They started shooting the new season