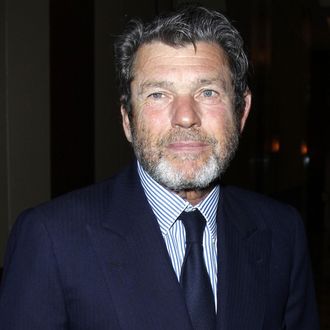 Wenner.
Photo: Jimi Celeste/Patrick McMullan
Next week, the first biography on influential Rolling Stone co-founder and publisher Jann Wenner will be released on Knopf, mostly against Wenner's wishes. The New York Times reports that Wenner has distanced himself from the book, titled Sticky Fingers, after a falling out with his biographer, former New York writer Joe Hagan, over the inclusion of details on Wenner's sex life and personal relationships. Though Hagan spent four years researching Wenner's life and conducted more than 240 interviews — including rare talks with Wenner's ex-wife, Jane — for the book, all with Wenner's involvement and support, he says Wenner recently disavowed the biography after reading the final copy, and has canceled promotional appearances with Hagan for it.
Hagan claims that while Wenner appears to feel blindsided by how much the book focuses on his personal life, Wenner "signed off on all of it" after Hagan sent him a memo listing "every instance in which he had sex with anybody in the book," and other "super personal" details. He says Wenner only required Hagan not to name the woman with whom he lost his virginity. Earlier in the writing process, Hagan says that Wenner originally asked to have "veto power" over how his sexual history would be portrayed in the book. Hagan responded with a letter requesting that the book be unauthorized. "You spent 27 years traveling in elite celebrity circles as a gay man married to a woman," Hagan wrote. "I have to be able to determine for myself what's relevant and what isn't. And I can't do that under the threat of legal recourse."
Hagan says he wanted to leave no potential stone uncovered because he believes Wenner's sex life "overlaps" with the company. "I always looked at Mark Whitaker's Bill Cosby book as this cautionary tale," Hagan told the Columbia Journalism Review. He notes that even Wenner's sister wasn't sure how Jann would react to the book "because part of his story is that he didn't always treat people right." Prior to Hagan's book, there have been two other failed attempts at a Wenner biography, both jettisoned when Wenner yanked his support.