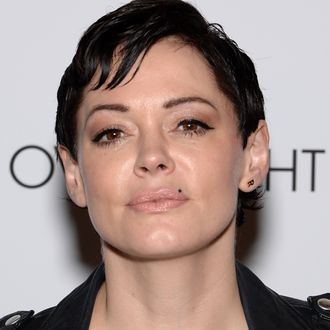 Photo: Andrew Toth/Getty Images
In a statement issued via Twitter today, Ben Affleck addressed the accusations of sexual misconduct against Harvey Weinstein by saying, "I am saddened and angry that a man who I worked with used his position of power to intimidate, sexually harass and manipulate many women over decades." He then issued a call to men to support assault victims, condemn abusive behavior, and "help ensure there are more women in positions of power." But Rose McGowan, who has been one of the figures most vocally opposed to Weinstein (she is calling for a full dissolution of the Weinstein Company board) and a long-time critic of systemic misogyny within Hollywood, is asserting that Affleck has known for a long time about Weinstein's reported behavior.
McGowan seems to be implying that Affleck knew specifically about an incident involving her and Weinstein, and that he even addressed it with her directly. Additionally, McGowan has been tweeting about the issue all day, amassing an informal coalition she's called the #ROSEARMY.