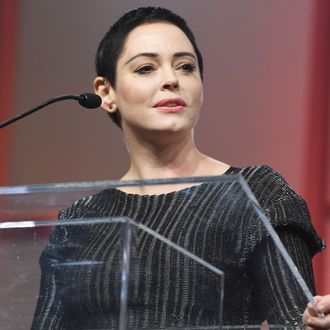 McGowan at the Women's Convention.
Photo: Aaron Thornton/Getty Images
In her first public appearance since accusing Harvey Weinstein of raping her, Rose McGowan gave an impassioned speech at the Women's Convention in Detroit on Friday. Addressing the approximately 5,000 people in attendance, McGowan said, "Hollywood may seem like it's an isolated thing, but it is not. It is the messaging system for your mind. It is the mirror that you're given to look into." She continued by citing the overwhelming male majority in Hollywood with a call to take action:
"But it's all told through 96 percent males in the Directors' Guild of America. That statistic has not changed since 1946, so we are given one view. And I know the men behind that view. And they should not be in your mind and they should not be in mind. It's time to clean house."
She continued, "For all us who have been looked down on. For all of us who have been grabbed by the motherfucking pussy, no more. Name it, shame it and call it out. Join me." Tied to her speech was the launch of the site RoseArmy.com, a platform to help enable sexual-harassment and assault victims to come forward about their experiences, with the name tied to a recent hashtag McGowan has been using on her Twitter.
McGowan ended Friday's speech with a chant:
"Pussies grab back. Women grab back. We speak! We yell. We march. We are here. We will not go away. My name is Rose McGowan and I am brave and I am you."