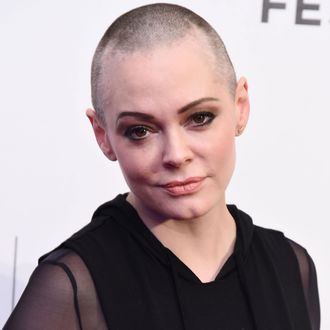 McGowan.
Photo: Ilya S. Savenok/Getty Images for Tribeca Film Festival
After years of walking right up to the point of saying so, Rose McGowan has accused Harvey Weinstein of raping her. McGowan has talked in broad terms about the incident that happened between her and Weinstein in 1997, the details of which seemed blocked by a nondisclosure agreement. In a Twitter thread posted Thursday afternoon, addressed to Amazon's Jeff Bezos, McGowan said, "I told the head of your studio that HW raped me. Over & over I said it."
In 1997, according to the New York Times, an incident between McGowan and Weinstein in a hotel room during the Sundance Film Festival prompted the ex-mogul to pay her a $100,000 settlement. McGowan didn't speak to the Times about what happened, but has continued to imply online that Weinstein sexually assaulted her. (She is reported to be the anonymous actress who pulled out of Ronan Farrow's New Yorker story, telling him, "The legal angle is coming at me and I have no recourse.") This week, McGowan asked if she's "allowed to say rapist," and in October 2016, she said she was raped by a studio executive. McGowan's tweets come just after her account was suspended by Twitter Wednesday night.
Update: Through a spokesperson, Harvey Weinstein has denied that he raped McGowan. Sallie Hofmeister, a representative for Weinstein, said in a statement to Entertainment Weekly, "Any allegations of non-consensual sex are unequivocally denied by Mr. Weinstein."