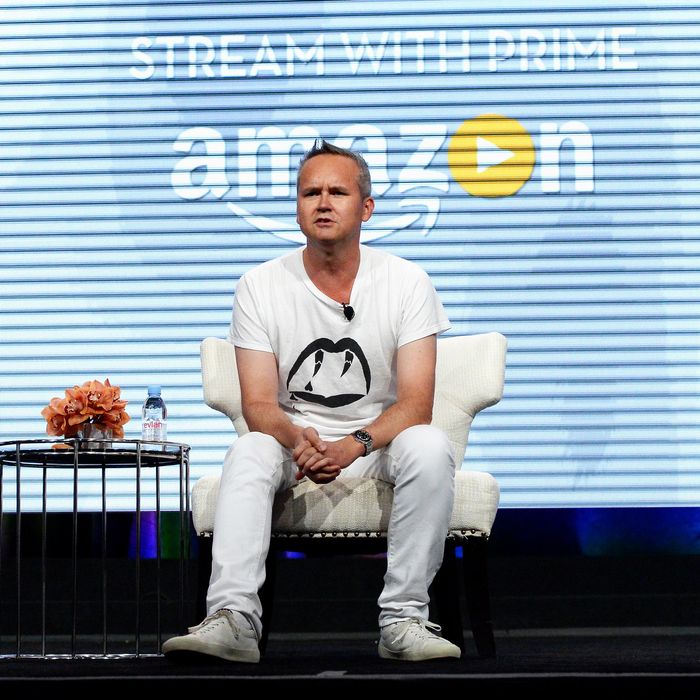 Roy Price was fired amid accusations of sexual harassment this week.
Photo: Charley Gallay/Getty Images for Amazon Studios
It would be nice to think that former Amazon Studios chief Roy Price resigned from his job because company founder and CEO Jeff Bezos simply couldn't tolerate the idea that one of his key executives had sexually harassed a key producer. Unfortunately, there's little evidence to support that notion. Quite the contrary: Amazon and Bezos knew of the allegations against Price for two years but took no public disciplinary action against him until last week, when producer Isa Hackett told her full story to The Hollywood Reporter's Kim Masters. Amazon acted only after the combination of the THR article and the revelations about Harvey Weinstein made Price's continued employment politically untenable. But a third factor, one unrelated to Price's personal behavior, may have also played a role in the decision to finally make a change: Bezos, it seems, simply wasn't happy with how Price was running Amazon's TV business. Now that Price is gone, Hollywood is wondering whether his departure will mark the beginning of an even bigger shake-up at the streamer.
Any investigation into what's happening at Amazon Studios, the umbrella unit that oversees programming for Amazon Prime Video, is complicated by the fact that Bezos has been conspicuously quiet in recent months about the service. He didn't offer a statement when Price departed, and it's been months since he offered any extensive comments on the overall health of Prime Video. But many in Hollywood apparently are convinced Bezos is dissatisfied, and before he resigned, Price was acting as if his boss wanted a change. In a Variety article published in early September, the now-departed exec pretty much said as much. The article — unambiguously headlined "Jeff Bezos Mandates Programming Shift at Amazon Studios" — reported Bezos had ordered the streamer to focus more on what Price described as "big shows that can make the biggest difference around the world." While Amazon has gotten critical love (and a few Emmys) for series such as Transparent, One Mississippi, and Man in the High Castle, Price — presumably speaking for Bezos — sounded as if both he and his then-boss weren't satisfied with the status quo at the streamer. "We're a mass-market brand," the former Amazon Studios chief told Variety. "We have a lot of video customers and we need shows that move the needle at a high level."
Of course, since Bezos hasn't spoken out at all, it's impossible to know whether Price's comments truly represent Bezos's thinking — or were simply intended as a distraction from Price's own troubles. Remember: His comments to Variety came just a couple weeks after Masters published a preliminary story about the sexual-harassment allegations against Price at the subscription-based business news site the Information. It's not far-fetched to think Price preferred to talk about how he was moving to chart a new direction at Prime rather than charges he had created a hostile environment for producers and talent working under him.
Still, Variety's story also cited sources outside Amazon noting they'd been hearing of a course change at Amazon for weeks, even before the Masters bombshell. And whether Price knew it at the time, The Wall Street Journal was weeks away from publishing its own brutal takedown of how Amazon Studios was managed. (More on that later.) Whatever Price's motives for embracing the "Amazon needs to go broader" narrative, one senior Hollywood agent with millions of dollars in business at the streamer says it's hard to see how Price wasn't legitimately in the process of changing focus. This agent argues Bezos has to be at least somewhat disappointed with the company's streaming progress. "Amazon is all about being a category killer," noting the company's dominance of publishing, online retailing, and other markets. "He wants to win."
But what exactly does winning look like for a streamer like Amazon? The Variety article suggests finding a monster success such as Game of Thrones is the goal, but the amount of money needed to produce and market a series as ambitious as Thrones is not insignificant, even for a company as big (and risk-taking) as Amazon. Stand-alone video entities like Netflix or HBO or AMC clearly need big programs to drive subscriptions to their services, but Amazon is unique among streamers. It's part of a larger set of features that come bundled with an Amazon Prime subscription — free shipping, music streaming, etc. Video content is the only reason to subscribe to Netflix; consumers have multiple rationales for paying their annual Amazon Prime fee. And as Bezos himself noted in June 2016, Amazon judges a show's financial value differently than other premium services. "We get to monetize in a very unusual way," the mogul said at Vox's Code Conference. "When we win a Golden Globe, it helps us sell more shoes. And it does that in a very direct way. Because if you look at Prime members, they buy more on Amazon than non-Prime members … they look across more categories — they shop more. A lot of their behaviors change in ways that are very attractive to us as a business. And the customers utilize more of our services."
None of this means Bezos can't also want Amazon Prime Video programming to appeal to more subscribers (both current and potential) or win more Emmy and Golden Globe awards than it did this year. So when it came time to decide Price's fate, Bezos almost surely had in mind the contents of that Wall Street Journal exposé on Amazon Studios. That article didn't move the needle much on the sexual-harassment charges, but did include on-the-record quotes from top-name producers such as David E. Kelley, slamming the company's treatment of producers. The story also raised questions about Amazon Studios' decision-making process under Price, including allegations of favoritism toward writers who had romantic relationships with company executives.
Particularly since the Journal story and the Price resignation, it's not hard to find folks in Hollywood willing to offer up a disparaging off-the-record broadside against the way Amazon does business. They point to the fact that, more than once, it's officially renewed shows only to rescind said renewals, leaving those involved in the project more embarrassed than if they'd simply had their shows canceled from the start. There's the astonishing speed with which Amazon killed writer Dana Calvo's Good Girls Revolt, pulling the plug on the period drama about, ironically, sexual harassment within six weeks of its premiere. Networks kill good shows all the time, and it's not unusual for such decisions to be made based on little more than a whim. But the way Amazon handled Good Girls left even jaded Hollywood veterans slack-jawed. Executives at outside studios who've supplied shows to Amazon have similar horror stories about what they described as arrogance and, at times, even incompetence on the part of in-house marketing and PR executives tasked with promoting the company's TV shows.
Price's unceremonious departure from Amazon doesn't prove Bezos shares any of these concerns, of course. The only thing it does demonstrate is that Bezos didn't think Price was indispensable. "He simply wasn't worth Jeff Bezos risking his entire Hollywood investment for," as one top agent told Vulture this week. What Bezos does within the next three to six months will offer a better sense of how much change he thinks his TV unit needs.
Still to be decided is the fate of Joe Lewis, Price's top deputy, and the man with day-to-day control over drama and comedy development. Lewis was hired by Price, and the two worked as a team in recent months, following the promotion of Lewis from comedy chief to head of all programming (and VR content). He was dinged in the Wall Street Journal story, with the paper suggesting actress Yara Martinez — Lewis's girlfriend — may have been cast in Amazon series such as The Tick and I Love Dick because of her relationship with Lewis. (Lewis didn't respond to the Journal's request for comment, nor did a rep for Martinez. The Journal quoted Tick showrunner Ben Edlund denying any pressure was exerted by Lewis.) Vulture has reached out to Amazon PR three times this week, most recently Thursday, with questions about Price's departure and the future of the company. We also contacted Lewis directly. Neither Amazon PR nor Lewis replied to us.
It's important to note that, for all the recent reports about dysfunction at the streamer, not all producers have been unhappy with how Amazon runs its TV business. Transparent creator Jill Soloway has spoken highly about the creative freedom the company has given her. Amazon under Price and Lewis also had no problem recruiting top talent for upcoming projects, including Matthew Weiner, Julia Roberts, Maya Rudolph, and Oscar-winning director Barry Jenkins. Similarly, it seems unfair to slam Amazon for not having found a "breakout" hit while at the same time criticizing it for making big bets on creative talent. It's not that news outlets (and unnamed Hollywood sources) are wrong to raise questions about the financial wisdom of Amazon and Price/Lewis investing tens of millions in the poorly reviewed Woody Allen comedy series or the now-dead David O. Russell drama that was to have starred Robert De Niro and Julianne Moore. But these misfires, grand as they may be, are not unusual in Hollywood. HBO sunk tens of millions into Vinyl, while Netflix probably could've funded the government of a small country with the money it spent on the one-and-done Baz Luhrmann musical drama The Get Down.
Missteps aside, there's an argument to be made that Amazon's overall creative track record these past five years isn't dramatically worse than many other outlets deemed "successful." Much is made of the fact that Hulu took home the drama series Emmy for The Handmaid's Tale last month. But Transparent put Amazon on the awards map years ago. And with shows such as One Mississippi, Mozart in the Jungle, Man in the High Castle, and Sneaky Pete, Amazon has at least as many mid-level "buzz" shows as Hulu. The streamer clearly isn't in the same galaxy as Netflix or HBO when it comes to launching Zeitgeist-ready shows, but Bezos has made it clear Netflix isn't really his competition. What Bezos needs to decide now is whether Price's departure alone addresses the legitimate concerns over how Amazon Studios has been managed and how it interacts with the creative community, including its own employees and talent. If it doesn't, a more radical restructuring seems inevitable.