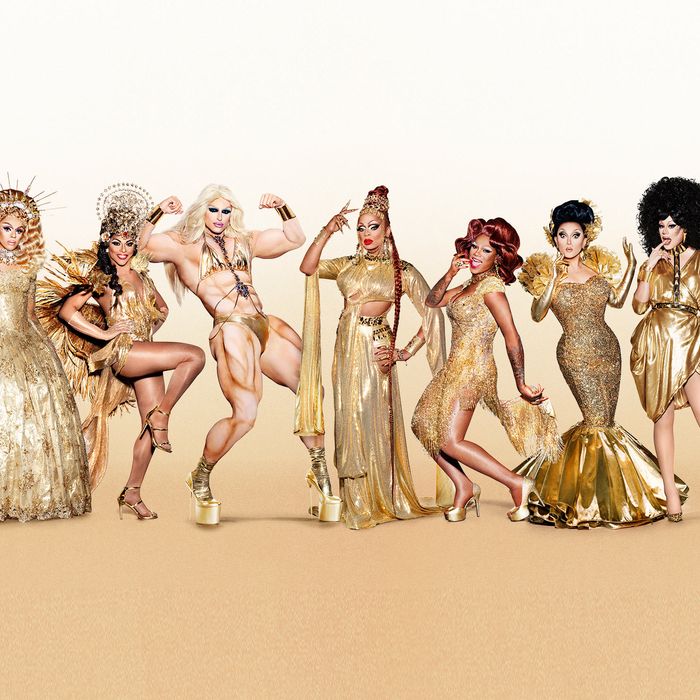 Hold on to your rose-petal-filled middle parts, it's time for another season of RuPaul's Drag Race All Stars! The returning queens are an interesting bunch, and unlike in seasons past, there's no clear favorite among them. All Stars season three is almost anyone's game to win, so let's figure out who has what it takes to enter the Drag Race hall of fame — not counting the mysterious tenth competitor who has yet to be revealed, of course. Will Shangela death-drop her way to the top? Will Aja finally give us the Crystal LaBeija Snatch Game we've been waiting for? Will Rebecca Glasscock show up in a fuzzy pink box only to slay the competition in the greatest redemption arc Drag Race has ever seen? Probably not, but who knows!
Aja
Before Drag Race season nine, we thought Aja would finish in the top three. (Let's just say that was a practice round.) Now that she's gotten her nerves out and improved on her makeup skills, Aja might finally trust herself enough to take all the risks and none of the disastahs. She's far from a front-runner, but she's definitely going to leave a mark with a couple of jaw-dropping lip syncs.
Strengths: Lip-syncing, live performance, holding her own under pressure.
Weaknesses: She's not great at executing her ideas, and in season nine, she didn't really know when to take a risk.
Odds she'll win: 16–1
Odds she'll be the instigator in her inevitable fight with Morgan: 10-1
Most iconic moment: "You're perfect! You're beautiful! You look like Linda Evangelista!" Aja's prescient dressing down of Valentina during an early episode of Untucked never gets old.
BenDeLaCreme
Ben swore she'd never do All Stars, telling the Stranger last year, "Those TV producers are willing to ruin friendships, professional relationships, feelings of self-worth — all for some cheap entertainment […] I've already been through hell in my new show — I don't need to go through it on theirs." JK, I guess! Ben was one of the strongest competitors on season six, and it's a testament to that season's deep talent that she only came in fifth. She may not have the fire to win that some of the other girls have, but she certainly has the skills and the momentum to go all the way.
Strengths: Acting, comedy, one of the most cohesive drag characters in the show's history.
Weaknesses: She isn't all that vulnerable.
Odds she'll win: 8–1
Odds she'll walk off set in protest: Hello, Adore 2.0.
Most iconic moment: Maggie. Smith. Snatch. Game.
Chi Chi DeVayne
Although she didn't have the most expensive wardrobe on her season, Chi Chi never let a low budget get in the way of her inimitable talents. She can serve pageant-queen glamour and comedy-queen realness alike, and she can murder anything from a comedy challenge to a lip sync. But with this being All Stars, the judges — particularly Michelle Visage — might be a little less understanding of a middle-of-the-road runway. Here's hoping Chi Chi has that one blind spot covered!
Strengths: Acting, comedy, lip-syncing, dancing.
Weaknesses: Runway, styling.
Odds she'll win: 6–1
Odds she'll refuse to laissez les bons temps rouler: 1,000,000–1
Most iconic moment: Just watch her Dreamgirls lip sync against Thorgy. You're gonna love her. Trust us.
Kennedy Davenport
She can split! She can kick! She can crack you the hell up! This season-seven queen is that rare kind of pageant girl who can do it all, from making you piss your pants laughing to making you gag on her eleganza. As long as she doesn't get in her own way — remember the self-negging about not being "creative enough" on the later sewing challenges? — Kennedy could easily take this whole thing.
Strengths: Dancing, glamour, lip-syncing, and comedy.
Weaknesses: Occasionally defeatist attitude, sewing.
Odds she'll win: 5–1
Odds she'll make bread loaves cool again: 12–1
Most iconic moment: As much as we want to give it to "After a long night of hooking…" — Kennedy's floor-pounding lip sync against Katya really shows her at her finest.
Milk
This forward-thinking New Yorker brought beards and boy drag to the season-six stage, so we can only guess what kind of gender-fuckery she's got planned for All Stars 3. The show would be stupid to eliminate her early, considering all the killer runways she's probably got planned. That said, Milk always stumbled when it came to acting and comedy challenges. It'd be a huge upset if she managed to snatch the crown.
Strengths: Runway, runway, runway!
Weaknesses: She has trouble translating her visual humor to scripted challenges.
Odds she'll win: 25–1
Odds she'll get some hand-drawn genitalia to air on VH1: 50–1
Most iconic moment: When she walked the runway as Workroom Ru, a boy-drag risk that paid off huge.
Morgan McMichaels
A veteran of both the West Hollywood drag scene and the pre-social-media seasons of Drag Race, Morgan isn't afraid to keep it real — no matter how many fans think she's being mean. She's polished, she's prepared, and she can instigate iconic reality-TV catfights like few others. (Morgan deserves some credit for the existence of both "Bitch, I am from Chicago!" and "You will speak when I'm done!") She doesn't really wow in acting or comedy challenges, so it'll be tough for her to take the crown. But it'll be awfully exciting to watch her try.
Strengths: Catfight queen, lip-syncing, polished looks.
Weaknesses: Acting, comedy.
Odds she'll win: 12–1
Odds she'll be the instigator in her inevitable fight with Aja: 5–1
Most iconic moment: The "Two of Hearts" lip sync with Sonique! Before Latrice's Aretha or Jujubee's "Black Velvet," this was the performance that proved once and for all why an airtight lip sync will always beat out splits and acrobatics.
Shangela
All Stars 3 doesn't have a clear front-runner, à la Alaska or Bob, but if we absolutely had to pick one, we'd go with Shangela. The California queen slayed the acting and comedy challenges on season three, and she probably would've made the top three if not for her crunchy makeup and novice sewing skills. But now, Shangela is a polished queen! A polished queen who can death-drop!
Strengths: Comedy, acting.
Weaknesses: ???
Odds she'll win: 3–1
Odds she'll launch into a diatribe that'll top "I don't have a sugar daddy!": 50–1
Most iconic moment: The entire concept of a "postmodern pimp ho" from Shangela's stand-up-comedy routine is still so brilliant.
Thorgy Thor
This veteran Brooklyn queen brings charisma, uniqueness, nerve, and talent to the Drag Race stage, but her performance was never quite as tight as eventual season-eight winner Bob the Drag Queen's. With Bob out of the way, will Thorgy be able to steal the spotlight from her fellow All Stars competitors? We love watching her do anything and everything, but we're not too hopeful.
Strengths: Energy, acting, comedy, lip-syncing.
Weaknesses: She'd risk it all for a jar of mustard.
Odds she'll win: 20–1
Odds she'll work her violin into one of the challenges: 2–1
Most iconic moment: Thorgy consistently pulled out killer performances throughout season eight, but this clip of her eating fruit snacks before entering the workroom might just be her greatest.
Trixie Mattel
Trixie's a tough one! She's one of the most successful queens to come out of Drag Race, thanks to her web show turned Viceland's The Trixie & Katya Show and her actually good, not just "Drag Race good" music. On the other hand, she didn't really excel within the show itself. Was it just nerves, or is Drag Race simply not the best avenue to spotlight Trixie's talents? If it's the former, she's good for at least a top-three finish.
Strengths: Makeup, comedy, live singing.
Weaknesses: Lip-syncing, dancing.
Odds she'll win: 5–1
Odds she'll stun the world with an off-brand real-girl mug: 20–1
Most iconic moment: To be honest, any episode of The Trixie & Katya Show is more iconic than what she's done on Drag Race.