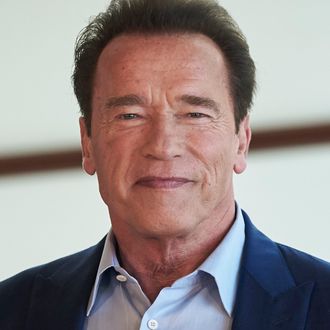 Arnold Schwarzenegger.
Photo: Carlos Alvarez/Getty Images
Before they starred together in The Expendables, or went into business together with Planet Hollywood, Arnold Schwarzenegger and Sylvester Stallone were in a Hollywood arms race. "I'm so glad we straightened out our mess because it wasn't pretty," Schwarzenegger told the audience at Beyond Fest 2017, Slashfilm reports. "We were attacking each other in the press relentlessly." According to the Terminator, the rivalry — which involved one-upping each other in their respective action franchises with bigger weapons, less body fat, and more "unique" kills — even went so far as to include some career sabotage.
"I read the script [for Stop! Or My Mom Will Shoot]. It was so bad," Schwarzenegger said, stating the obvious. "You know, I've also done some movies that went right in the toilet, right? That were bad. But this was really bad." However, Schwarzenegger saw this terrible piece of garbage as an opportunity:
So I went in — this was during our war — I said to myself, I'm going to leak out that I have tremendous interest. I know the way it works in Hollywood. I would then ask for a lot of money. So then they'd say, "Let's go give it to Sly. Maybe we can get him for cheaper." So they told Sly, "Schwarzenegger's interested. Here's the press clippings. He's talked about that. If you want to grab that one away from him, that is available." And he went for it! He totally went for it.
When the deal was confirmed, Schwarzenegger celebrated the almost-certain failure for his arch-nemesis as any devious mastermind would: "I said, [pumps fist] 'Yes!'"